Want to know if Etihad A380 Business Class is worth the upgrade? Read on…
Given that we usually fly with Emirates, to say our seat-geek heart isn't a little excited to explore the Business Class offering from our next-door neighbour would be an understatement. We're flying Etihad from Singapore to London via Abu Dhabi, with the second of our dual-legged itinerary being flown on the Airbus 380 (or 388, to be specific).
Layout
Immediately, the cabin decor of Etihad's A380 makes an impression. It's a huge step up from their older B777 design and you might even go so far as to say it's, well, sexy. A colour palette of black, gold and oyster with pops of purple gives the cabin a sleek and luxurious feel, even extending to the glitzy black and gold bathrooms that felt more like a club than a plane.
The cabin is laid out in a 1-2-1 configuration, nothing unusual there, but what is unusual is the mixed-orientation design. Etihad have opted for a space-maximising dual-orientation layout, with alternating rows facing backwards. We don't have an issue with facing rearward when on transport, but if you do, ensure you're booking a row that is forward-facing. Luckily choosing your seat on the Etihad app makes the choice pretty obvious. The downside of this layout is that privacy is slightly reduced by the alternating-orientation seat map – the passenger in the next row will have some visibility into your seat area due to this.
As with Emirates, A and K seats offer the most privacy due to the centre console sitting between the aisle and the seat, with E and F offer the best seating for couples wanting to sit together.
Seat
The recently refreshed Etihad A380 Business Class seat design comes with bells and whistles galore. There's no leg rest attached to the seat, rather the design relies upon sliding forward and joining up with the footwell. The seat base itself can be shifted back and forth – a design feature we always love and particularly necessary with this seat as you'll need to get closer to the fixed tray table that pulls out and down from the back of the seat in front of you for dining.
An illuminated touchscreen panel controls the seat movement mechanics, lighting options (of which there are many), window shades (a tad redundant as they are within arms reach anyway), seat cushion firmness (that's one we haven't seen before) and the massage function. Like in Qantas Business, the massage setting mostly just makes your seat buzz emphatically as opposed to doing much massaging – we can never see the benefit. There's even a 'Do Not Disturb' button, definitely a step up from EK's highlighter DND stickers (where is one supposed to put those without damaging something, anyway?). There's storage along the wall as is common on the A380 and a good amount seat side including a small compartment which was particularly handy for storing jewellery.
The biggest drawback of the Etihad A380 Business Class seat for us was that they no longer provide mattress pads for sleeping which we were very disappointed by (especially when they are a staple on Emirates). Our flight was an overnight flight and this really did affect sleep comfort. When we asked the cabin crew if they had mattresses on the flight, we were told that Etihad removed them as no one was using them – I struggle to believe this, given that we see almost every passenger on Emirates choosing to use them, and suspect this is more about cost-cutting than anything else.
Entertainment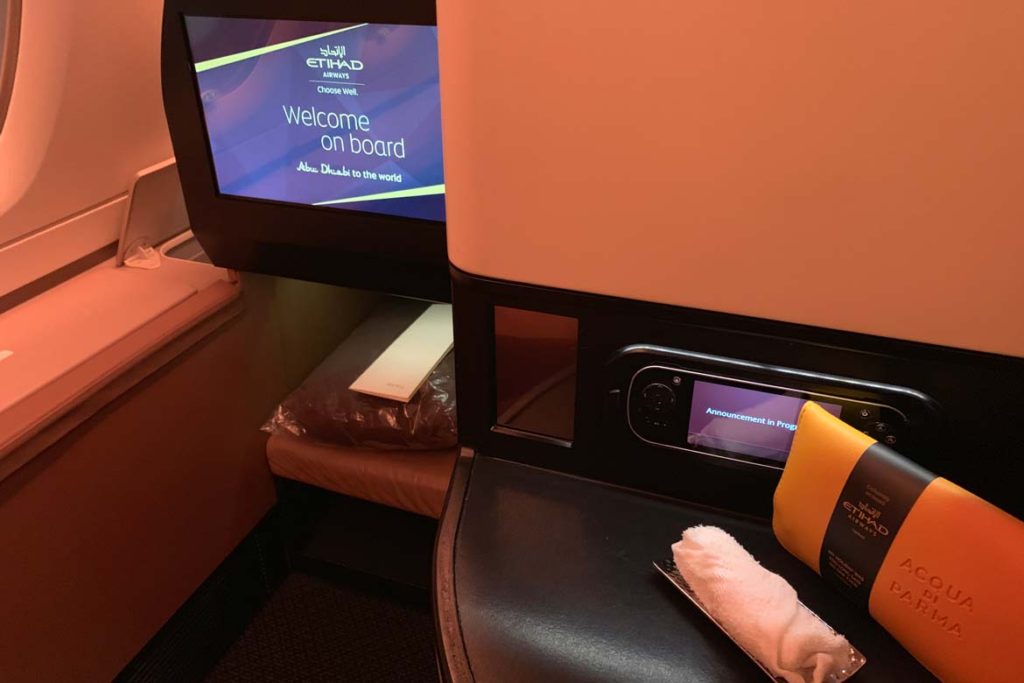 The updated fit out brings with it a decent sized touch screen and a larger (and much nicer) wired controller. The IFE library is nowhere near as extensive as Emirates' ICE and we did miss the depth of content (we like to catch up on some cheesy reality shows onboard, which were absent on Etihad). It did, however, give us a good excuse to finally watch The Da Vinci Code. If you're someone who likes to consume a good amount of content while flying, you might find Etihad's options lacking.
Dining
Due to our 3am departure time our onboard meal for this flight is breakfast, always our least favourite meal both in the air and on the ground, but we ordered it simply for the sake of research. We were pleasantly surprised by the quality of the pancakes we ordered, and the croissant we were served was fabulous. Definitely a step up from the woeful steak we were served on our B777 leg of the journey. An 'all day' menu was also available akin to Emirates 'light bites' should you wish to eat something before the breakfast service.
The best part of the Etihad dining experience is that you can dine on demand. We find it quite remarkable that Etihad offers this in Business Class given that it's a perk usually reserved on most airlines for First Class guests.
We were impressed that Etihad serves Champagne in Business Class in long-stemmed glasses, a very nice touch, but we were less impressed with the contents of the glass – Piper Heidsieck. At the risk of sounding a touch snobby, Piper just doesn't cut the mustard for us in Business Class. It's our least favourite commercial Champagne and really felt cheap compared to the otherwise luxurious experience. Like Emirates, two red and two white wines are offered with an additional two dessert wines.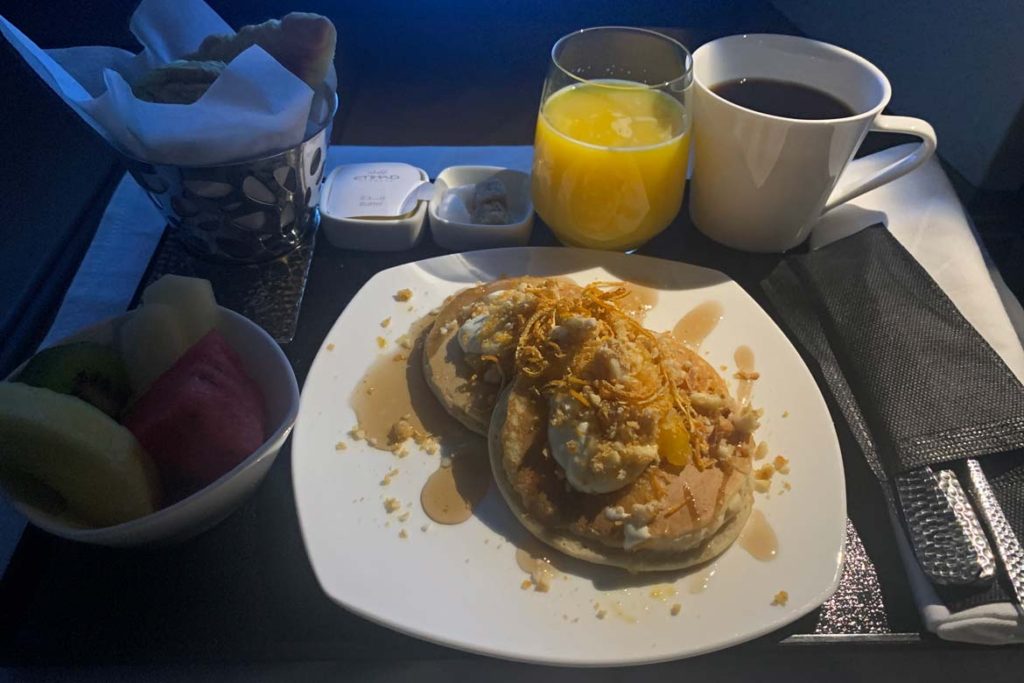 Amenities
One area where Etihad really shines is its amenity kit. Acqua di Parma is a brand we love to see when travelling and its signature golden yellow is a great fit with the Etihad colour scheme. The kits contain the usual – toothbrush, eye mask, earplugs, socks, moisturiser, lip balm and a small Acqua di Parma cologne spray. Our favourite aspect of the amenity kits is actually what they're packaged in – instead of the usual zip bag, the pouches can be snapped into a valet tray configuration, handy for storing small items on board, while travelling or at home.
Service
Given the timing of our flight we headed straight to sleep, meaning we didn't have much interaction with the cabin crew. Service was friendly and helpful overall but lacked the enthusiasm of Emirates service.
Our thoughts…
Overall, the Etihad A380 Business Class product is a very luxurious experience. The design is sleek, sexy and super modern, there's a good amount of storage and the electronic control panels make everything very easy to operate. The food on this particular flight was impressive, but given that we've had other poor experiences with Etihad onboard food we're still not completely confident. The ability to dine on demand is incredible for Business Class, though with the timing of our flight there was sadly no need to make use of it.