When it comes to fine dining in the Middle East, Bahrain mightn't be the first destination that comes to mind, but Sawsan Baluch is on a mission to change that. She's the heart and brains behind Bahrain's much loved MYcafe, which serves up a wonderful array of international favourites inspired the creations which she would serve in her own home to family and friends to much applause. MYcafe has long provided Bahrain's society with delicious cuisine in an elegant yet relaxed setting, but the passionate foodie and restauranteur wanted to bring her love for haute cuisine to the city she calls home – enter her newest project, Mahonia.
In true Bahraini fashion, Mahonia is nothing short of opulent. Comprising of a cocktail lounge and intimate dining room, the decadent fit out brings Sawsan's love for interior design, luxury and fine dining together in one showstopping venue. Art lovers will no doubt be captivated by not just the design aesthetic, where bold pyramid styling adorns everything from the menu covers to the doors, but by the rare creations showcased in the dining room and lounge. The dining room's extensive collection of crystal features creations from the likes of Baccarat, Lalique and more, while in the lounge the walls are adorned by pieces by Picasso and Matisse. Yes, that's right, Picasso. But Sawsan doesn't just want the art to be on the walls, and that's where the food comes in.
Luxury ingredients have been painstakingly sourced from around the world sparing no expense, with the menu highlighting delicacies such as Kobe beef served to an audience of just seven tables. There's a team of 40 chefs in the kitchen, huge for region, bringing an array of international experience to the intimate venue. We took the 7-course tasting menu for a spin, which we felt perhaps didn't show off the full might of Mahonia's menu – we recommend you opt for the 16-course option if you want to really go all in (it's the best option for lovers of seafood too, of which there is plenty). In true fine dining fashion, our meal starts with an array of delicate snacks. Befitting of the luxurious surroundings, foie and truffle feature heavily in the mix, and the lovely bread service is fab too – we loved their sundried tomato scroll.
Scandinavia's favourite Jerusalem artichoke makes a tasty appearance dressed with truffle first up, followed by a decadent dish featuring a plethora of mushroom and truffle deliciousness.
Mahonia's take on French quail comes in many parts – a smoked quail breast that was lovely and tender with a juniper berry-like taste (though we'd like to see the skin a little crispier to set off the soft meat). The leg wasn't quite as tender, topped with an Arabic styled date puree, accompanied by a quail mousse accented by black tea and a saffron tandik rice cake with goji berry and labneh that didn't quite work for us. Points however for the effort made to use as much of the quail as possible in this course.
A slab of tender wagyu is up next, accompanied by a Kobe dumpling and Kobe pastrami (they make all their charcuterie in-house too – love that). Our smoking pre-dessert (smoke in the sense of atmospheric dry ice rather than flavour) is a stunning course, featuring green apple, basil, tomato and strawberry. It might just be our favourite dish of the night, it's that good. It definitely showed off the pastry section's skills more so than a meringue dessert of passionfruit, lime and coconut with a biscuit base that felt a little overdone when it comes to the global scene.
The final dessert of super decadent chocolate, passionfruit, vanilla, caramel and hazelnut was definitely delicious but I'd like to see it elevated a little more in a smaller serving to fit the surroundings, though the caramel was definitely addictive!
The final offering of artisan chocolates focussed on highlighting individual ingredients that the restaurant's tables are named after, such as chili and saffron. A pretty finish to what was a well-executed meal. Mahonia may still be new on the Bahrain scene, but it's definitely one to keep an eye on – we're expecting great things to come from this passionate team!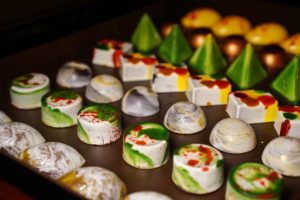 Facebook Comments