A sprawling property just 15 minutes from Samui International Airport, The Ritz-Carlton Koh Samui is a great option for travellers wanting the full resort experience without compromising on quality. Built around a private, picturesque bay, The Ritz-Carlton boasts a fairly sizable 175 keys spread across suites and pool villas, but still manages to feel intimate.
The Villa
We stayed in one of The Ritz-Carlton's Ultimate Pool Villas, the top category of one bedroom pool villa on offer. Clocking in at 97sqm, the layout of the Ultimate Pool Villa is virtually the same as that of the resort's next category down, the Exclusive Pool Villas – the only difference being the location and therefore, the view and amount of privacy (and ergo, the price).
The Ritz Carton houses three terraced rows of villas, with the Ultimate Pool Villas taking premium position on the top (cliffside) and bottom (oceanfront) rows, while Exclusive villas are located in the middle row. As one would expect, Ultimate Pool Villas offer panoramic views of the Gulf of Thailand and the most privacy. As the Exclusive Villas are in the middle row, you may find some outdoor areas visible to passing guests or neighbouring villas in this category due to buggy paths that both look down on and drive right in front of these villas.  We recommend our villa, 9417, as it's located at the very end of the top line of villas and offers a good amount of privacy (the end-of-row Exclusive villa would also be reasonably private). If privacy is a concern for you, we suggest discussing this with the hotel upon booking so they can find the best option for you.
The villa interiors are spacious and luxurious, with a lounge area, a bedroom that can be closed off with sliding doors (which we recommend doing at night as the lounge has sheer curtains only), two televisions (one in the lounge and one in the bedroom),  a desk, mini bar and large bathroom with full size bath and double vanities. As with all other RC properties, toiletries are Asprey Purple Water, one we've never been particularly enraptured by but certainly not bad by any means.
If you'd like a full video tour of the villa, head to @Zoe.Bowker on Instagram and you'll find one on our IGTV channel.
The robes here are the standout amenity, made from a featherweight periwinkle and lilac cotton perfect for the steamy tropical climes. We tried to purchase a number for ourselves and our house guests, but were disappointed to find they were sold out – at around $40 USD from memory each, we can see why! Put a request in early in your stay if you want to take one of these lovely keepsakes home with you.
There were a couple of aspects for us where the room didn't quite meet expectations, one being the bed. We love a plush, soft bed (hello, Four Seasons Hong Kong) and the beds at The Ritz-Carlton lean heavily on the firm side of things. We also didn't feel the sheets were at the level we'd expect for this category of hotel, just a touch too scratchy to feel luxurious. The pillows aren't bad, but when we switched back to our trusty pillow that we travel with (purchased from Trisara resort in Phuket), the difference in the quality of the filling was markedly noticeable. If firm beds are your thing, however, you'll be well taken care of here.
The second thing was the other element we value most highly in a suite, and that's power. Whilst there is a power board set into the desk in the living room, there wasn't a single USB charging port in sight. Not one. Not in the bedroom, not in the lounge room. For a hotel this recent (soft-open was Oct 2017), we're a bit flabbergasted. Compared to hotels built in the same time (e.g. St. Regis Maldives) there is a noticeable absence of technology – everything in the room is analog, you won't find motorised curtains or an in-room tablet and there's nary a Bluetooth speaker to be found. We couldn't find any way to wirelessly connect our devices to the room's two televisions either. As travellers who love our online content and music, this was a little odd for a hotel at this level.
Facilities
This is one of the aspects in which The Ritz-Carlton Koh Samui really shines. There's plenty to entertain all ages (including a Ritz Kids Club for the younger ones) and we easily kept busy throughout our three-night stay. In particular, we loved the 18-hole mini golf course, the tennis court and the basketball court (all equipment provided) – just ensure you plan these activities for early morning before the heat and humidity rise (trust us on this one).
If you can drag yourself away from your villa's private pool, there's a large beachfront pool with a kids section (open 8am-6pm) and an in-ocean pool, the first of its kind in the region. Essentially it's a ring-shaped floating pontoon in the sea linked to the beach by a bridge, with a short net to filter out seaweed, but note you'll need to be a good swimmer (or use the pool floaties provided) as it's deeper than standing height (it's not suitable for children). We're more concerned about filtering out jellyfish and other sea creatures personally, so we weren't really sold on the function of this structure, but we're told the concept will be developed more in the future, so watch this space.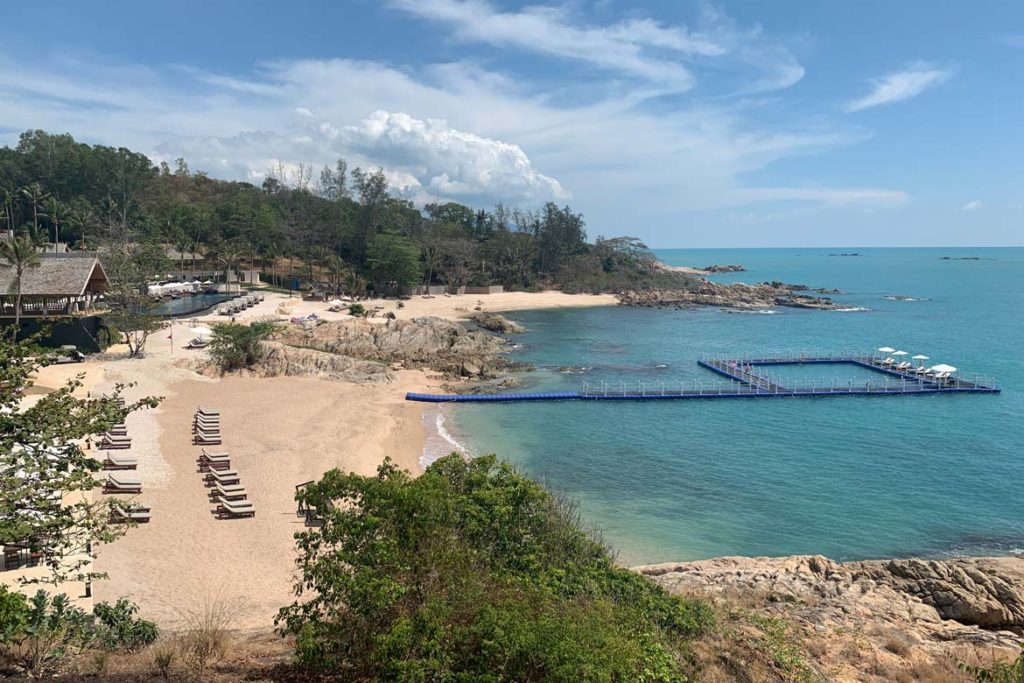 There's also an in-resort reef which isn't actually in the ocean, but as the name suggests, in the resort. It's located inside the Thai restaurant, Pak Thai (which is fabulous – don't miss it) so that's a little unusual…but as the restaurant is only open for dinner, you won't be watched over by diners. It's probably most suited to first-timers or giving the younger ones a taste of marine life without the hassles of the open ocean rather than for those with snorkelling experience.
Cuisine
The Ritz-Carlton boasts six dining venues – Shook! (breakfast and international cuisine), Sea Salt (poolside fare), Pak Thai (superb southern Thai cuisine), One Rai (cocktails and Asian appetisers), Tides (poolside cocktail bar and cevicheria) and The Peak (romantic fine dining).
Mornings at Shook! offer much of what you would expect for a resort of this type when it comes to breakfast fare. An omelette station, a juice station, salad, breads and some Asian cuisine (congee, a curry, stir-fried rice and noodles and a couple of dim sum options). The highlight is the bakery section, with a wide array of beautiful pastries made by the French in-house pastry chef. We loved seeing local flavours such as coconut, mango and pandan incorporated into the pastries instead of more typical combinations.
For a wider range of breakfast options, opt for in-room dining (rise extra early and you'll be rewarded with a spectacular sunrise from your villa). You'll find everything from pork skewers with sticky rice (highly recommended) to fresh coconuts to Wagyu steak hash (not really a hash, more an enormous steak with truffle mash…actually, looking at the menu again, it seems they delivered us the tenderloin off the lunch menu instead…but it was delicious all the same). They had no problem whipping up an off-menu celery juice for us (or carrying the meal up the 56 stairs to our villa!) so special request shouldn't be too much of a problem.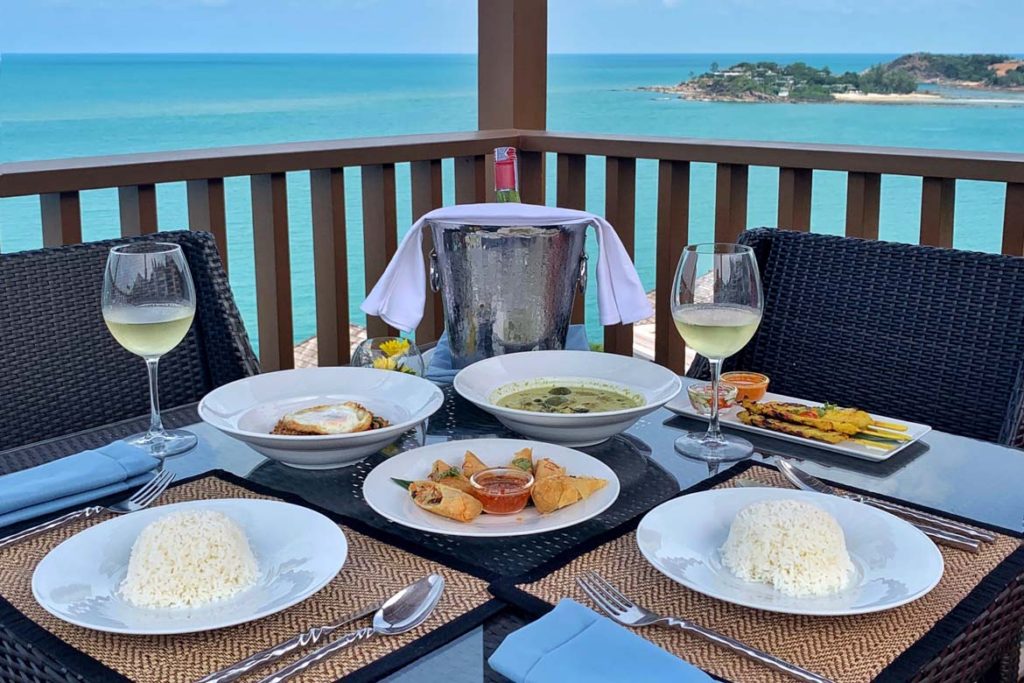 If you're like us and prefer to eat the local cuisine when travelling, then there are two dining experiences you don't want to miss out on during your stay at The Ritz-Carlton. The first is Baan Talat, the Ritz Carlton's all-you-can-eat-and-drink Thai street food festival, which does a welcome job of modernising the cliched 'cultural buffet' experience. Stalls whip up Thai treats for you a la minute, ranging from salads and deep-fried seafood to soups, curries and stir-fries. We're suckers for a good Pad Thai and Baan Talat's version definitely impressed us! Make sure you leave room for dessert as the mango sticky rice and deep-fried crepes with chocolate and banana are out of this world. This foodie feast is only available on Saturday nights, so you might want to factor that into your travel dates if you are Thai food aficionados.
Pak Thai (open Sunday – Thursday) serves Thai food from the south in a picturesque setting, each table nestled in an individual room overlooking the resort's' in-house reef' pool. The food here is sublime – we absolutely loved every dish we tried. The Mieng Kham amuse bouche impresses from the get-go – betel leaves served with a tower of ingredients with which to fill them (chili, peanuts, onions..you get the idea). Mieng Kham aside, you won't find the more well-known Thai dishes here such as spring rolls and Pad Thai, but they did kindly order us a Pad Thai from another restaurant in the resort (and it was outstanding, again). We'd recommend individual dishes to you but when everything we had was so good, we think you'll be pretty safe ordering anything your heart desires from their menu. The service was excellent also, but that's to be expected at The Ritz-Carlton – the service was fantastic in all outlets we dined in throughout our stay.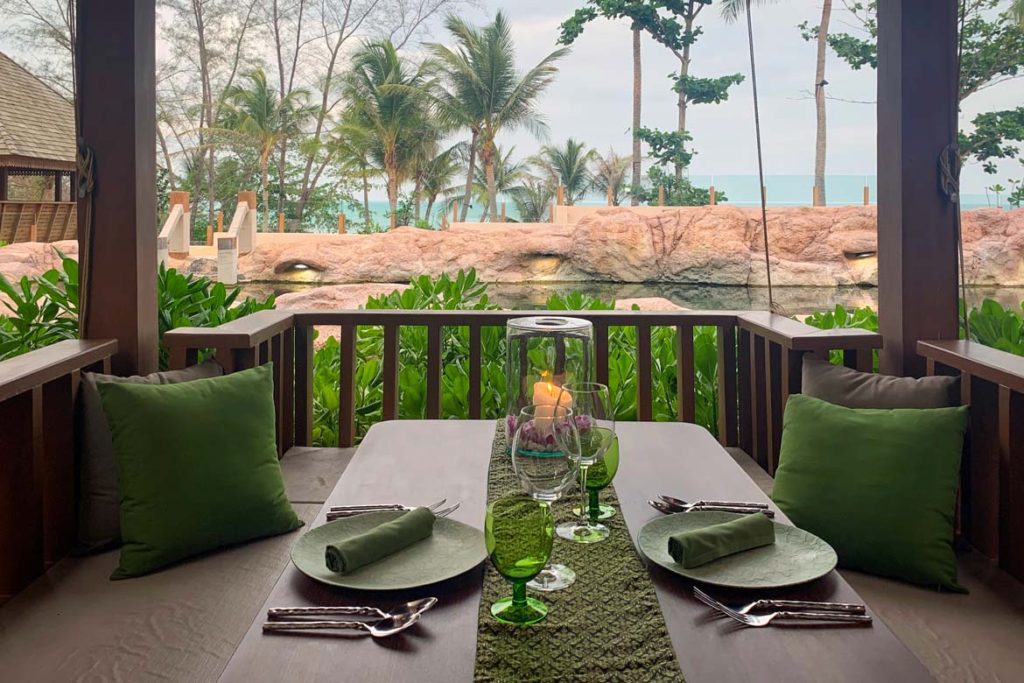 There's also a fusion fine dining destination venue for those who want something traditionally 'romantic' – 'The Peak" (though might we suggest Pak Thai's adorable lagoon-side booths as a fab romantic option). Set high up the hillside, this venue offers views of the twinkling resort lights that reminded us of Oia in Santorini. The menu changes daily and offers around five starters, five mains and one dessert option (plus petit fours). The cuisine here is more experimental, which sometimes works…and sometimes doesn't (though we loved their breads served with kaffir lime and tangerine butter!). The view brings with it a price point much higher than the rest of the resort (a starter comprising of a solitary dumpling checked in at 980 THB) so for those of you who aren't used to Dubai price points, the pricing here may be a bit of a shock (especially for Thailand). We suggest sticking to the other eateries at the resort which we think deliver better food for a better price point.
Spa
What's a resort holiday without a good spa session? We loved our couple's massage, set amongst the Ritz Carlton's extensive 'Spa Village'. There's a large infinity pool overlooking the spa pavilions with cabanas a-plenty, plus a relaxation pavilion where you'll sip your rather delicious ginger tea and cookies apres-spa. Definitely a fab addition to a vacay at the Ritz Carlton.
Overall
The Ritz Carlton Koh Samui is a fabulous choice if you have your heart set on Koh Samui as a destination. There's some great food on offer when it comes to local cuisine and plenty to keep the whole family entertained. The resort is still quite new so the grounds will no doubt become even more picturesque as the landscaping establishes itself over time. Service is fantastic, as one would expect from a premium brand such as Ritz Carlton. The villas are spacious, with plenty of room to dine, lounge and swim, as well as relax indoors. You'll definitely leave feeling well rested!
Facebook Comments