Bo.Lan – unusual sounding name at first, but it's actually a portmanteau of the nicknames of the owners, television chefs Duangporn 'Bo' Songvisava and Dylan 'Lan' Jones, an Aussie/Thai power team.
I'll admit it, we booked Bo.Lan as it was ranked No. 37 on Asia's 50 Best Restaurants 2015. According to their Asia's 50 Best dossier, the pair met in London at David Thompson's Nahm. A pretty good pedigree you might say. Post dining, we saw it had surprisingly all but disappeared from the list in 2016.  Is it still worth a visit? A resounding yes. (Update: it made a comeback in 2017.)
In a nutshell, Bo.Lan gives you a peak into intense, herbaceous, floral Thai flavours you probably won't encounter outside the home country of this fantastic Asian cuisine. Given that we were visiting at lunch, we were seated in an airy, light filled section of the large restaurant that once was a private abode. It was eerily quiet, with the local crowd dining in near silence, mostly addressing their phones while dining instead of their lunch dates. This left us with nothing to do but listen in amusement to the rather unusual background soundtrack of Thai versions of western hits.  The adjoining rooms that are used for dinner have more atmosphere – so I'd advise you book for dinner if you want the full experience, though they do a fantastic five course lunch set menu for only 980 baht plus the requisite 17% taxes.
Service was attentive and helpful, and they were more than accommodating with my tricky allergies, creating us a bespoke journey of flavours that were certainly more hit than miss. Our amuse bouche kicked things off in splendid fashion – a single bite wolfed down from a porcelain spoon that more than pleased our hungry tastebuds. I could have eaten an entire bowl of the delicate lemongrass infused salad.
On to the drinks – the cocktails were adventurous but didn't make us want to go for seconds – however the local Thai wines on offer here (we had the Chenin Blanc) are a great bet and even better value. They are a good match for the food on offer and won't break the bank – I recommend giving them a go.
For the main event, everything arrives at once. which I understand is local custom, but a little surprising to us expecting a tasting menu-style delivery. I think in all honesty we would have liked to discover the courses one by one, but hey, when in Rome, am I right?
Among the hits was the spicy beef, egg and oyster mushroom dish, adorned with a crispy, almost transparent green leaf, and a creamy chicken peanut concoction that also ticked all the tastebud boxes. An interesting use of lotus root as the focus of another petite side dish was also a winner – I loved seeing it used in place of a protein, something I hadn't encountered before. Our beef curry ventured too far to the funky, fermented side of things for me, but my dining partner dug into it heartily, and while the herbaceous mint and chicken soup wasn't the most memorable, a soy/chili/coriander mix was served alongside if you wanted to mix things up a bit. Some dishes were much too hot for our timid Euro palates, but a plate of cooling fruits and vegetables was also served to ease the heat, definitely well needed relief. On the whole the meal was darn tasty – though plenty of rice was consumed to balance the intensity of the dishes on offer.
Dessert was an ethereal transparent palm seed creation, something that was entirely new to me (another option of fresh fruit was available if you're not feeling adventurous – but who picks the fruit?). It was gelatinous, slightly firm to the bite and sweet in taste, we were told this is characteristic of young palm seed – apparently it can get a bit tough as it ages. Asian desserts rarely float my boat, but this one was a pleasure.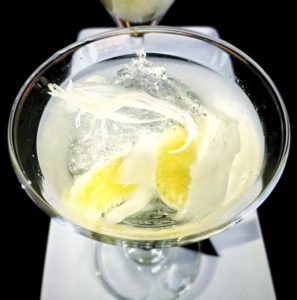 Bo.Lan is definitely one to checkout to if your intrepid tastebuds want to experience a depth of Thai flavour combinations you may not have tried before –  in a quaint setting (oh, and the bathrooms are lovely) with welcoming service. Definitely one to visit on your Bangkok travels.