Stuck in self-isolation due to COVID-19? Let us bring a touch of fine dining to your home with a series of recipes from our favourite restaurants and chefs from around the globe…our COVID-19 Kitchen Quarantine cookbook.
The eleventh in our series of gourmet recipes comes from Seminyak's favourite Aussie brunch spot, Sisterfields. Chances are, if you ask frequent Bali-goer where they brunch, it will be the iconic Sisterfields.
We'll let Chef Jethro Vincent of Sisterfields tell you the story behind this delectable dish…
"This was the very first dish I conceptualized for the Sisterfields menu way back in 2014. After a long hiatus off the menu, it has recently made a comeback after ongoing requests from guests.
I vividly remember the creative process behind this dish. I was working in New Zealand at Wharekea lodge and created a dessert with very similar components and thought to myself, this would be an amazing twist on a berry and yoghurt breakfast dish…fast forward a few months and I found myself migrating to Bali to open a café and restaurant. The berry dessert popped into my head and thus, the Breakfast berry crumble was born. Have fun with this modern and creative play on berries and yoghurt.
For the fresh berries: Try to look for vibrant, structurally sounds berries with no blemishes, any berries can be used for this dish. If you're in a location where you can safely go to a berry farm and pick your own, then show the local growing community some support and get involved. They will also taste better after putting in a little effort. Plus, any excuse to get out of the house is welcomed, right? But again, stay safe peeps.
Flowers and herbs: If you're fortunate enough to have herbs and flowers growing in your garden then lucky you – use them! There will no doubt be a bunch of flowers that you may not even know are edible. Have a little Google and see what you can come up with, it's pretty easy to determine if they can be eaten or not – if unsure, then avoid it!
The yoghurt sorbet: I have included the recipe for the sorbet but if you are without an icecream machine, most ice cream and gelato stores sell frozen yoghurt or yoghurt sorbet."
How to enjoy Sisterfields during COVID-19
Due to government restrictions, Sisterfields is currently not accepting dine-in customers, however, we suggest you pencil in a visit during your next trip to Bali to experience the fab food and pumping vibes – if you need further convincing, they also serve ace cocktails alongside their all-day-brunch style menu! We'll be sure to update you with the latest if they start delivering soon.
Check out the mouth-watering Sisterfields menu here and follow them on Instagram here.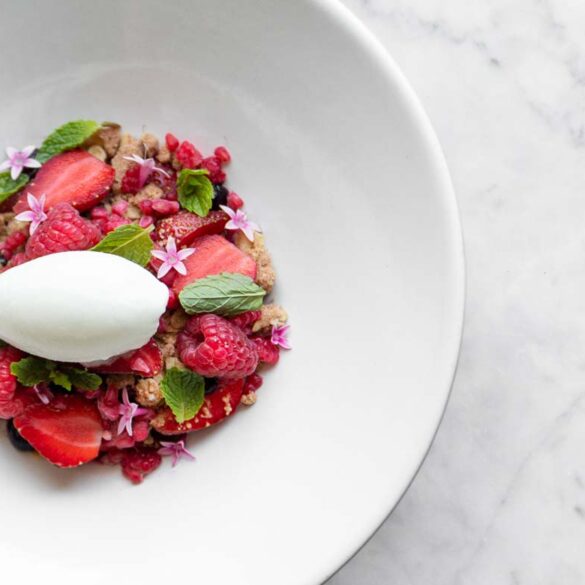 Ingredients
BOWL COMPONENTS
Berry compote
Fresh berries (I use strawberries, raspberries and blueberries but use whatever you have available)
Cinnamon crumble
Yogurt sorbet
Mint leaves
Edible flowers
Fresh As freeze-dried raspberry crumble (if available)
------
MIXED BERRY, VANILLA & GOJI BERRY COMPOTE
200g Fresh strawberries, cut into four
300g Frozen mixed berries
1 Vanilla pod, split
50g Dried goji berries
Juice of 1 lemon
120g Sugar
------
STRAWBERRY JUICE
80g Caster sugar
1kg Frozen strawberries
------
STRAWBERRY JELLY
300g Strawberry juice
3 Gelatine sheets, soaked in cold water
------
CINNAMON CRUMBLE
100g flour
100gr cold butter
100g sugar
2 tsp cinnamon powder
------
YOGHURT SORBET
2 cups Plain unsweetened Greek yoghurt
200g Glucose
1 cup Sugar syrup
3g Sorbet stabilizer
Instructions
For the Mixed berry, vanilla & goji berry compote:
Place all ingredients except the lemon into a pot and simmer gently until the berries are almost cooked.
Remove from heat and chill over an ice bath, to do this simply place the berry mix in a metal bowl and then place that bowl in another larger bowl filled with iced water.
Add the reserved lemon juice.
For the Strawberry juice:
Toss the berries with the sugar and allow to sit for 20 minutes.
Place strawberry and sugar mix in a large metal bowl and cover with plastic wrap.
Place over a pot of simmering water and cook for 2 hours, being careful not to let the pot run dry.
After 2 hours you will have a bowl filled with amazing strawberry essence. Strain the berries away from the juice. Keep the juice for the following step.
For the Strawberry jelly:
Bring juice to a hot temperature but do not boil it as you will cook out the delicate nature of the juice.
Remove from heat and add soaked gelatine, stir gently with a spoon until disolved.
Let the mixture cool and set in the fridge.
Note: as a rule, you add 1 sheet of gelatine per 100mls of juice, so you can make as little or as much as you want with the resulting liquid from the above recipe. You can always have jelly and ice cream for dessert!
For the Cinnamon crumble:
Mix all ingredients using hands until the butter is evenly distributed.
Bake at 160 ̊c for 30 minutes, stirring every 10 minutes or until golden brown.
Allow to cool down on the bench before storing in an airtight container in the cupboard.
Note: the rougher you are with the crumble throughout this whole process, the finer the crumble will become. If you want large clusters, make sure you are gentle while cooking and stirring.
For the Yoghurt sorbet:
Bring glucose and syrup to a temperature warm enough to melt the glucose.
Mix with the yoghurt and stabilizer.
Freeze according to your ice cream machine's instructions.
To build the bowl (portion guide per bowl):
1⁄4 cup Berry compote
8 Fresh strawberries, roughly cut
3 Large tbsps cinnamon crumble
6 Fresh raspberries
6 Starflowers or available flowers (if using)
8 Small mint leaves
Large scoop of yoghurt sorbet
1tsp Fresh As freeze-dried raspberry crumble
Simply build in a bowl following the above order. From our kitchen to yours, please enjoy!