Long time TheLuxeologist.com favourite, Arcadia, embraces post-COVID lifestyles by bringing their expert touch to interior scents.
We don't know about you, but since the p-word happened, we've spent a lot more time at home and as such, are placing more effort and attention than ever on making our home space feel luxurious. Going out doesn't have quite the same feel to it, and we are sure we're not alone in keeping some of the homebody habits we've learned over the past year.
We've obsessed over cookware, developed a serious Versace Home addiction and spent months building an outdoor oasis – so being the frag heads we are, when someone says home fragrance, we swoon hard. Arcadia's take on lockdown life inspired the three fragrances used in their inaugural candle collection, but in true Arcadia style, their 'Out of the Darkness' collection focusses on the moodier side of their quarantine experience.
Amna Al Habtoor, the owner of Arcadia, said: "Arcadia is a brand that represents the idea of a utopic existence where each nostalgic fragrance is coupled with a narrative, underscoring the euphoric experience that occurs while reminiscing. In our new home fragrance series, Out of the Darkness, each candle is centred around a narrative of real experiences we have all gone through, all narratives are relatable during these testing times. The poetic description for the range of candles is built from the context of feeling enclosed, recurring incidents and not being heard – something I am sure everyone can relate to
on some level."
We do feel that perhaps we had a slightly different experience over the past 18 months to that that is being creative expressed here (in the end, we actually quite enjoyed our complicated, international quarantine experience, despite all its struggles), but we're always happy to lean in to the emotive world of fragrance that is Arcadia by Amna.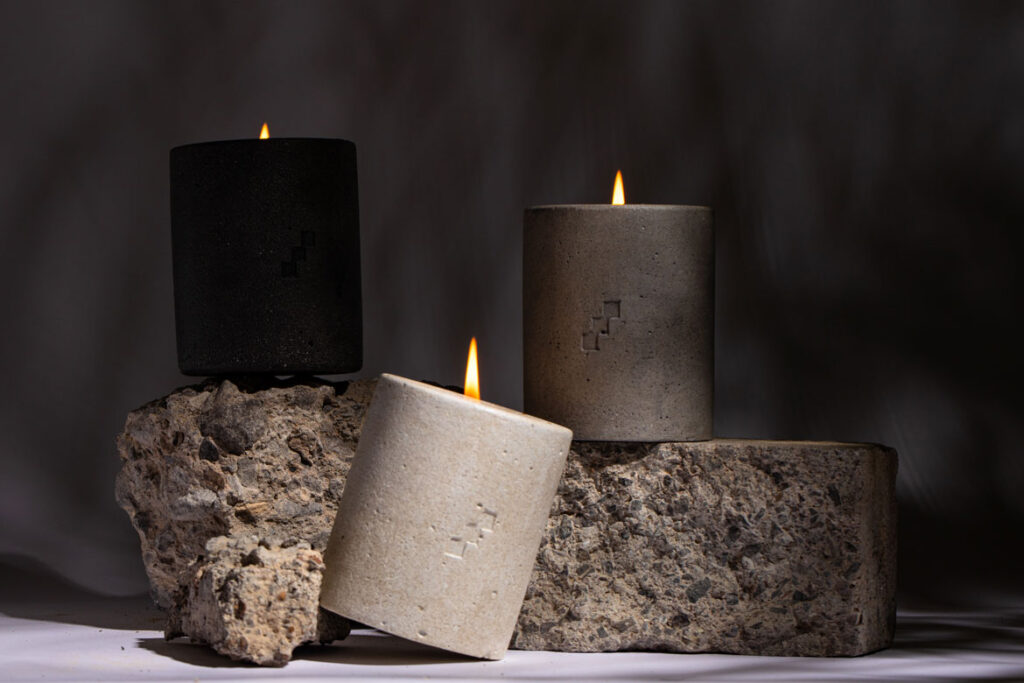 Here are the three candles that form the first release:

Trapped Freedom
Notes: Wood, floral, rose, amber, oud
Narrative: As she scours her surroundings, she heaves with difficulty. Her body egresses with
force, but her soul is sheltered. Freedom remains a plight. Evokes feelings of the soul's search for freedom.
The Idea: This person is free, but not free. They are lost between which direction they would
want to take. They're stuck in their soul and body, they want to be free, but they can't.
Controlled Chaos:
Notes: Incense, wood, balsamic
Narrative: Havoc and turmoil magnify, yet his order lies in the midst of chaos. A hindrance to
one's accustomed life is euphoric to his.
The Idea: A simple life with no chaos is not what he is accustomed to, so instead, he builds his
controlled chaos, a life where chaos becomes manageable, a happy balance for him.
Loud Silence
Notes: Citrus, bergamot, powdery, mimosa, white lilac, amber, musk, woody, soft sandalwood
Narrative: Two gazes pierce through profoundly desolated souls. What ground does
reconcilement hold when voids only amplify?
The Idea: Two people, no longer connected, their silence, the void is louder than their desire for
being together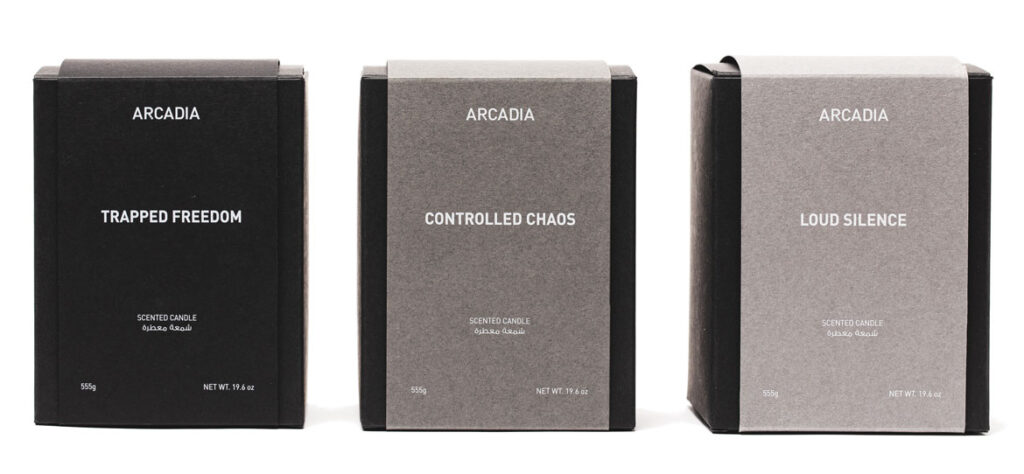 The details
Personally, we love the packaging of these candles. Hand poured into beautiful cement holders, each scent is a different neutral shade; black (Trapped Freedom), grey (Controlled Chaos) and white (Loud Silence). Arcadia candles are made from natural waxes and are cruelty free. Each candle retails for AED285 + VAT, weighs 555g and has a burn time 65 hours.
Where to find them
You'll find them at the rather lovely Arcadia flagship store at Dar Wasl, Dubai (while you're there, why not stop into Dar Wasl neighbour Reif Kushiyaki or Ugly Burger for a bite?) or if you're like us and prefer all good things simply be delivered to your door, head to www.arcadiabyamna.com (international shipping available).