We review WMF Fusiontec cookware to see how it measures up in the kitchen…
You may, like us, have reached the point in your life where you realise quality truly triumphs over quantity. Whether it be that favourite Commes de Garçons jacket you fell in love with a decade ago that still garners compliments, those hand-crafted loafers you picked up in Milan that you can't let go of or that chef's knife with the price tag that made you wince but is still going strong, there's something to be said for craftsmanship that stands the test of time.
With sustainability such a focus in today's day and age, we're all for moving away from low-cost, disposable products, and instead investing in smartly designed goods that are built to last. The 30-year warranty WMF's Fusiontec cookware range offers is, for us, a true hallmark of quality. Normally, we wouldn't start a review with something as mundane sounding as a warranty, but we think a company standing by its product to this degree warrants more than just a passing mention. When we think back to the number of pots and pans we've thrown out just a few years into their lifespan despite celebrity chef endorsements and high price tags, it's refreshing to see a company that truly believes in what it creates.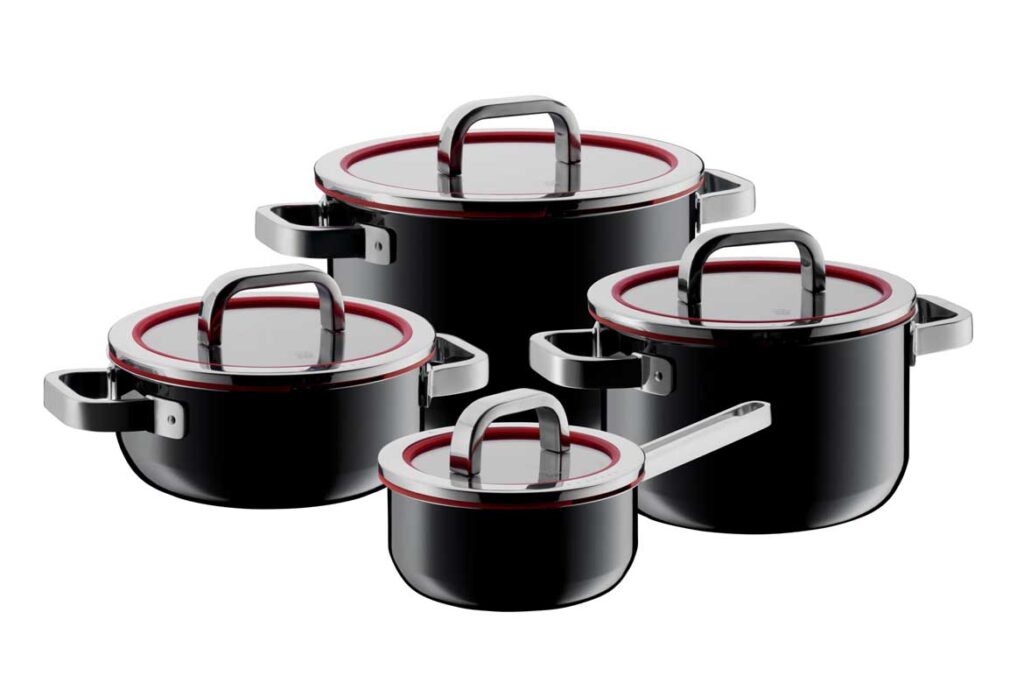 So what is WMF Fusiontec? The range boasts so many exciting features that as cookware geeks, we almost don't know where to start. We'll begin with the very core of the range – what it's crafted from. Fusiontec's owes its strength and unique properties to WMF's 'secret recipe'. We're not talking eleven herbs and spices here, rather a process where more than 20 minerals are melted at 1,300 degrees celsius. The resulting glowing lava is fused with iron steel to become something truly formidable, dare we say, nearly indestructible. As soon as you pick up a piece of Fusiontec cookware, the quality is obvious from the extremely solid (and surprisingly heavy) feel.
This fusion of nature and technology creates a long list of benefits that serious home cooks and chefs alike are sure to eat up. Fusiontec brings together the speed of copper, the heat retention of cast iron and the even heat distribution of aluminium to provide an unrivalled cooking experience. We found it a dream to cook with, from braising to boiling to searing – there's no going back to standard cookware after this.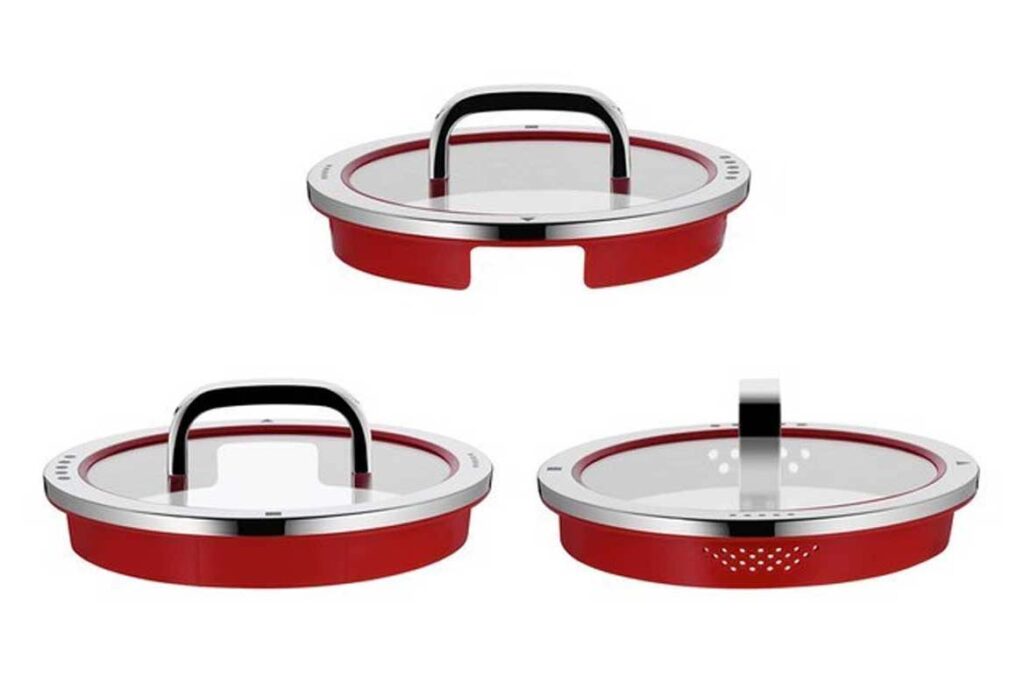 We don't think we've ever been excited about a pot lid before, but the lid that comes with the Fusiontec range is a step up from the norm. We'll start with the basics though – it's transparent, so you can keep an eye on your food while it's cooking, and is oven safe up to 180 degrees celsius (the cookware itself can withstand up to 250 degrees celsius). Where it really comes into its own, however, is with the unique positional setting design; simply rotate the lid to change its function.
The closed setting does well, what you'd expect a normal lid to do. It keeps the liquid and heat in, ideal for boiling and steaming. The open setting allows for an even pour (the wide pouring rim also provides drip-free pouring), and the straining setting allows you to easily drain grains without any drama. We're sure we're not the only ones who have accidentally lost half the contents of a pot down the drain due to trying to strain with a conventional lid. There's no need for a colander; anything at all can be drained with a closed lid.
Making mash? No need to transfer the contents of your Fusiontec; simply mash right there in the pot – stainless steel utensils won't damage your cookware. Less dishes to stack? We'll take it.
Speaking of cleaning, the WMF Fusiontec range is so easy to clean. Let it cool, simply pop it in the dishwasher (yes, it's dishwasher safe) and for any stubborn residue, you can even use a steel sponge. This sounds altogether scary and revolutionary to us at the same time. (We've had PTSD since a housemate ruined our favourite pan with a scourer a decade ago.)
Your WMF Fusiontec pots and pans look brand new for longer, thanks to a super smooth ceramic surface that is particularly tough and resistant to cutting and abrasion. That's particularly important given that you'll have your Fusiontec pans will be with you for decades (we plan to put that 30-year warranty to the test); no shabby, chipped cookware here. The interior is non-stick, making it suitable for low-fat cooking if, unlike us, you have the willpower to resist using lashings of butter and oil in your dishes.
The Fusiontec range is compatible with all types of hobs, and as we use a Miele induction hob, cookware compatibility with induction technology has been an issue we've come across in the past. Given that it's universally compatible, you won't have any issues should you move house or change your hob to a different heat technology – so you should be able to ride out that 30-year warranty no matter how much your kitchen changes.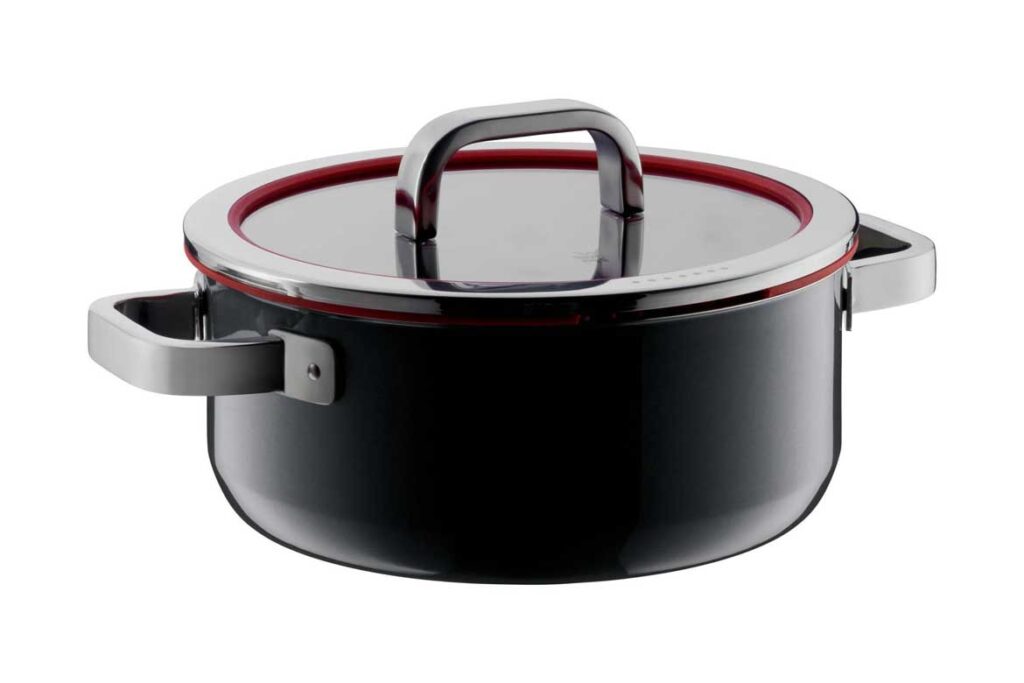 We test drove the Fusiontec black 24cm saucepan and we love this particular size for a number of reasons, the first of which is its deep dimensions – this stopped fat splashing over onto the cooktop when frying a steak, and there's plenty of room for a large curry. The TransTherm® universal base used in the deep casserole pans kept our food hot for longer – perfect when you're taking your dish straight from stove to table.
If stove-to-table dishes are something you cook regularly, you'll love that the Fusiontec range boasts heat-resistant handles – say goodbye to over gloves and dish towels (and of course, burning yourself). Add the innovative WMF flexi trivet and things become even easier – it magnetises itself to the bottom of the pan so when you move the pan, the trivet comes with you, making it easy to keep delicate surfaces protected.
We noticed a huge difference when cooking with the WMF Fusiontec range. The 16cm Fusiontec black saucepan cooked sticky chilli sauce with ease, no burning and no sticking. We really loved the cool touch handles in particular. The cookware is just so solid and slick; an absolute joy to cook with.
Even though we are cooking and kitchen tech enthusiasts, WMF's innovative Fusiontec Functional range really surprised us; we just don't think we could go back to 'disposable' cookware now. This is cookware that will become a mainstay of your kitchen for decades to come – and we're obsessed.