Considering a stay at Potato Head Suites Bali? Read our review to find out if this is the right luxury Bali resort for you…
If you're sick of the typical Bali pool villa or cookie-cutter beachfront mega-resort, we might just have the ideal venue for your next Bali sojourn. Potato Head Suites (known as The Katamama when we stayed) is unique beyond comparison in the Bali market, and we'll be honest here – its quirkiness won't be for everyone. It's hard to even know where to start when it comes to explaining the multitudinous ways in which Potato Head Suites marches to the beat of its own drum – but let's start with what you see as soon as you arrive at the property.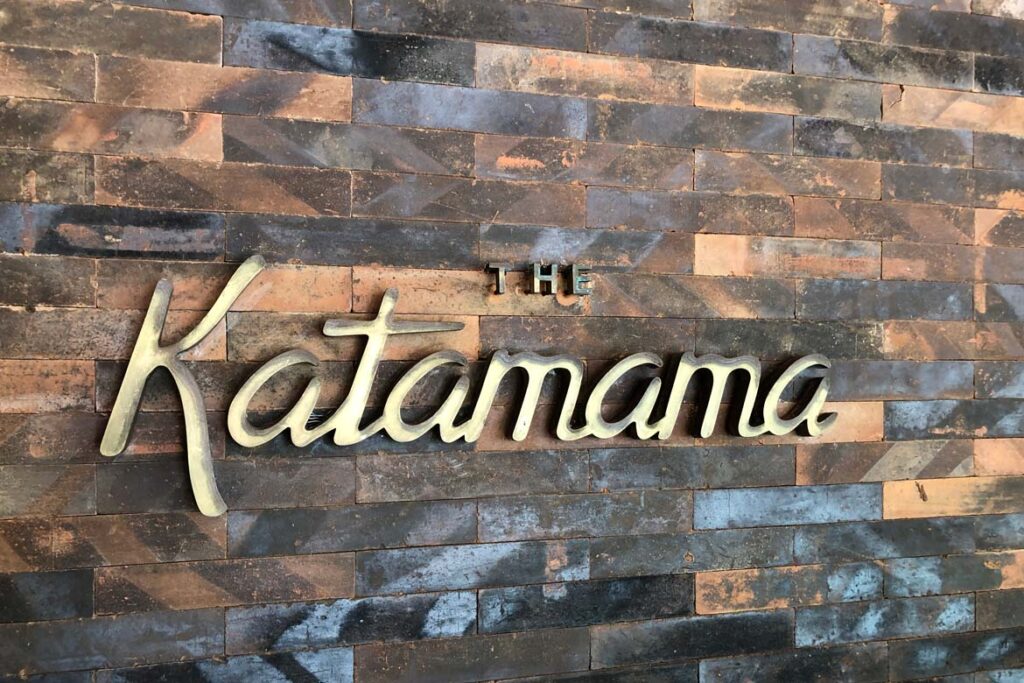 There's no Balinese architecture here, and no beachfront either (well, sort of). The newly christened Potato Head Suites are a multi-story building made entirely of red brick, looking more like a Surry Hils apartment block than anything you'd typically see in Seminyak. That's probably no accident, as PHS is definitely designed to appeal to Australians. It's the perfect spot for your 30-something well-heeled Sydney sybarite, ticking all the hipster boxes. There's an artisan cocktail bar in the lobby, requisite amounts of monstera deliciosa and banana palms, hand made textiles and a cocktail station in every room. Add to this the mid-century modern-meets-surfer chic decor and you have a hipster's wet dream. Now, we don't think that there's anything wrong with that, at all – we just think it's worth conveying the vibe as it really does cater to a particular style of guest.
We loved Potato Head Suites' take on the traditional welcome drink – not served in the lobby, that's way too basic for this crowd – instead, it's a customised cocktail shaken and stirred in your room while you complete check-in formalities, using your own compact cocktail station. There's a large sink for ice, all the gear you'll need and a wide array of cocktail bases crafted by Akademi, the in-house cocktail bar (note that these are chargeable).
Our Rooftop Suite clocked in at 286m2 according to the Potato Head Suites website, a good portion of which is accounted for on the rooftop and its access. It's a very unusual suite in design – it's definitely made for people travelling with friends, as the dining table and rooftop area are built for entertaining more than the typical two adults that would stay in the room.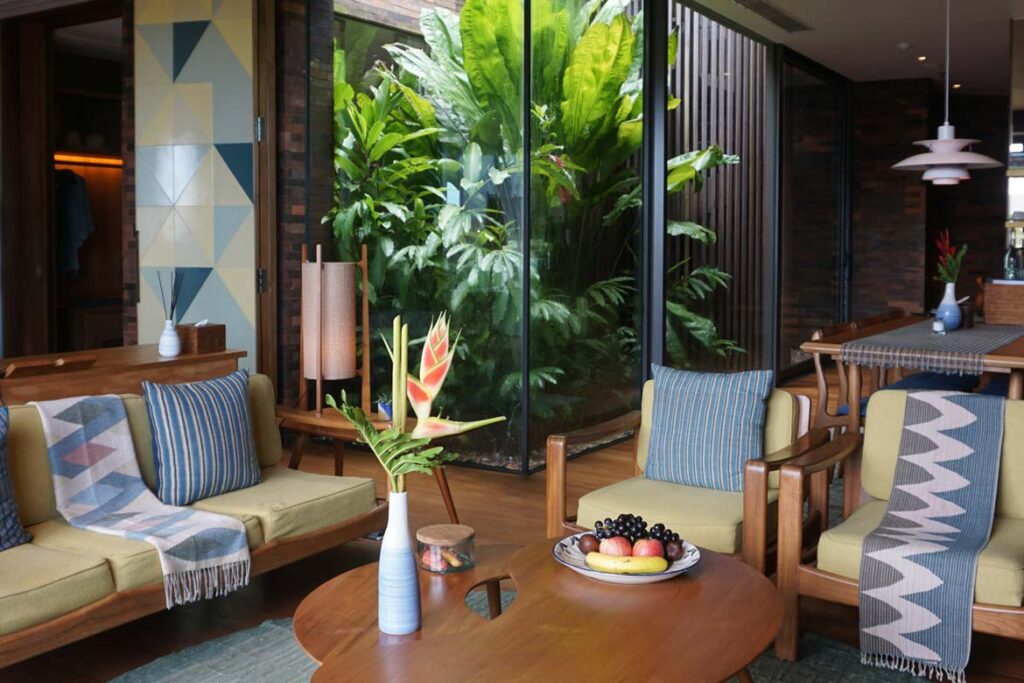 The main floor of the suite is built to be totally open plan, but the bedroom can be closed off at night should you wish. There's an enclosed garden in the centre of the suite, bringing light and nature into what essentially is quite a dark and cold space. The bathroom is split into two, one half on either side of the large bed. One side features the toilet and a double vanity, the other an open shower and full-size bathtub.
The lounge furniture itself is more for looks than for sitting on, the hard wooden base and thin cushions not making for a comfortable seat, losing a lot of its purpose in the suite. There's also not much of a view – you can get a peep of the ocean if you look to the side, but if you want a truly tropical view, you'll need to head upstairs to the rooftop entertaining area.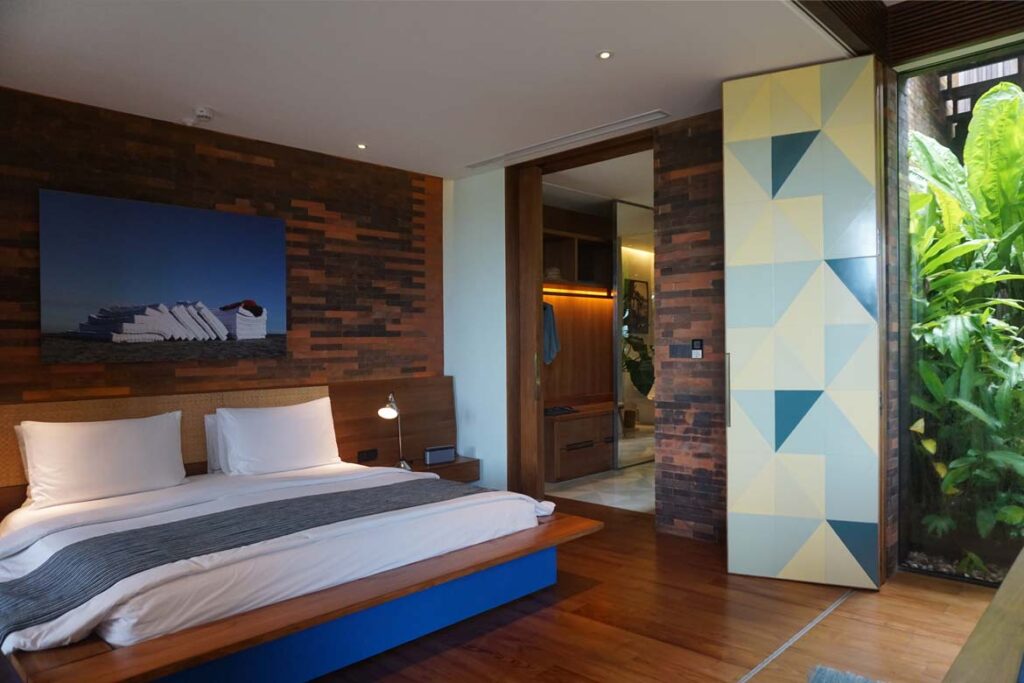 The rooftop contains a day bed, dining table and sink/bar area, great if you're travelling with others and want to use your suite as a communal spot to chill or party, but we didn't find it that usable travelling as a couple. There's a circular tub in place of the typical plunge pool, which sadly we didn't use as you have to fill it yourself…and given that we nary have the patience to fill a bathtub, the thought of filling this was more than we could be bothered with on holiday.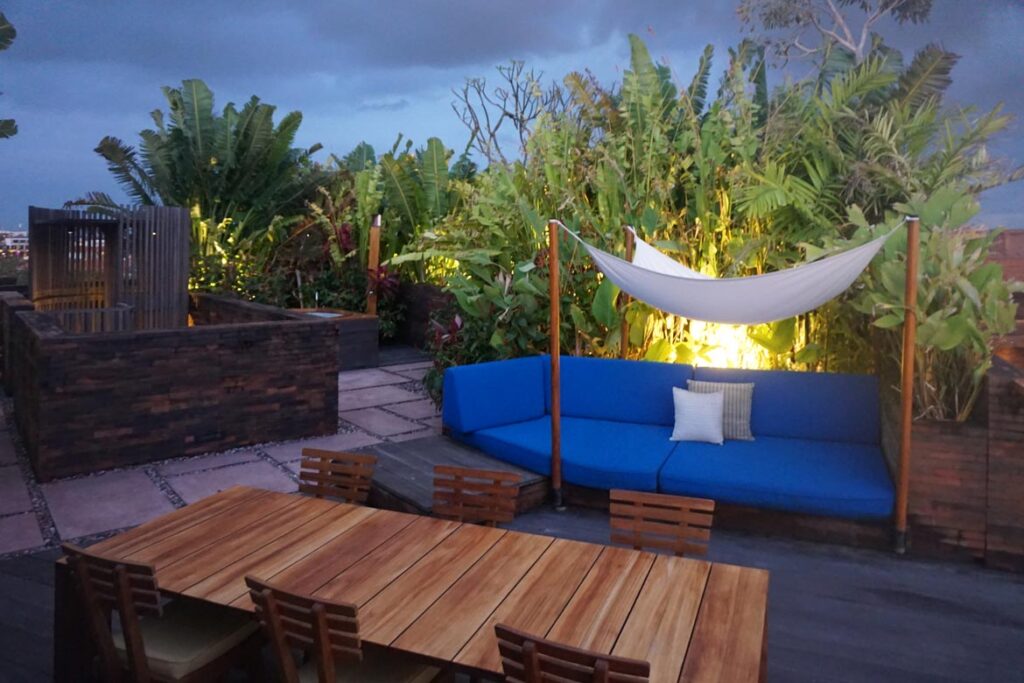 If the Bali heat has you craving a spot to cool off, there is a pool alongside the hotel for guests, but we'll be honest, it didn't really appeal to us being overlooked by many rooms and having no view. As we mentioned, Katamama sort-of has a beachfront, which is your alternative. Technically, the hotel is set back from the beach, but you do have access to the beach through the adjoining Potato Head Beach Club during its opening hours. Guests of the hotel need not pay for entrance/no minimum spend and can also secure a guaranteed day bed by booking in advance via the concierge (subject to availability). If you're a beach club fan, then this is probably a dream come true. When it comes to beach clubs, Potato Head is a great experience – the vibe is very inclusive and you'll see people of all ages there, even families.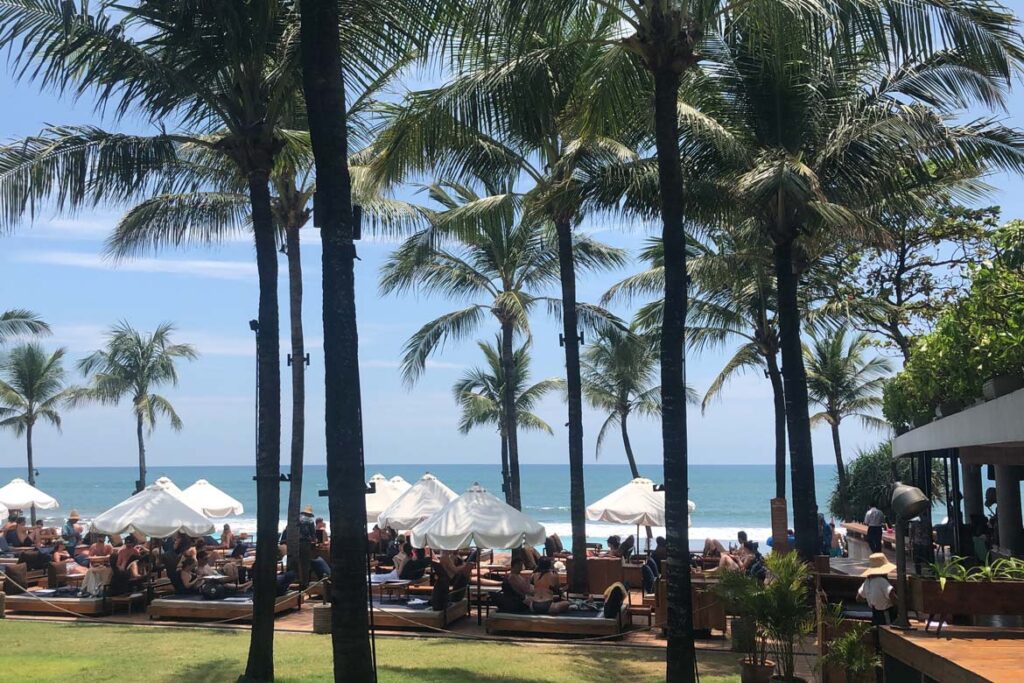 If you get sick of Potato Head's killer cocktails (good enough to place them on Asia's 50 Best Bars in 2019) and stellar dining (Potato Head is home to our favourite Indonesian restaurant in Bali, Kaum) then Mrs Sippy is also next door to the hotel. Our room overlooked it and while it's entertaining to watch the Love Island-esque crowd drunkenly flopping about, the constant noise (music and plenty of squealing) may annoy some.
Overall, it's our opinion that the suites and rooms to seem to be built for young groups of Bali partygoers who intend to spend their days at Potato Head and Bali's various beach clubs. Travelling as a couple, the suite's strengths really didn't play to our needs and most areas didn't get used, including the rooftop, sadly. We really didn't benefit from any of the suite's selling points. We'd prefer to have a regular plunge pool, more light and open-air, comfortable spaces to lounge and easily accessible outdoor areas. During the day, the room felt quite dark and dingy. If you're on a group trip to party, imbibe and sunbathe though, this might be exactly what you're looking for – free beach club access, trendy decor and spaces in your suite with which to socialise with friends. At around $1000 NZD a night, however, we think you can get a lot more bang for your buck by booking a villa instead.