In honour of Fried Chicken Day, here's a list of our favourite spots in the city for the crispiest, juiciest, sauciest fried chicken around.
Probably our current number one, Hello Beasty serves up god-tier fried chicken. We love everything about Hello Beasty, but make sure you don't visit without ordering their Karaage chicken with red dragon sauce ($21). Can't get a table? We recently ordered some to take away and it was ready in around 10 minutes. Impressive. Read our full review of Hello Beasty here.
This might just be Auckland's most talked about fried chicken…and is it worth the hype? We think so. These ridiculously crunchy wings slathered in sticky chilli sauce are killer – and there's even an extra spicy version for the brave. Ask for some Gochu mayo on the side. Read our full review of Gochu here.
Chop Chop
You'll find great food no matter which Che Barrington venue you dine at (his team is also behind the fab Woodpecker Hill, Blue Breeze Inn and Go Go Daddy) but the dish to venture to the small Ponsonby Central eatery for is definitely their fried chicken. Clocking in at $17, their Koji Fried Chicken with chilli sauce, crushed peanuts and yum yum mayo is an umami bomb well worth the price of admission. Visit Chop Chop's website here.
White and Wong's
White and Wong's Asian fusion menu is an all-round crowd-pleaser, and their juicy, sticky sweet chicken is no exception. We're obsessed with it. (Crispy fried chicken, sticky chilli sauce, $18.) View their website here.
Cocoro
Given its three hat status, dining Cocoro may be a touch more formal than the other venues we've posted about and not necessarily somewhere you'd just pop into for fried chicken – but if it's on your to-visit-list, then absolutely recommend you take the opportunity to sample their super juicy karaage, $19. Visit Cocoro's website here.
Goji Korean Kitchen
From three hats to food courts, one thing is clear – Auckland has an incredible amount of amazing fried chicken out there. Auckland's newest food hotspot, Commercial Bay, has a few fried chicken options on offer (Kai Eatery and Gochu are also in the house) – we're slowly working our way through them, but so far, Goji is a win. They've got a few types to choose from – original, Yang Nyeom (sweet & spicy), Snowy Cheese and Garlic Soy Chicken, which, let's face it, all sound great- thankfully they let you go half and half for a little extra. We tried the Snowy Cheese and the Yang Nyeom, both equally killer. (Eight pieces with kumara chips and coleslaw for $15.90/$16.90 half and half.)
Mexico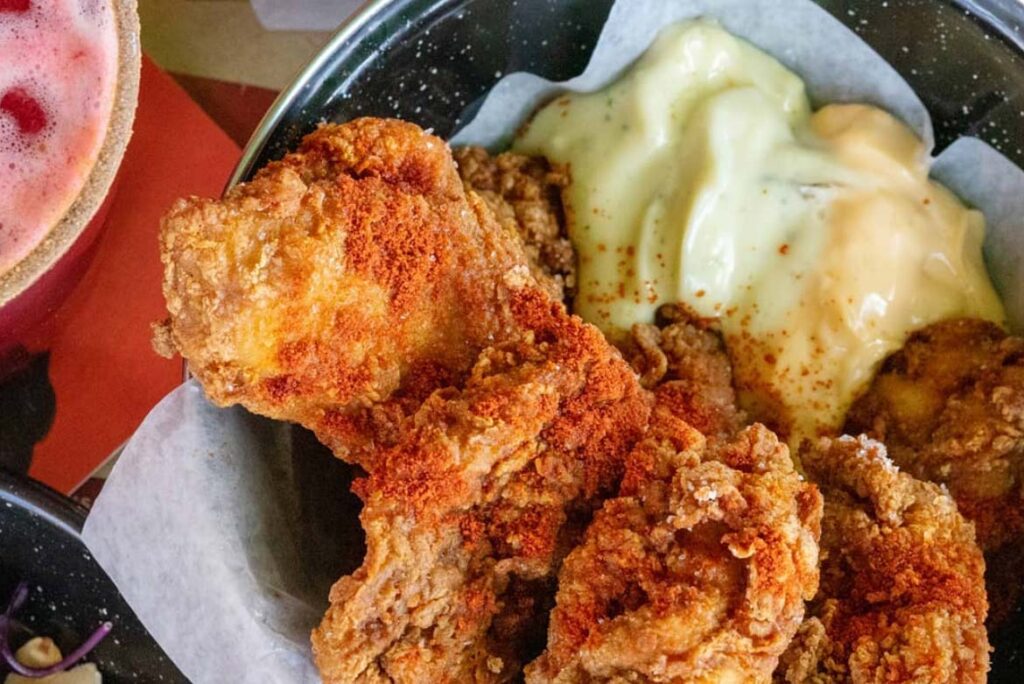 This is one that needs to be included if only for nostalgia reasons. Probably the fried chicken that kickstarted my addiction, Mexico's crispy chicken served with both jalapeño and chipotle mayo is a certified classic. My visits to Mexico were solely to eat their fried chicken ($16) – and it's worth it. Wash it down with a margarita and order another bowl. Visit Mexico's website here to find a branch near you (there's plenty of them).
Miss Clawdy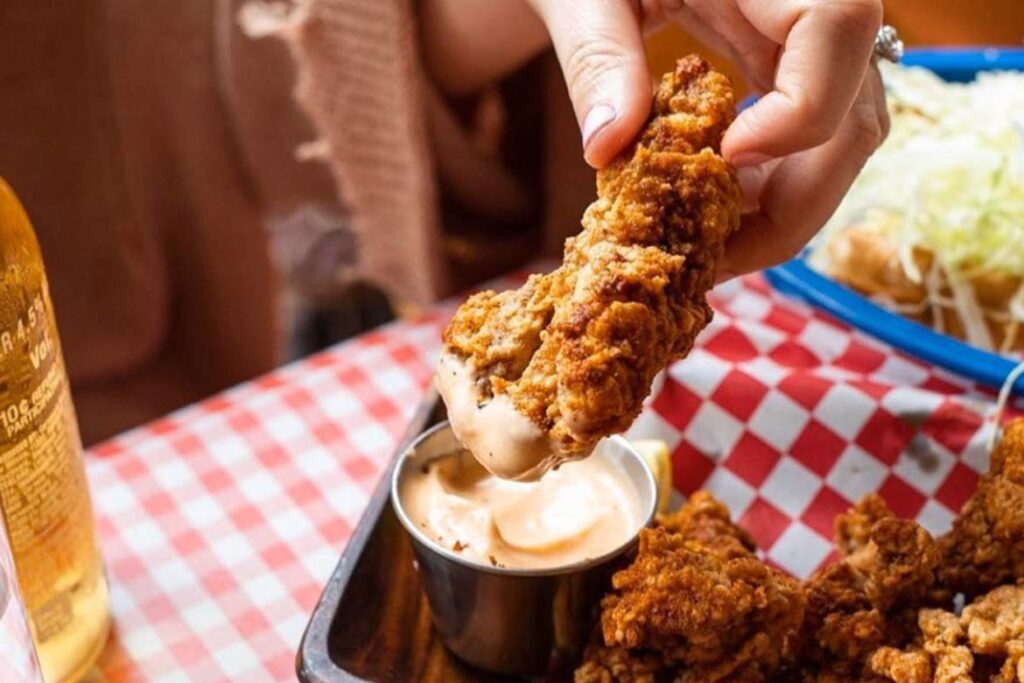 When it comes to Southern-style chicken, Miss Clawdy delivers the goods, probably one of the reason's they're still around at North Wharf today after so many years. Their buttermilk-marinated boneless thigh (the best cut, change our mind) jerk chicken with chipotle aioli has gotta be one of the few good things we have to thank the USA for right now (5 pieces, $22). Visit Miss Clawdy's website here.
Footnote: Just remember there's one rule you need to follow when it comes to fried chicken – it's just not the same without Kewpie mayo. And if the restaurant doesn't serve it (sacrilege!), friendly reminder that you can always bring your own pocket-sized bottle like us. Not sponsored, just addicted…