Looking for the perfect all-inclusive Maldives holiday? Kandolhu Maldives delivers a truly unforgettable experience…
From the moment we arrived at Kandolhu, we just knew this was going to be our type of place. As seasoned luxury travellers, we have high standards and high expectations…but from the instant our Havaiana-clad feet hit the pure white sand, we just had a feeling that this was for us.
After four days and three nights at this spectacular property, we can happily decree that our gut instincts were right on point. Read on to find out why Kandolhu is serving up the best of what the Maldives has to offer…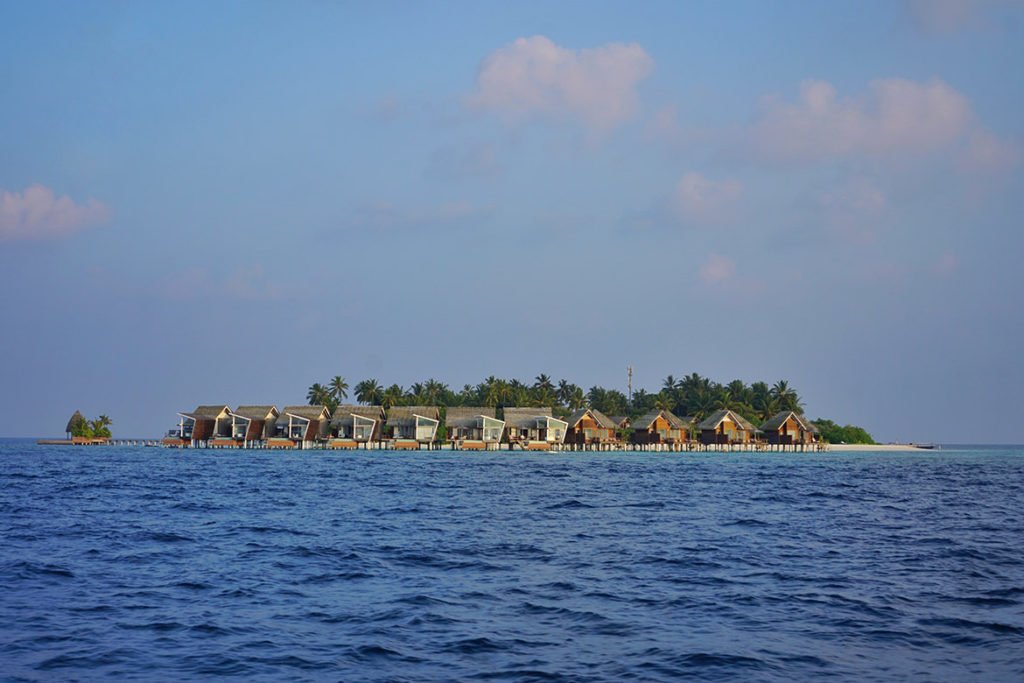 With just 33 villas, Kandolhu Maldives is true boutique island luxury. Just because it's small, doesn't mean it's not well equipped – despite being petite enough to not need a single buggy, Kandolhu manages to exceed your expectations in every category. From the villas to the service, the cuisine and the beverages, even the reef – this is a property that's hard to fault.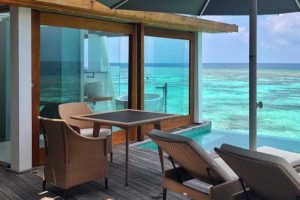 We spent three nights in Kandolhu's top room category, their Water Villas with Pool. Of course, all of the villas on this tiny island are excellent choices for the discerning traveller, but it's hard to go past the Maldivian magic of such a room category. Yes, it has the comfy bed, coffee machine, robes…all the necessities one expects from such a resort, but what truly wowed us was the alfresco area.
The bathroom is situated entirely outdoors, with two glass walls that open to let in the beauty of those iconic Maldivian lagoon views. Given this, the large bath might have some of the best views in the world, but you'll probably find yourself spending most of your time in the room's pool, equipped with twinking colour-changing lights that illuminate come sunset. There's plenty of twinking going on up above too, of course, with a fantastic amount of stars visible given the island's remote location and small population.
There's also outdoor couch seating, two loungers, an umbrella to shield those super strong Maldivian rays (the solar type, not the aquatic ones) and a dining table for two. An in-room iPad provides info on the day's events, as well as menus for each of the islands five, yes FIVE dining outlets (for just 33 villas, this is outstanding).
A beach bag lies packed and ready on the bed, waiting for your excursion to the island's super clear shores. It's filled with beach towels, a frisbee, smash ball paddles and ball (it's padded tennis for water, and we loved it) and a metal drink bottle. If that wasn't enough, each room comes with its own GoPro for your use while staying on the island, complete with tripod and underwater housing so you can capture all that amazing marine life you're going to see around Kandolhu's spectacular house reef. They'll even collect the camera before you leave and download the video and pictures on to a USB for you to take home – how amazing is that?
If all this sounds like a reason to book now, we don't blame you – but we haven't even gotten to the best feature of the room. If you book their Ultimate Inclusions package, and we highly recommend that you do, the entire mini bar in the villa is free of charge, replenished on a daily basis. Minibar truly is a misnomer here, as this bar is anything but mini. The villa comes with a wine fridge stocked with 30 different wines from around the world (yes, THIRTY) that are yours to drink when you please – there's every varietal you could dream of here. In addition, there are salty and sweet snacks, six different bottles of spirits (with cocktail equipment for creating that perfect mix) and a fridge full of mixers, juices, cava, prosecco…hell, there's even red bull for the morning after you chose to be all YOLO and sample all thirty wines. This, my fellow travellers, is truly indulgent travel.
When you eventually manage to tear yourself away from your amazing villa and its even more amazing mini bar, there's a lot to explore. The house reef that surrounds the entire island is truly spectacular, with an endless assortment of fascinating fish to gaze upon – so it's guaranteed that even those who don't dive proper and prefer just to snorkel on the surface (me) will have a fabulous marine life experience. The best part? Even though turtles don't lay eggs on the island, they seem to love to feast there – we saw two on our first smaller snorkel, and a whopping seven while taking a guided snorkel tour of the rest of the reef. They're ridiculously friendly and you can certainly get up close and personal with these majestic creatures (just remember, don't touch them!). Baby sharks flit around the shallow waters by the beach (don't worry, they don't bite) and we even saw the odd manta ray speedily darting through the waters.
It's no surprise if you've worked up an appetite after all that water bound activity (stand up paddleboards and kayaks are available free of charge too) but if so, you're in luck – the cuisine on the island is excellent. We still can't believe that a property with a mere 33 villas manages to offer five restaurant options, but Kandolhu does – and in style.
Lunch is available at all-day dining restaurant, The Market, as well as the super cute 8-seater Ata Roa, located on one of the island's jetties. Grab a seaside seat and prepare to be wowed by some seriously authentic central and South American flavours – ceviches and tacos are the order of the day here (and churros, should you somehow have room). What seems like a small menu at first glance is in fact just the right amount, with each dish amazing more than the last. Don't miss the vegetarian options – the mushroom ceviche and black bean taco are out of this world.
As the sun sets, head beachside for some delicious cocktails – the peach and basil smash was a fave – then take your pick of The Market, Olive, Sea Grill or the six-seater Bansai for dinner. Bansai, given its limited seating, is the only venue that requires advance bookings, and you'll want to ensure you don't miss their sushi and teppanyaki during your stay.
Dealing with allergies was no problem at all at Bansai, in stark contrast to sister resort Kuramathi's Kobe teppanyaki restaurant, that flat out refused bookings from diners with seafood allergies. No such issues here, and that's exactly the level of service you expect from such an intimate resort.
Our favourite dishes included Olive's Tomato Millefeuille (even more gourmet than it sounds) and The Market's BCB burger – but even the bar snacks impressed (their popcorn chicken bites and truffled potato skins are to die for). Stellar executive Chef Mickaël, at an impressively young age of 28, is serving up killer cuisine island wide (you can even buy his cookbook to take home if you're so inspired). Even the modest greek salad is reimagined in a way that's sure to please the fussiest fine diner.
They also hold a degustation dinner each month, with continually changing themes – the theme when we visited was The World's 50 Best Restaurants. We loved tasting Chef Mickaël's interpretations of some of our favourite dishes, and some created by friends of ours from around the world.
Would we return to Kandolhu? In a heartbeat! In fact, it seems that that's a sentiment shared by most of their guests – while on the island we met guests who have been back seven times (yes, seven) and others who are staying on the island for a whopping three months. If that isn't the best recommendation available, I don't know what is. I'm sure by now you don't need much convincing to book a stay at Kandolhu – it's absolutely one of the best properties on the globe. We're already jealous of your trip…