How does Kuramathi Maldives' cruise-ship style vacation offering compare?
Two hours, one average pad thai and an equally average large coffee after touchdown at MLE we board a large speedboat bound for Kuramathi, an easy 1.5-hour journey from the airport. The boat is full, perhaps unsurprising given our Friday morning arrival, but what is surprising, is that every single guest on board has the same destination.
Boasting a whopping 350 villas, Kuramathi s a behemoth of an island that stretches 1.8km from end to end. It's one of the five biggest resorts in the Maldives and is something altogether different from all of our Maldives stays so far, which have been on the more boutique side of things. It's rather fascinating to see how a resort of this style operates, and the pros and cons that come from having such a large island overflowing with facilities (and guests!).
There are many pros, one of which is that given its large inventory, Kuramathi Maldives has the ability to offer a wide range of villa types – with 11 different configurations on offer, there's truly something for every style of traveller. The beach villas are nestled in the lush vegetation a few steps back from the beach (we'd usually categorise these as garden villas), with the Deluxe Beach Villa category and above offering beach frontage. Villas are available with jacuzzis, pools, or completely sans-water related facilities, and there are also two-bedroom villas that are perfect for families or friends. We roadtested their Water Villa with Pool, one of their highest categories of villas, above which only sit the Thundi Water Villas (the exact same villa, but sitting on the side of the house reef) and the secluded Honeymoon Villas based on the island itself.
Our villa was modern, spacious and had everything one needs for a luxury island sojourn. Naturally, it's got the usual features – Nespresso machine, minibar, full-size bath and double vanity, but this is a water villa – so we're all about the outdoor area. Kuramathi's offering doesn't disappoint here, with an expansive, partially undercover deck boasting loungers, a two-seater dining table and beach chairs, an outdoor shower and of course the star of the show – an enormous pool. The Water Villas with Pool are located on the non-reef side of the island so they're pretty darn private – you aren't likely to see snorkelers passing by the front of your villa, just your fantastic view, which is always a relief.
Another pro? Kuramathi's room rates include full board, plus there are two optional all-inclusive packages – the perfect way to avoid the headache of island prices. The Basic All Inclusive package offers all of your main meals served at one of their three buffet restaurants (one of which you will be assigned according to your villa type), high tea, all soft beverages, a plethora of yummy cocktails, beer and wine by the glass. We recommend going for the Select All Inclusive package (the higher of the two), however, as this adds a large selection of bottled wine with your meals – much more enjoyable than the by the glass option (we found the white and rose by the glass to be undrinkable). It also means you're not confined solely to your assigned buffet restaurant for every meal – instead, you can take your pick of any of their a la carte restaurants for dinner. Let's just say if you're a reader of ours, go for the Select All Inclusive, you won't regret it.
Speaking of restaurants, one of the benefits of a large island is that there is plenty of choice. There's a lot to explain here when it comes to dining, believe us, so let us start by explaining the differences in the areas of the island. The island was built in three phases, commencing in the 70s, with the Thundi area (where our water villa was located), being the newest and most recently renovated. Each of the three sections of the island has its own buffet restaurant and depending on your villa type, that's where you'll be assigned to dine for breakfast and lunch. We found the restaurants (and bars) in the Thundi area to be the most modern in terms of style and cuisine by far – we would recommend you book in to dine at these as your first preference (the Thundi area also has the best of the buffet restaurants). All a la carte restaurants need to be booked in advance for dinner, and can only be booked at your section's reception desk. Ensure you do this in advance as the popular restaurants do book out fully – and you are unable to change your reservations over the phone, they can only be changed at the desk. We were a little surprised at the absence of the concierge factor here, but this is a large resort – and as such, it runs more like a cruise ship than most more boutique-style Maldives properties.
You'll probably find yourself spending most of your time in the newer Thundi area as the older parts of the island largely won't appeal to seasoned luxury travellers – which, if you're a reader, you most probably are. In the Thundi are you'll find The Reef (seafood), Kobe (teppanyaki) and Inguru (Asian, with a cafe menu for lunch) restaurants alongside Lagoon Bar and Champagne Loft (where the Thundi area's infinity pool is also located). Heading towards the older part of the island you'll find Siam Garden (Thai), Palm (Italian and also open for lunch), Duniye (fine dining) and Island Barbeque (grill), all of which we tried out, plus Tandoor Mahal (Indian). Siam Garden serves up super traditional Thai that should please most lovers of the far eastern cuisine, though we found the other venues on the dated side and rather hit and miss. In total, guests on the Select All Inclusive plan have a total of eight a la carte options, three buffet restaurants and five bars to choose from – gives you plenty to work though!
One thing that's consistent across the island's dining and imbibing venues, however, is the service. It's truly amazing, and whilst we hate to use such superlatives, we think it's the best service we've seen at a resort. No matter the venue, no matter the staff member, the service at the dining establishments is flawless. It's attentive without being overbearing, and always perfectly executed, right down to the wine service. Most catered well to allergies, though we were a little disappointed that Kobe, the teppanyaki restaurant, will flat out not accept reservations by guests with seafood allergies. Kuramathi's sister property, Kandolhu, by contrast, did do a fantastic job of this at their teppanyaki restaurant, Bansai, and again this comes down to the differences between a large resort and a boutique property.
As we mentioned, the island is large – so there's plenty of walking to be done between facilities and dining outlets if you want to walk off all those pina coladas. If walking isn't your thing, you're not as mobile, or if you're visiting in a season with a propensity to precipitation, this may be a factor to consider as the island runs a bus-like buggy service as opposed to on-demand buggies. This would fall into the 'cons' side of a large resort. You'll need to walk to your nearest buggy stop and wait for one to pass to get a ride, though the drivers are always wonderfully friendly and do stop and let you hop on if they find you walking en route. The first stop is a wee walk from the water villas, and of course, it's a walk that is far from strenuous, but we'd like to see another stop added closer to the island's most exclusive (and higher value) villas. We hear an app is in development to call a buggy though, and we think that would be a huge value-add to the service.
The Select All Inclusive package includes snorkel gear hire, an hour windsurfer hire per day, a sunset cruise and trip to a neighbouring locally inhabited island (for souvenir shopping, apparently). There's also a tennis court, fitness centre, spa, eco-centre complete with whale skeleton and a kids club for those with little ones in tow. For the rainy days, the Lagoon Bar comes well stocked with board games to keep you amused while you sip on those unlimited cocktails – we developed a new found love for Yahtzee during our stay.
We loved our Water Villa with Pool and the all-inclusive nature of the packages (note that in-room alcoholic beverages are not included in the packages). Who can say no to unlimited cocktails, am I right? There's no doubt that Kuramathi is a beautiful resort, set amongst almost unbelievably manicured grounds. The biggest point you have to consider is whether a large resort of this scale is right for you as a traveller. We think it's best for families, especially extended families, and groups of friends. The ability for different parts of your group to choose the villa that best suits them with plenty of options available is a big plus here, as are the all-inclusive packages – no bills to split. Groups and those having special events can also enquire about booking the private-event only Sky Lounge above the Thundi area's buffet restaurant for functions which is a cool feature. Because of these features, it's easy to see why Kuramathi is a favourite with tour groups.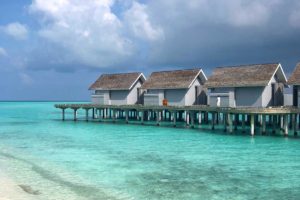 Honeymooners, couples and experienced luxury travellers might miss the privacy, personalisation and attention to detail that comes with a boutique property. If you fall into that category, we recommend checking out sister property Kandolhu, which with just 33 villas caters more to that end of the spectrum.
We definitely recommend booking one of the higher category villas located in the Thundi area as this end of the island definitely gives the best luxury experience not just in the villas, but in the facilities and dining. We also say that the Select All Inclusive package is a must given its extra food and beverage privileges – but when you're staying in the Maldives, let's face it – it's always going to be a slice of paradise.
To book and find out more, visit Kuramathi.com