From its jaw-dropping Imerovigli caldera views to its oversized bed, chandelier and dual indoor and outdoor jetted pools, it's easy to see why Iconic Santorini's famous Cliff Suite has been voted one of the most romantic suites in the entire world. It made the top ten of Mr & Mrs Smith's Most Romantic Bedrooms list in 2015 and the hotel has continued to rack up the accolades since. With over 6,000 hotels on Santorini and prices that rival the world's most expensive island destinations, it's can be a daunting task to pick the suite that's right for you, the one that will deliver the particular Greek Island experience you're looking for.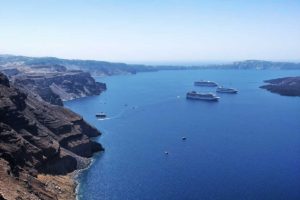 When it comes to privacy and amazing views, this is a suite that's hard to beat. The Iconic's suites are terraced down the cliffside, with access paths to the lower rooms passing through the outdoor areas of some of the suites. The Cliff Suite has the advantage of being the lowest situated suite at Iconic, built into the cliffside above the shore – so not only does it afford crazy vistas, but you won't have any other guests walking past your suite which makes it the hotel's most private room. It also has very few other properties looking into its balconies, with the outdoor semi-cave pool being as private as you will probably get on Santorini.
As travellers we rely heavily on images to choose what hotels and rooms to book, but Santorini is a destination where the glamorous online images don't always translate to that dream room, or perhaps omit important details about a location. We're happy to say, however, that Iconic Santorini's Cliff Suite is even more magical in person than the hotel website suggests. Not only is the room bigger than it looks online, but the balconies are more functional in person and then there's that view that truly has to be seen to be believed.
Speaking of views, if the picture perfect outlook is of utmost importance to you then you need to strategically choose your hotel according to the view you are looking for. Sunset lovers should look to Imerovigli instead of the typical Oia location, as you'll likely get a much better sunset perspective (most of the Oia properties face away from the sunset though do have amazing caldera views). You'll also need to decide if dramatic caldera views are your priority – which I'm sure they are to most travelling to Santorini, especially first-time visitors. Iconic Santorini's location means it ticks both boxes nicely. The Cliff Suite possibly has the most panoramic caldera views of all of their rooms, while also catching most of the amazing Santorini sunset – you won't see the sun itself sink into the ocean, but your view will certainly be filled with the beautiful vibrant rainbow colours Santorini sunsets produce as the evening approaches. We also loved watching the boats and cruise ships in the sea below.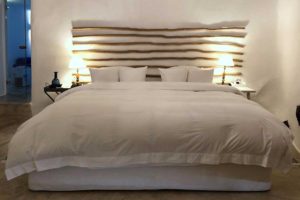 The centrepiece of the bedroom itself is the extremely oversized Coco-Mat bed, which is insanely large by global standards let alone Santorini, where space comes very much at a premium. There's also an indoor sitting area that admittedly you probably won't use given the amazing views outside, a bag storage/dressing room area and cosy bathroom with Aesop toiletries and large local sea sponges as part of the amenities. The large indoor jetted pool gives you an alternative when outside is just too sunny, complete with candles should you want a romantic evening escape. This pool was the cooler of the two on our visit, with the outdoor pool being heated. The smaller outdoor plunge pool does have a small amount of cave-style roof cover but we found the water temperature much too hot to be used for a lot of the day given the direct sunlight and warm climate. We did enquire as to whether the temperature could be lowered, but this didn't eventuate during our stay. The wrap around balconies also give you options –  a table for two on one side or sun loungers with an umbrella on the other, great for shade during the heat of the day.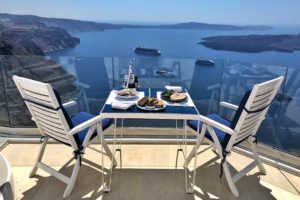 Don't miss having breakfast delivered to your suite, which changes daily (but of course you can make a request if there's something in particular you're craving). We loved the Greek sausage, fresh berry juices, muesli and Greek omelettes.  You can have any of your meals in the restaurant (which also has amazing views) or in your room – we particularly loved the lunches on offer. For lunch, much like breakfast, there's no menu – but we loved the greek salad and falafel panini in particular which were just perfect. When it comes to dinner, the options are a little limited – it is a boutique property after all, and you'll need to let them know by 1:30pm if you want to dine in house so they can source the ingredients and plan the menu. For us, with one non-seafood eater in our party, we felt like the offering didn't quite hit the spot – so we'd suggest perhaps trying out the local restaurants for your dinner if you can bear to leave your spectacular suite!
The only niggles we had with the suite were that there were no minibar facilities at all – no fridge, no glasses or bottle opener and no tea and coffee facilities – all things that we deem essential in a suite, especially one of this luxury level. To Iconic's credit, they had a bar fridge carried down to our room quick smart when we enquired soon after checking in (how that was carried down the cliff I have no idea), but for coffee, we had to place an order with room service. For people like me who like a Nespresso quick smart upon waking, you might want to talk to management before your stay and see what they can do. The other small gripe was that service was, of course, friendly, but a tad inconsistent when it came to in-room requests – for almost all requests we had to place two calls to reception to follow up on things that hadn't arrived after waiting quite some time.  Iconic does better than its fellow hotels when it comes to water, however, (you can't drink the local water) providing two large bottles twice a day. We were really surprised to see how miserly some Santorini properties were when it came to providing water in the room, so this was good to see. We'd also like to see a few more luxury bath amenities provided – at a minimum, dental and shaving kits in room, but this seemed to be a common issue in Greece, in stark contrast to Asia's ethos of providing everything you might need and then some.
Those small things aside, the Cliff Suite is a total bucket list stunner. Mr & Mrs Smith were well justified in picking it as one of their Most Romantic Bedrooms in the World…and we agree. The views will have your camera in overload and the range of pools, balconies and the fantastic bed will make you feel like you've made a sterling choice. Hands down, this is one of Santorini, Greece, and even the world's best suites. Count yourself lucky if you get to experience this amazing property and destination.
Facebook Comments