We've life tested the Quooker to let you know whether it's reliable, safe, and most of all – worth the price tag.
These days kitchen tech is all about features you never knew you needed, but once you have them, can't imagine living without. The Quooker tap system definitely ticks this box – sure, you could use other, more convoluted methods to get to the end result – but the Quooker just makes it so simple that anything else seems, well, horrifically inefficient.
Features
The Quooker takes on many roles in the kitchen, producing instant boiling water, chilled filtered water and chilled filtered sparkling water straight from a standard tap. (I say standard, but there are lots of stylish options available – more on that later.) It's a water purification system, soda stream and kettle all in one – and all without taking up any bench space at all, something we rather value in our newly renovated kitchen.
It's the simplest feature that we use the most in our household – chilled filtered water. Working from home, being able to have cold water (literally) on tap is quite heavenly. It frees up space in the fridge previously taken up by bulky water bottles and you can throw out that unsightly water cooler – the Quooker is eliminates plastic waste as well as being space efficient. The cooling capacity is suitable for the general needs of a household – it won't produce chilled water non-stop (once drained, the reservoir needs to refill and re-chill) but we don't tend to find any issues with running out during typical usage (it will dispense about 1L of chilled water at a time).
The feature that gets the biggest oohs and aahs from our guests, however? Instant sparkling water. From all surveyed, this seems to be the most luxurious feature of The Quooker, enabling you to quaff the bubbly stuff with no guilt as to what you're spending on imported sparkling. If sparkling is your drink of choice, the Quooker is simply a no brainer. While we don't drink a lot of sparkling water au natural in our household, we find the feature to be very handy for make refreshing mocktails and cocktails.
Finally, the Quooker produces boiling water at the push-push-twist of its special ring control. It's quite the satisfying feature for pasta, coffee and tea lovers alike. Waiting for the kettle to boil is simply a thing of the past.
Clearly, the Quooker is something you want in your kitchen – and given that it replaces a standard tap, you don't need to wait for a full renovation to install one, another plus. The two considerations we are asked about most regularly, however, are safety and cost – so let's address those.
Safety
Boiling water is boiling water – there's no getting around that fact and the safety risks that accompany it – but due to the Quooker mechanism you can't accidentally trigger the feature, it can't be 'left on' and the motion required to activate it is very deliberate. It's activated by two downward pushes followed by a twist of the control 'ring', located at the base of the main tap neck; turning on the tap using the lever won't dispense boiling water and at most, even if the boiling water feature has just been engaged, will deliver a mix of boiling and tap water resulting in something warm to hot. Of course, supervision is always required and care is needed whenever hot water is around.
Cost
The second topic often raised when we talk about how much we love our Quooker is the cost. The biggest 'value' of the Quooker for our household is convenience, but if you're looking at straight up savings from purchasing bottled water, here's a scenario. We'll use San Pellegrino brands as a mid-price example, though one could certainly be choosing pricier options when it comes to the bubbly stuff.
We've based our calculations on an average home-based adult consuming 2.5L of bottled water a day, 1L of which is sparkling, 1.5L of which is still mineral water. Carrefour retails San Pellegrino for 8.25dhs/Litre and Acqua Panna for 6.25dhs/1.5 Litre. That means the daily water cost per adult is 14.5dhs per day, or 29dhs for two adults. In just ONE YEAR, that bottled water cost amounts to 10,585dhs for two adults – so in a very short space of time, the Quooker pays for itself. This doesn't even take into account the environmental cost of bottled water and the huge amount of plastic you'll be saving from landfill. It's truly a guilt-free luxury.
Once installed, you'll need to change your filter occasionally and if you're a sparkling water addict, top up your CO2 cylinder – but with more than 6 months of regular use, we've not had to do either thus far.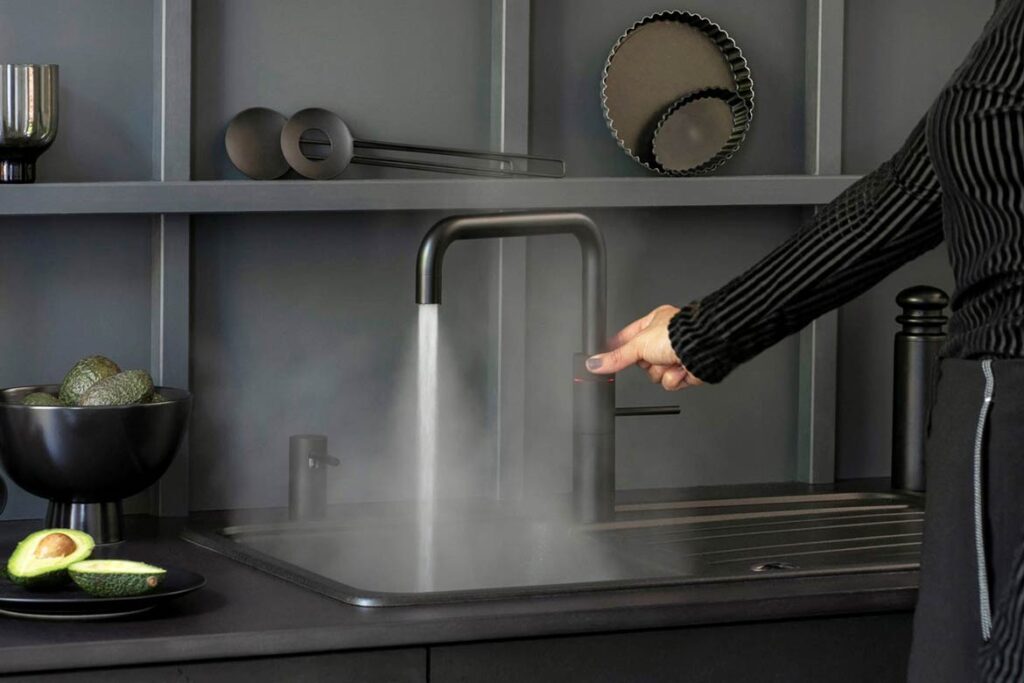 Style
There's no need to sacrifice style for function when it comes to adding a Quooker to your kitchen. The Quooker taps come in many designs, so whether you're more of a traditional chrome person or prefer design-forward gold or matte finishes, they've got a tap to match your style. We chose the Flex black matte with pull down hose and it always draws compliments in our grey, gold and white kitchen.
The Verdict
Would we recommend the Quooker? Absolutely. Once you install this piece of kitchen wizardry, you'll wonder how you ever lived without it. We use the chilled filtered water function constantly throughout the day, the boiling water for our mid-morning cuppa and when cooking pasta and vegetables for dinner, the sparkling for poolside mocktails and cocktails. Given the savings made on bottled water, it's not only convenient – it simply makes sense. A product we truly can't fault.
Disclaimer: While this article is not sponsored, Quooker UAE provided PR gifted product for this life-tested review on TheLuxeologist.com. Our opinions and experiences are always honest, all our own and in no way dictated or modified by Quooker.