Geranium. A floral moniker that seems appropriate for a restaurant that serves dishes that are as beautiful and delicate on the plate as they are on the palate. Geranium's three stars (the first establishment in Denmark to achieve the honor) and position at a lofty no.19 on The World's 50 Best Restaurants bestow upon it a well deserved reputation as the jewel in the crown of a crowded and competitive Copenhagen restaurant scene.
While most in the region are foraging, fermenting and firing up a storm à la Redzepi with bombastic bitter and sour notes prevailing in both food and wines (of the natural variety, naturally), Geranium's refined touch and subtle flavors set it apart from the new-Nordic pack. (Ok, I'll admit, there's still some foraging and fermenting going on here – we are in Copenhagen, after all.) There's an intense precision, an air of elegance about the venue and the food that seems perfectly at home in it's elevated perch on the 8th floor of Østebro's Parken Stadium. In a city as low-rise as Copenhagen, the 8th floor provides a surprisingly panoramic view above the tree tops of the city, the perfect backdrop for the mini masterpieces crafted by Chef Rasmus Kofoed and his team of skilled chefs.
With the trio of bronze, silver and gold Bocuse d'Or medals under his belt (or should that be apron?), Rasmus is one of the modern masters of gastronomy – and the first chef to participate in the much lauded competition three times. Paired with long time friend and former Bocuse d'Or coach, Soren Ledet, it seems the Kofoed/Ledet combination is on a charge – reentering the World's 50 Best in 2016 at no.28, ultimately topping it with their 2017 ranking.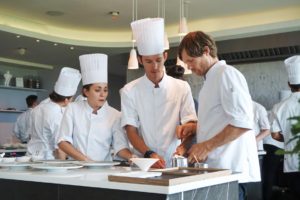 Rather appropriately, classical music sets the tone at Geranium, its swooping strings and soaring symphonies the soundtrack to the seemingly silent waltz of chefs whirring about the open finishing kitchen, its harmonies the musical equivalent of the elaborately considered compositions on the plate. It felt appropriate to select an equally elegant drop from the Champagne trolley, Dom Perignon 2009 (Geranium's preferred house), to begin the journey.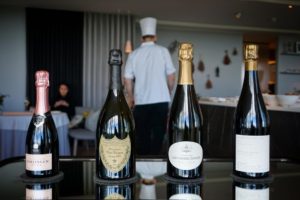 Seeing as we are dining in a sports stadium, I suppose it would be fitting to say that as soon as the meal kicks off, the Geranium team is scoring goals. Recognizable Geranium classics such as their Jerusalem artichoke leaves with hazelnut oil and rye vinegar mayonnaise have me desperately wanting more than my allotted three leaves (I think perhaps thirty would be a good number), and the iconic Razor clam is as beautiful as it is delicious.
A dish of Tomato water, ham fat and aromatic herbs conjures up memories of Spanish tomato bread and Iberico ham, while the aromatic herbs give the delectable dish a Nordic kiss. Beetroot makes more than a couple of cameos throughout the meal, even during dessert, all showcasing the ingredient superbly without being overburdened by the heavy earthiness that sometimes comes along with the vibrant root. The home runs continue with a small bowl of the vibrant, foam-filled Nettles & Smoked Cheese, a dish as satisfying and delicious as it is intriguing.
The bread course, unusually making an late-in-the-game appearance at dish number 10, features three parts – Crispy grains, a gorgeously moreish wheat-shaped wafer, Bread with old grains and Geranium's incredibly addictive gluten free bread. If all gluten free bread in the world was this good, gluten wouldn't stand a chance. I do believe we went through three servings of the the amazing golden nuggets, only manners holding us back from devouring more.
Overall, it's more about the flora, fauna and all things underwater at Geranium than proteins, but the dry aged beef and chicken courses feel right at home, handled with the same light touch as the plant focussed dishes.
If there's one bite that doesn't quite hit the epic highs of this sensational meal, it's the Tartlet with cured pork neck and pickled elderflowers – but I'll give them a pass as it was just so pretty.
Desserts also impress, and while the current trend of beeswax and pollen isn't entirely my thing (I'm more about the Caramel with Roasted Grains, Chamomile and Blackberry), it's a well sized portion of the menu – concluding with the aptly named, The End. The licorice flavored skull might just be one of my favorite bites of the meal.
A plethora of petit four conclude a well paced, well designed journey, one served alongside a stable of excellent wines. The 2015 Saint Romain Mark Haisma from Bourgogne and two stunning American reds (2011 Cabernet Sauvignon Hotel Mountains, Dunn Vineyards, Napa Valley and 2014 'La Côte' Pinot Noir, Domain de la Côte, Sta. Rita Hills) impressing in particular.
Reflecting on my experience at Geranium, the only downside was that it felt like it went by all too quickly. Of course, this is no quick meal, but despite its length it is still one you want to savor long after the last bite is gone. Portions are delicate and perfectly paced, so that even by the conclusion of the nineteen courses, a number some may find intimidating, there is no sensation of fatigue or being overly-sated. To the contrary, I could have done it all over again without pause, for I already wanted to taste every course again.
In all honesty, there's not too many meals I can say that about, and that's a testament to just how good Geranium is. You'll leave walking on air, but it's an elation tinged with a touch of mourning, that you might not eat another meal this good…until you return that is.