It's not often you find a brunch in Dubai that truly dishes up top level food – so when TimeOut Restaurant of the Year, Play, announced it was now offering a brunch, I was more than intrigued.
Set on the 36th floor of The H Hotel, Play is certainly a beautiful restaurant. It's sexy, majestic, expansive…and frankly, has the best ceiling in all of Dubai (reminds me of 8 1/2 Otto e Mezzo Bombana Shanghai's stunning roofscape). Add to that some killer views and you've got the setting for an excellent outing indeed.
When you have views like Play does, there might be some jostling over which patrons in your dining party get to gaze upon said vista. This can all be avoided, however, by following these steps: gather a group together (6-8 diners) and request the window side rotating table. It's truly a thing of wonder, allowing everyone to take in the view and the amazing entertainment. There's only one though, so you'll need to book early to snag it.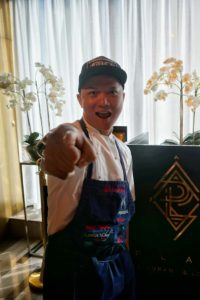 Speaking of entertainment, Play is one of the very few venues in Dubai where I've enjoyed the live entertainment. There's some pretty annoying live entertainment at brunches around town, so I was more that pleasantly surprised to find Play's amazing lounge singer stealing my attention away from my food. No mean feat considering how good the food is. I'm not sure we need the feathered ladies and the contortionist, but Reif, keep that singer on.
The food on offer at the 'Play by Day' brunch is extensive – it just keeps coming! Scrumptious starters, stunning sushi displays, succulent steaks and decadent hot pots wing their way to your table as if by magic. There is no way you'll leave hungry here – we had to ask for a time out! Food quality hasn't been compromised at all in this brunch, making this undoubtedly the best value way to experience Play's impressive offering. The menu changes each week, so I can't give you a promise as to what will be on offer when you dine, but when you've got rockstar Chef-of-the-Year Reif Othman in the kitchen there's no need to worry! I've yet to meet a dish created by Reif that I didn't like. The best thing about this is that you can go back again and again to taste different dishes!
Play's brunch is setting the bar for brunch cuisine in Dubai – but if there's anywhere it can improve, it's on the beverage side of the equation. Rose, white and red wine are on offer, but no cocktails save for a welcome drink (very sweet frozè) which had me a tad stumped. A few elegant cocktail options would really add to the glamour that is the Play experience. We also had some service issues, sometimes having to request a drink up to three times, rather frustrating my dining cohorts. Add to that drinks orders then occasionally being incorrect order when they did arrive, and quite a bit of confusion over some special dietary requirements and it would be fair to say that service was the component letting the side down at Play. Admittedly though, service is a widespread issue in Dubai so Play is not alone in its service struggles in the slightest. Brunch can be pretty hectic, however, and I get it, brunch customers can be a pain in the butt to deal with – but I know Play can easily make massive leaps in this department.
With a little tweaking of the beverage menu (and making the drink ordering process more efficient), this brunch would be leaving the oft-disappointing Dubai brunch pack in its dust. Food wise, it's head and shoulders above the rest. It's also a four-hour brunch (12-4pm) which makes me very happy, with last call at 3:30.
Play's cuisine and entertainment put it at the top of the pile of Dubai brunch offerings – I wholeheartedly recommend you book immediately.
Details:
Brunch: Fri 12pm-4pm (last call 3:30)
Soft beverages 340dhs, house beverages 440dhs, sparkling 540dhs