We're coming up on six years in Dubai in 2021 and we'll admit, though we've visited Atlantis on many occasions to dine, we hadn't thought about staying there until the pandemic changed all the preconceived notions we had about travel. Don't get us wrong – Atlantis The Palm is truly iconic in Dubai – it's as recognisable as the Burj Al Arab and the Burj Khalifa, in our books. Its status as an icon was never in question in our minds, rather it was whether a getaway to Atlantis would be right for us – could Atlantis be an exciting stay for a couple of luxury hotel loving Dubai residents who are sans kids?
Atlantis is a truly huge property with so much going on – the sprawling resort usually accommodates guests in the thousands, but due to the current global situations we were lucky to see it at a slightly less crowded capacity – but don't get us wrong, Wednesday – Saturday the crowds were getting right up there again. If a more low key stay is your goal, Sunday – Wednesday is the ideal time to visit.
Dining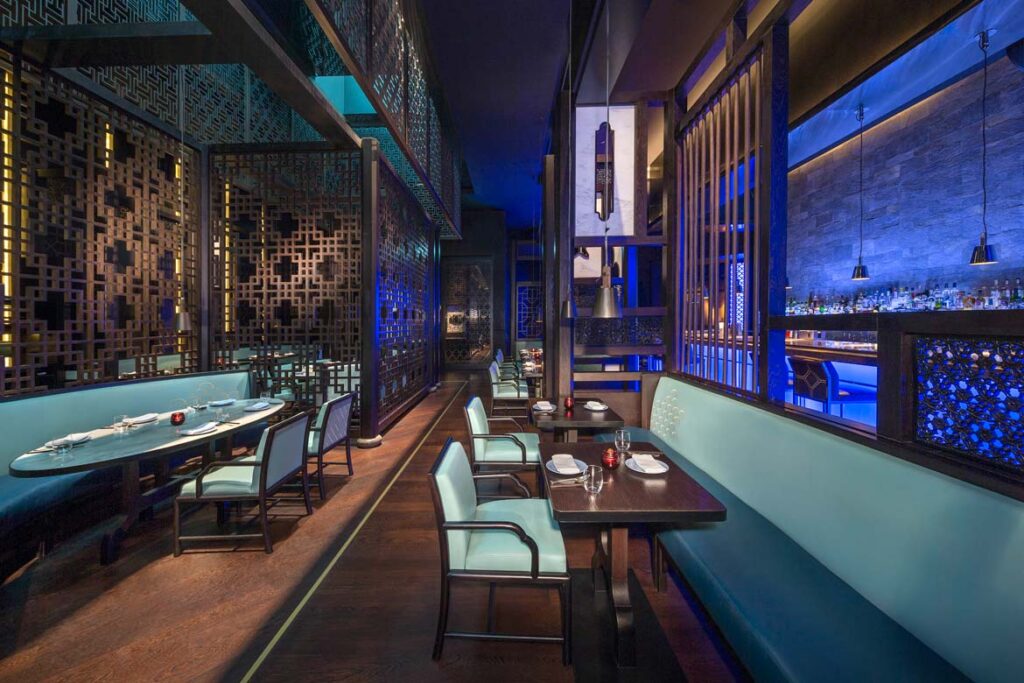 When you're staying on the Palm, being able to spend your stay dining completely in house is truly an advantage. Dubai residents and visitors alike oft bemoan the distances to Careem from the off-shore locale to downtown venues so on property is where it's at. Luckily for Atlantis guests, the choice and quality on offer surpasses possibly any other hotel in town we can think of (Armani might be a close runner up).
Atlantis has a plethora of casual options for lunches, those who prefer a quick bite or have kids in tow – there's the waterpark-adjacent Wavehouse, the Royal Pool-side Mexican offering is superb, Ronda Locatelli serves up family friendly Italian cuisine by the bucketload and of course, there's Gordon Ramsay's Bread Street Kitchen – we recommend their Friday brunch. (There are also wallet-friendly fast food outlets for those peckish in-between moments.) The restaurant at WHITE beach is also accessible to families (take note that the beach itself is 21+, so kids must stick to the main Royal pool/beach).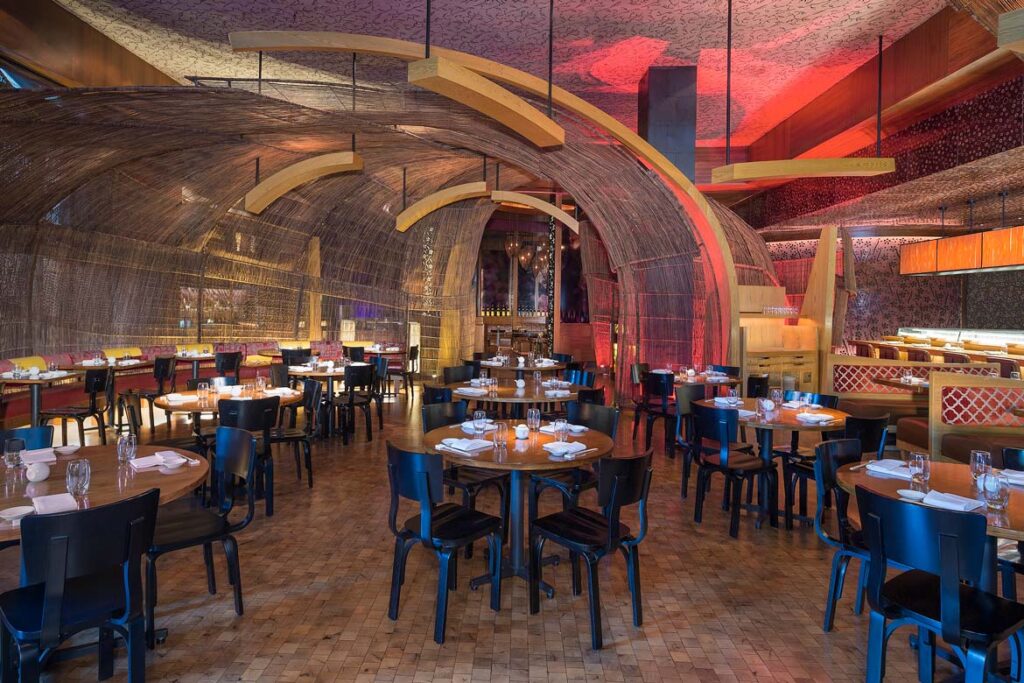 For those swanky evening outings, Atlantis doesn't disappoint either – there's global Japanese/Nikkei sensation Nobu, the excellent Hakkasan serving up Cantonese cuisine to die for, and Seafire for those who are more keen on surf and turf than Asian fare. Ossiano also serves up fine dining tasting menus with plenty of seafood – think upscale-cruise-ship vibes – and is perfect for special occasions. Should you wish, a scuba diver can even deliver a special message to your table via the aquarium window (an extravagance that comes with a suitable price tag, mind you). One thing's for certain – the service across all of the Atlantis outlets is flawless – a 10/10 for us. Clearly Atlantis are doing something right when it comes to ensuring their staff are well trained and happy – and it shows.
Safety
When it comes to pandemic measures, Atlantis wasn't perhaps as over the top as say Le Royal Meridien, but it definitely felt safe enough. There's plenty of sanitiser available in public areas as well as masks provided in your room. Tables are socially distanced, frequently touched items such as the mini bar have been removed and of course, all staff are wearing masks as is government mandated.
Entertainment
Entertainment is something you will not be short of during a stay at Atlantis. For the young (and the young at heart), free unlimited access to Atlantis' waterpark, Aquaventure, is a real benefit of staying at the sprawling resort. Being able to head into the park whenever you wish (or whenever the kids demand) is a huge cost saving – we spent a good five hours in the park and didn't want to leave. Considering the price of admission, this really enhances the value of your room spend (especially considering the excellently priced rates at this time).
If you're feeling waterlogged after all the time you've spent on the lazy river or tubing down Aquaventure's many rides, there's plenty of fun to be had on dry land. There's The Lost Chambers aquarium, free to in-house guests, which can also in part be enjoyed via many of the viewing windows scattered around The Avenues (the Atlantis' dining precinct) as well as from the main dining room of Ossiano. Feel like something a little more hands on? Head to Wavehouse for some ten pin bowling (with alcoholic beverages available!), go for a surf on their wave generator (probably best to do this one pre-adult beverages) or try your luck at some arcade gaming upstairs (currently said adult beverages are not allowed in this area).
If that's exhausted you, you can always laze poolside at the Royal Pool and beach or head to White Beach for some adult-oriented bevvies and excellent tunes spun by the in-house DJ.
The Room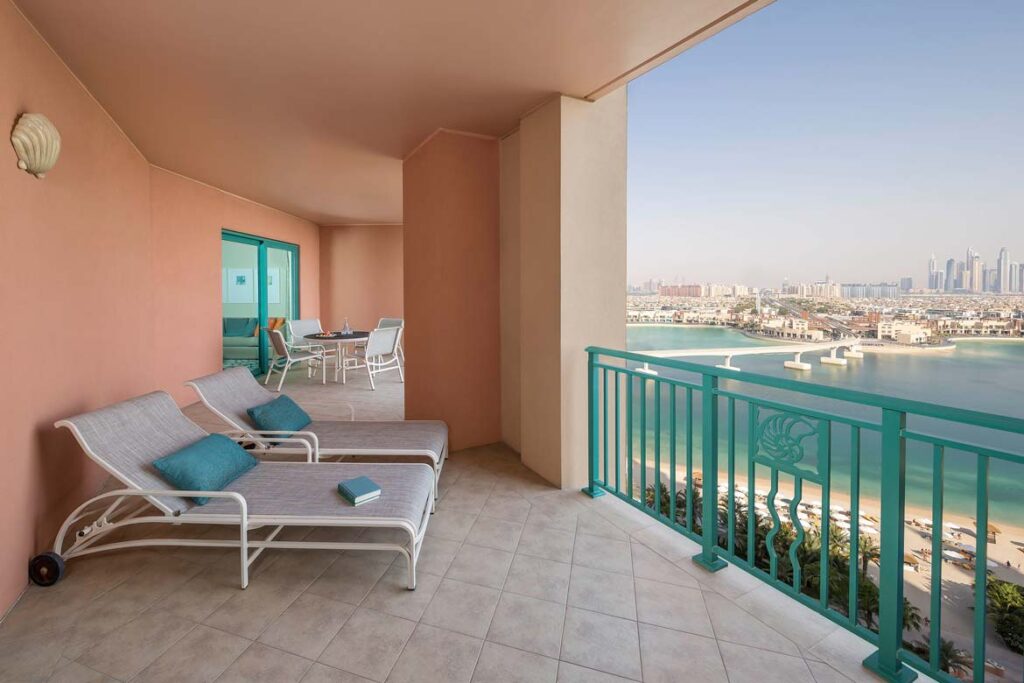 We stayed in a Terrace Suite, one of three suite configurations available at Atlantis (save for the rather extravagant signature suites – fancy sleeping underwater?). The Terrace suite clocks in at 74sqm and boasts an extensive balcony with two sun loungers and a four seater dining table (there's one of those indoors too).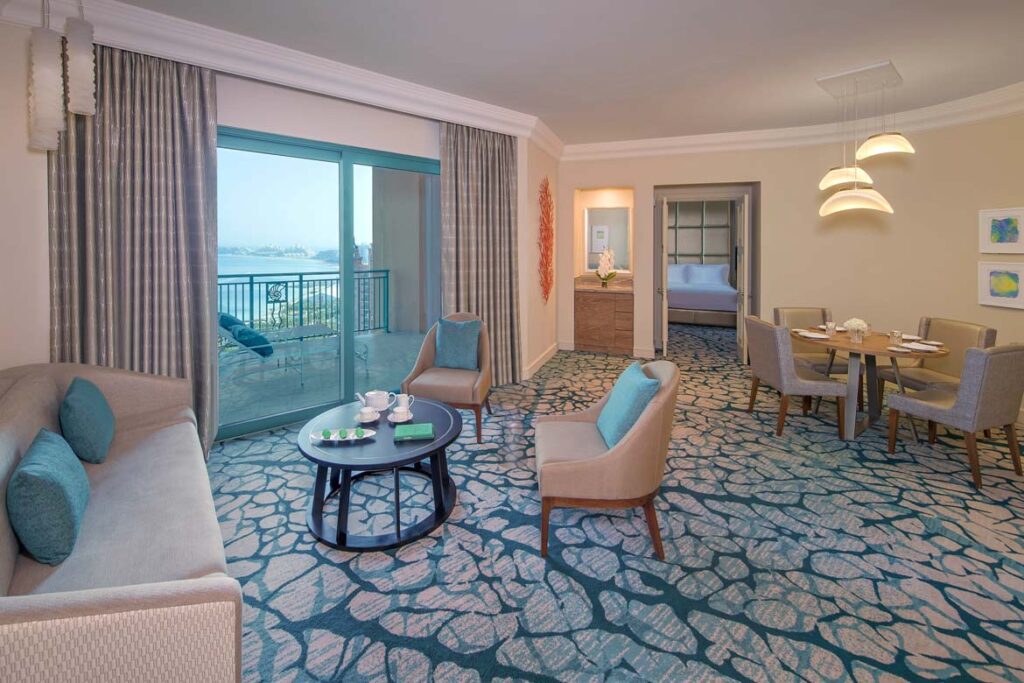 There's also a lounge area with TV, coffee machine and guest powder room and storage closet. The main bedroom of course has another TV, desk area, walk in dressing room and expansive bathroom, the centrepiece of which is a full size soaker tub. Toiletries are house branded.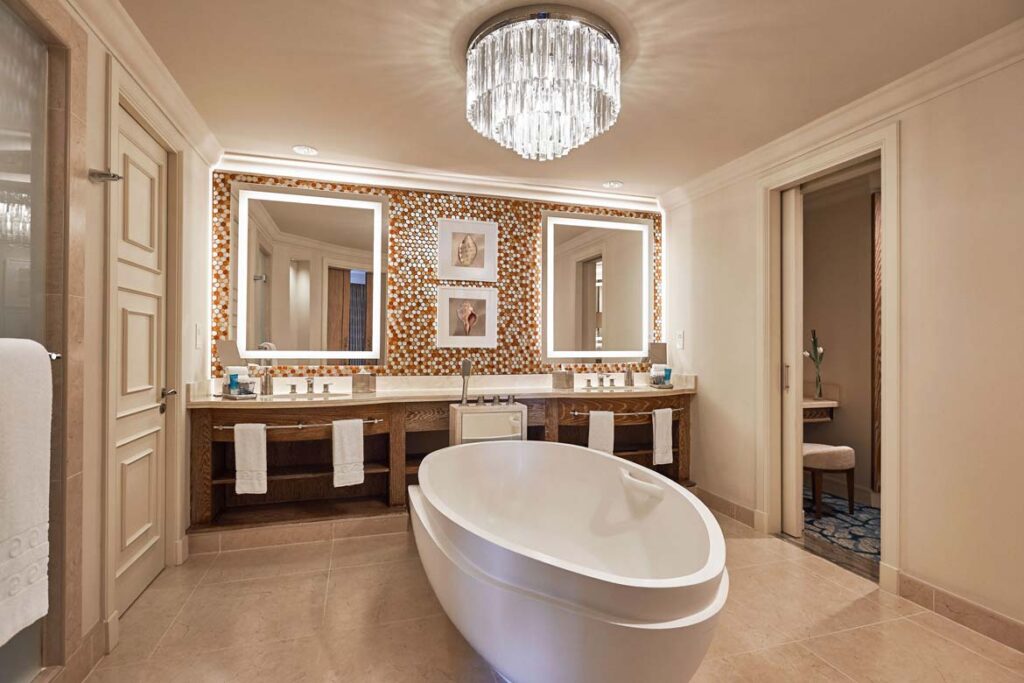 The bedding quality is exceptional, in fact we loved it so much we asked to purchase the pillows for our own home! We don't do that too often. (Though we did also drag pillows back from Trisara in Phuket!) The only thing we didn't love is that the mattresses are very firm, much too firm for us which did impact sleep quality (we're looking for cloud level softness, so we love when hotels offer customisation a la Four Seasons Hong Kong).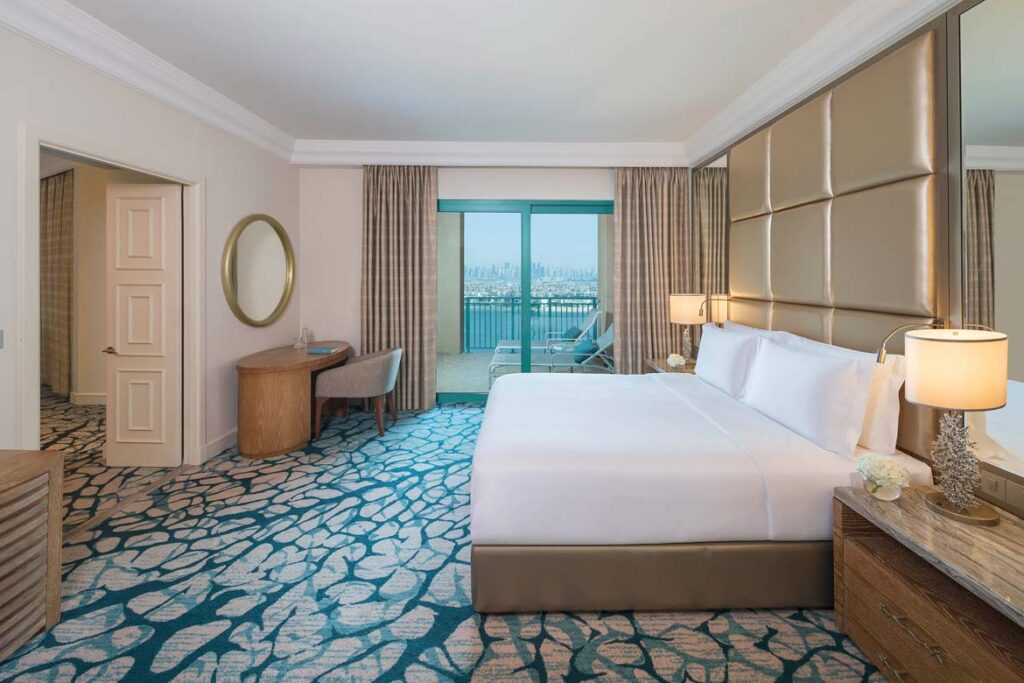 Resort Facilities
If you're staying in a suite, you'll have access to Atlantis' excellent club lounge – a top perk in Dubai where beverage prices are higher than most. There's free flow drinks from 6-8pm and snacks too – usually these would be set up buffet style, but during these c-word times they bring them directly to your table. An improvement, perhaps? Sit outside and enjoy watching the dusk fall while taking in views of the iconic Dubai landmark.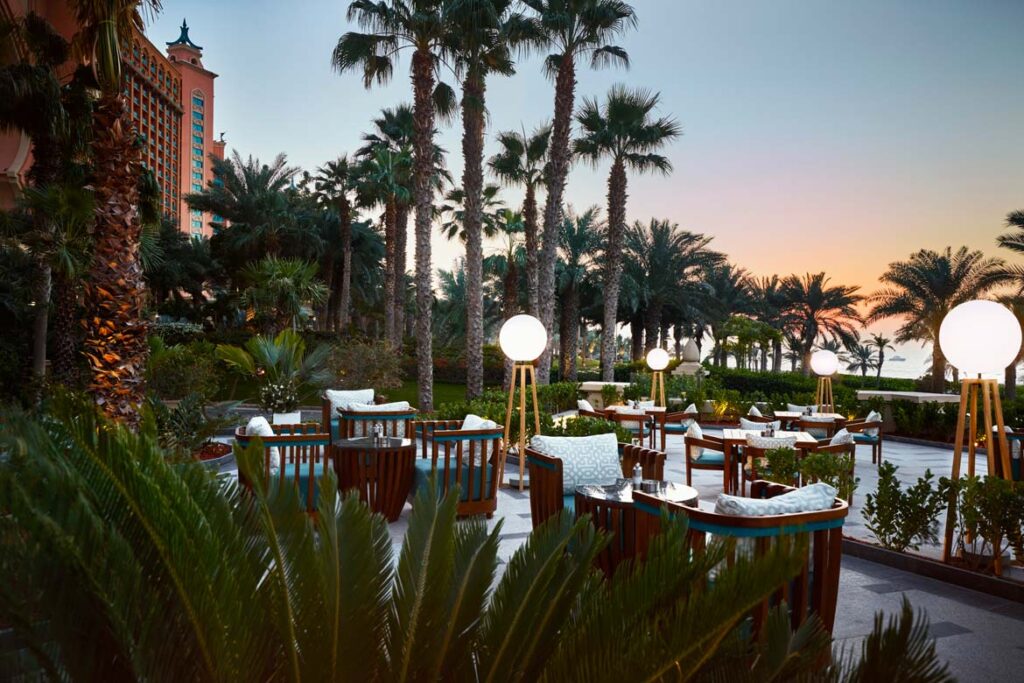 The resort has two pools that guests can access – the family friendly Royal Pool and for the adults, White Beach (kids can dine at White restaurant, but the beach is 21+).
One tip we will give you: request the wing that suits your activities. The west wing is the quiet one (where we stayed) but the east wing is where most things are like the lounge, gym and the connection to the Avenues dining precinct. Choose a room in this wing and you'll save yourself plenty of walking time! The west wing however will give you views right around to the Burj Khalifa and Burj Al Arab.
Overall, what did we think of our two night spent at Atlantis? Honestly, we were surprised by how much we loved it! Yes, the rooms may not be quite as luxurious as a St. Regis or Four Seasons, but there is SO much to do at Atlantis that you really won't find yourself spending too much time in your room…unless you want to, of course! (Or you're recovering from a strenuous day at Aquaventure.)
Would we head back? In a heartbeat. We had an absolute blast – and we can confidently say that whether you're a couple, group of friends or a family, you're guaranteed a fabulous time at Atlantis. Our only gripe is that our stay was over too soon – we mused that we could easily stay 5-7 days and not be bored in the slightest! Next time…