Read on for our full staycation review of Dubai's Waldorf Astoria Palm Jumeirah…
Being fans of the Waldorf Astoria Ras al Khaimah and recently opened Waldorf Astoria in DIFC, we figured it was about time we put the Palm Jumeirah outpost of the luxury chain through its paces. We can't believe we've spent five years in the emirate and not yet set foot on its grounds, but we can confidently say we are happy we finally did.
Our check-in didn't go particularly smoothly, however. We were told to wait in the lobby and someone would attend to us soon, but 'soon' ended up being around twenty minutes and we were only seen to after enquiring again as to what exactly was the hold up. We were then ushered to check-in at the Pearl Club Lounge, and all was taken care of in a reasonably timely fashion.
One of the best things about upgrading your room experience at The Waldorf is access to this very Club Lounge (conveniently located on the same floor as our Pearl Club Suite). It offers the standard complimentary breakfast, lunch and afternoon tea, but what we loved most is their cocktail 'hour', 5-7pm each evening. With the price of cocktails in Dubai, the value of this perk quickly adds up – plus the sunset views afforded from the lounge balconies are truly sublime.
Our suite was well-appointed, decked out in sand and sea tones perfect for the oceanfront locale of the property. Being a suite, of course, it boasts a separate lounge and bedroom, and all have views of the interior Palm Jumeirah waterways.
The marble bathroom is particularly spacious and open with double vanities, centering around a large bath. Like all of the UAE Waldorf properties, toiletries are by Ferragamo, a brand we find to be a little old school (but then, so is the Waldorf) but certainly nothing to complain about.
You'll find the signature plush Waldorf robes in the walk-through dressing room (we own one, we love them that much) and the beds are always a highlight at Waldorf Astoria, just as snuggly as the robes with their silky soft sheets and plump pillows.
Cuisine wise, it's a bit of a mixed bag across the property, but generally, the offering is of a pretty good standard. Social by Heinz Beck is the signature restaurant at Waldorf Astoria Palm Jumeirah, but for us felt like it just wasn't keeping up with the pack – we can see how it impressed 5-10 years ago, but while not being bad, it does feel stale if we're looking at it through an international lens.
We enjoyed our meal at LAO, with the beef salad being the surprise stand out – it was truly flavoursome. We weren't huge fans of the pho, but enjoyed our meal overall. The great Asian cuisine continued at breakfast, with a superb chicken noodle soup with all the condiments and some great dumplings and fried noodles. Asian cuisine is our preference any time of the day and we were very happy to see such a great offering available at breakfast. If you're not a dumplings-in-the-AM type person, there are myriad options available, surely something to please everyone in the family.
Speaking of family, there is a kids club at Waldorf Astoria Palm Jumeirah (we even spotted a blow-up play area being inflated daily), and also an adults-only pool if screaming little ones aren't quite your thing on vacay. The main resort pool is spacious with plenty of covered cabanas (and even some over pool dining cabanas) and you'll find 200m of pristine Palm Jumeirah beachfront at your disposal if you'd rather take a dip in the ocean.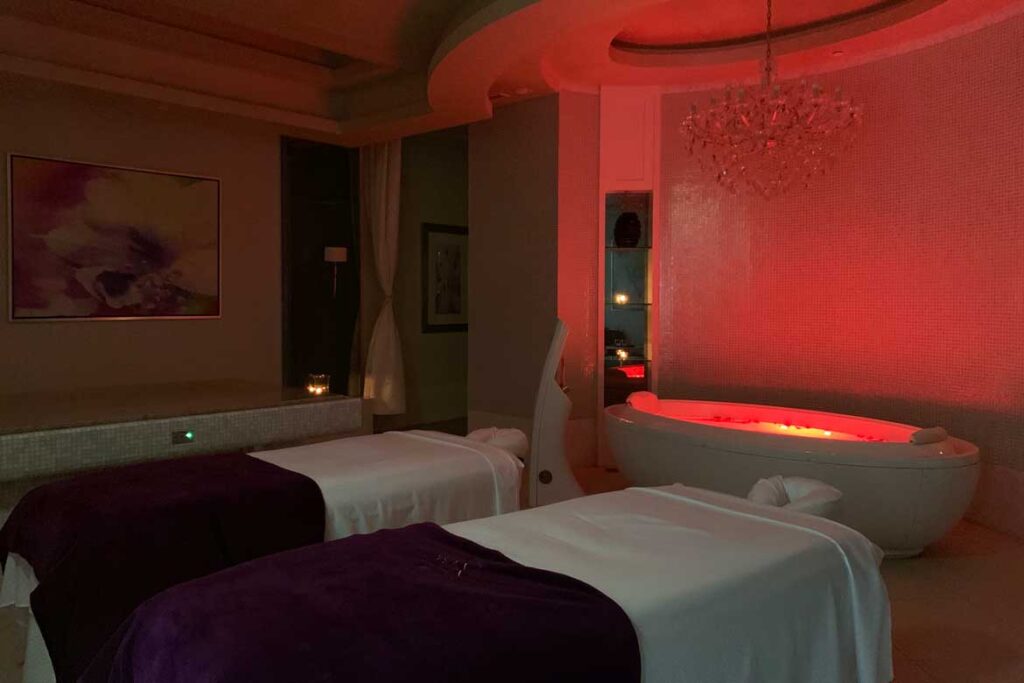 If more strenuous activities are your thing, there's a fully equipped gym and even a full size tennis court for burning off all those cocktails.
If all that sounds like the opposite of what you enjoy when getting away from it all, never fear – the spa at the Waldorf Astoria Palm Jumeirah is absolutely world-class. The couples treatment room features a jacuzzi bath with customisable light and sound, a spacious bathroom, a sauna and experiential shower. We've never seen individual suites with all of these features available in a private setting, usually, all extra spa amenities are located in the public area. Definitely another level of luxury and probably our current favourite spa suite in Dubai.
Location-wise, the Waldorf Astoria Palm Jumeirah is rather obviously, located on the Palm. Dubai residents won't fuss about that, as it's unlikely you're planning on leaving or dining at anything other than a neighbouring Palm resort. If you're a visitor, it's worth noting that the Waldorf is on the far reaches of the east crescent of the Palm and it will take you some time to get back to the mainland. Atlantis will be a quick ride, and it won't be the end of the world to head to Dubai Marina; but to get to Business Bay and DIFC you could easily be looking at an hour's transit time. Just something worth considering, as is the case with many properties on the Palm.
If you're looking for a beach break, the Waldorf Astoria Palm Jumeirah is a great choice. It's sophisticated, cosy and relaxing, with gorgeous Palm views and calm waters to be enjoyed. Equally, if being out of town isn't an issue, then perhaps their Ras al Khaimah property is worth considering; but for close-to-home staycays, this is a retreat worth relishing.