Have you dreamed of staying in the Burj Khalifa? We did exactly that…
Overnighting in the world's tallest building. It's a bucket-list-worthy goal, and something we planned to tick off by staycationing in the Armani Hotel, situated inside Dubai's world-famous Burj Khalifa. Even if it wasn't located in the world's tallest building, the Armani Hotel would still be total #travelgoals. As luxurious as the apparel brand itself, Armani Hotel oozes signature style. From the decadently rich and oh-so-Arabic scent (we seriously recommend picking up some of the home fragrance from the gift shop to take home, we love ours) to the bold design statements everywhere you look, Armani Hotel is not your average property.
Lashings of the Armani aesthetic drip from every detail here, the hotel awash in swathes of neutral colors and natural materials. A soothing palette of beige, grey, black and brown gives the hotel a timelessly chic feel, but it's the textures and proportions used that really give the hotel its unique style statement. They've used minimalism to great effect, leaving you to be intrigued by the details – perhaps a thoughtfully redesigned lift button, or tactile walls sheathed in fabrics and stone. The only downside of this uber minimalist approach is that things aren't particularly well signposted – it's rather easy to get lost amongst the hotel's many moody passageways when you're trying to find the pool, spa or restaurants.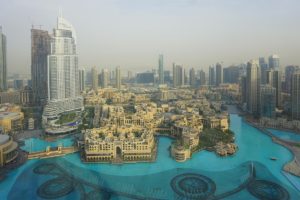 Our 36th floor Fountain Suite overlooked Dubai's famous fountain show at The Dubai Mall – a truly iconic view. Shows play once during the day and at regular intervals throughout the evening, and you can tune your TV using the in-room iPad control to play the fountain music in the room so you can enjoy the full experience if that's your cup of tea. Speaking of the in-room iPad control, the Armani rooms are highly automated (much to the delight of our hotel tech-loving hearts). Naturally, it controls the usual functions such as the curtains and television, but also offers so many more features we haven't seen at a hotel before. You can request a laundry pick up, more coffee, towels or bath amenities, ask for your room to be serviced or even have your car brought to the front of the hotel (we love this idea). It's great to see hotels implementing tech that eliminates the need to call reception, concierge or housekeeping whether it be via an app like Four Seasons, via WhatsApp like W Hotels, or this fantastic tablet. It also houses all the menus you need, whether they be pillow or in-room dining, and serves as the hotel guide. (Does anyone else love reading the in-room compendium or are we just hotel geeks?)
The suite is equipped with two large televisions, one bedside has a charging station for all your USB devices, and of course, there's the requisite Nespresso machine (complete with Armani shortbread of course). There's also a minibar with soft beverages that are provided free of charge which is a nice touch, but the savoury snacks provided alongside were surprisingly a miss.
The bathroom is spacious and gorgeously dark with glossy, stone-lined walls, double vanity and separate shower and bath. We loved the wonderfully fluffy towels and of course the signature Armani amenities – but there just weren't enough of them. It was definitely a case of quality over quantity, as the items that were in the room were some of the very best we've seen offered. The toothbrush kits are by Marvis, the body lotion is large and carries that gorgeous signature scent, and you'd be forgiven for mistaking the hand soap for a beautifully polished stone. Apart from these basic items, a shower cap, q-tips and a dual purpose shower gel/shampoo were the only amenities provided in the room. A card mentioned you could call housekeeping for a shaving kit, sewing kit or comb should you need them – but at this level of luxury property, they should really already be in the room. We also thought that it was rather strange that the only amenity in the shower was the shower gel/shampoo – not even a conditioner in sight.
The suite comes in at 80sqm, but feels much more compact. The space limitations of the Burj Khalifa's unusual design are just what you have to trade-off for the novelty of being in the world's tallest building. The beds, pillows and sheets all pass muster when it comes to comfort (and of course you can order a different pillow from the iPad menu) but we feel the room fit-out doesn't quite live up to the fit-out of the public spaces of the hotel – we'd like to see the luxe factor turned up a notch.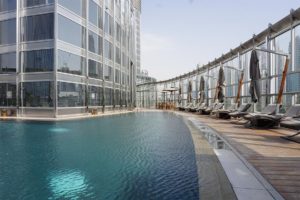 Being an inner-city hotel, it's never going to have a pool area to rival Dubai's resort properties, but we do feel Armani could step up their game in this area. The pool has fantastic views up to the Burj Khalifa's peak though, as well as of the Dubai Opera and Business Bay. Whilst we adore the bottles of Acqua Panna delivered in cute ice bags, there's no music for ambience, despite many expensive-looking Bose speakers dotted around the pool area, and there's no real pool bar to speak of – we ordered a cocktail but it took so long to come (as it has to come from room service we imagine) that we attempted to cancel it before it finally arrived a good 25+ minutes later. The pool didn't really have enough ambience to hang around any longer, unfortunately. When the cocktail finally did arrive, sadly it was unbalanced, and frankly, undrinkable.
The super-stylish gym, however, is possibly the best we've seen, housing all the latest equipment which even boasts YouTube connectivity. We were seriously impressed.
So who would we recommend Armani Hotel to? This is a hotel for business people who want to be close to Business Bay, hardcore shoppers who want to spend their days at The Dubai Mall, serious Armani devotees or those who want to enjoy the fountain views and novelty of staying in the world's tallest building. We recommend it for shorter stays, as we think the room layout and the limited facilities available don't really lend themselves to an extended getaway – but it's fun for a night or a weekend.