Stuck in self-isolation due to COVID-19? Let us bring a touch of fine dining to your home with a series of recipes from our favourite restaurants from around the globe…our COVID-19 Kitchen Quarantine cookbook.
The ninth in our series of gourmet recipes comes from the Mumbai sister restaurant of Dubai's renown modern Indian establishment, Tresind. Tresind has been a staple on the Dubai dining scene for almost five years, winning countless awards and building a legion of loyal fans over this time, and now boasts locations in Mumbai and Kuwait. Click here to read our thoughts on Tresind Dubai – Tresind is one of our all-time faves.
Dining in at Tresind Mumbai during COVID-19
In an abundance of caution for the health of their staff and diners, Tresind Mumbai remains closed at this time. If you would like to support Tresind Mumbai, why not make an advance booking?
About this recipe: Ghee roast is a Mangalorean masala made by grinding spices and chili. The masala is roasted in ghee to impart its beautiful spice aromas. This version of ghee roast is done with prawns and paired with sautéed mushrooms and curry leaf dust.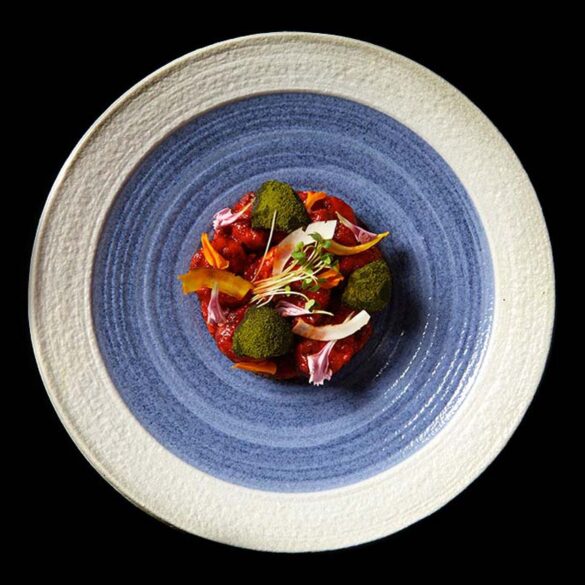 Ingredients
200g Prawns (Size 21-25)
100g Coriander seeds
5g Cloves
10g Black pepper
5g Fenugreek seeds
10g Cumin seeds
5g Star anise
5g Fennel seeds
50g Kashmiri red chili
10g Curry leaves
2 Coriander sprigs
10g Ginger
40g Garlic
1 Red Onion
100g Mushrooms
3g Asafoetida
10g Salt
10g Curry leaf powder
20g Clarified butter (ghee)
Instructions
For the prawn ghee roast:
In a hot pan, roast all spices & red chillies. Keep aside and let it cool.

Blend everything together with the onion, ginger and garlic to make a fine paste.

Temper asafoetida, curry leaves in clarified butter.

Add the ghee roast masala, shrimps and cook until the masala and shrimps are completely cooked.
To finish:
Roast the curry leaf in the microwave and blend it into a fine powder

Roast the mushrooms in a hot pan and garnish with curry leaf powder.

Place the prawn ghee roast in a plate & garnish with mushrooms and coriander sprig.