Get a taste of Bali's best burgers with this recipe for the Boss Man O.G. burger
The tenth in our series of gourmet recipes comes from Seminyak's killer burger kitchen, Boss Man. We've eaten our way through pretty much the whole Boss Man menu and let us tell you – these are the best burgers in Bali hands down (and then some)!
The BO$$ MAN team wanted to give you the inside scoop on creating burgers like a BO$$…
You have to be game to step up and take on BO$$ MAN burgers, with bold flavours and an overly saucy approach, this style of burgers at our funky little burger bar will leave you with sauce from fingertip to forearm.
The O.G. is modelled off the "go-to" classic burger using a combination of beef, cheese, onions, lettuce and tomatoes, and oh, don't forget the pickles! The O.G. is the cornerstone of the BO$$ MAN offering (although our personal favourite is the newest entry to the menu, the Sinatra) and to this day the O.G. still remains the number one seller on our menu.
We've provided the recipes to our secret sauces that we use in the O.G. below, but here are our tips on sourcing the best burger components.
Vegetables: Try to look for large vibrant red tomatoes (Heirloom if possible), and a crisp head of iceberg lettuce.
Bun: We make our buns in-house, but you don't need to do this – simply look for a bun with a reasonable amount of structure to it, it will need to stand up to an onslaught of sauce. Try to buy your buns the day you plan on eating them -remember, fresh is best!
Cheese: In contrast to what we've said about quality, the cheese used in this burger is cheap and nasty American sliced cheddar, you know, the slices in the cellophane film! Don't worry, this is intentional. This style of cheese has a low melt point a mild flavour, and we think there is just something about that nostalgic image of a cheeseburger with the corners of the cheese slice hanging ever so slightly over the edge of the patty. Remember, this isn't a burger where the meat and cheese are the hero, this burger is the sum of all its parts. If you'd rather not go down the 'plastic cheese' route, we recommend Emmental for its melt factor, or if you want something with "more punch", go for a good aged cheddar.
Meat: Although there are seriously luxurious patty options on the market like an amazing wagyu patty or dry-aged beef, we spent a lot of time testing different cuts, fat ratios and coarseness and feel we came up with a great cost to flavour ratio. When shopping for your mince or patties, look out for medium-grind meat with 15% fat, called 85cl grind.
How to enjoy BO$$ MAN in Bali
Rock up to their Seminyak location or head to the Boss Man website for delivery areas and follow them on Instagram here.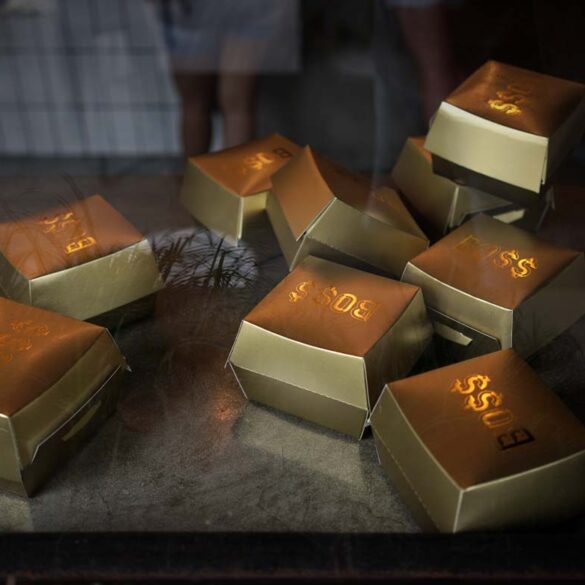 Ingredients
BURGER COMPONENTS
4 Burger buns (10 cm diameter) - cut and toasted
4 160g 85cl meat patties (10 cm diameter)
2 Large heirloom tomatoes - sliced
1 Iceberg lettuce
4 Single slices American cheddar (the cheap and nasty type) 😉
Pickles - sliced
Onions - sliced
Thousand island sauce – recipe follows
Horseradish aioli – recipe follows
------
THOUSAND ISLAND SAUCE – makes 750g
300g Gherkin
20g Shallot
1 Small clove of garlic
160g Tomato sauce (we use our house-made ketchup but good old Watties will do)
360g Best Foods mayonnaise
4g Smoked paprika
------
HORSERADISH AIOLI (makes approx. 720g)
3 Egg yolks
500ml Canola oil
15g Dijon mustard
125g Horseradish cream
Juice of ½ a Lemon
1 Small clove garlic
2.5g salt
Instructions
To make the Thousand Island sauce:
1. Chop the gherkins, garlic and shallot as fine as possible and mix with the rest of the ingredients. That's it!
To make the Horseradish Aioli:
Making an aioli can be tricky - if you want to skip this step, simply mix the horseradish cream with 500g of Best Foods mayo.
The basic principle of making aioli is finding the balance of emulsifying fat and water.
If you're up for the challenge of making aioli follow the steps below:
Add all the ingredients

except the oil

into a blender and blend to a smooth puree.

Next, slowly pour the oil in a steady stream into the blender with the motor still running. Do so slowly, until an emulsion has formed.
If it becomes too thick, simply add a splash of water then go back to adding the oil.
Note: It can be tricky playing the "aioli game" but give it a crack. Once you have mastered it then the fun really begins. If the mixture splits on you, it can be saved - but that takes a bit of an understanding of emulsification through additions of cold or warm water at different rates… it's probably better to just start again. Before you grill: Create a little burger build station by having all of your elements ready to go and accessible before its time to grill. I suggest sweating off your onions to your preferred level of doneness and then just putting them aside until needed. Now for the fun part…cooking the patty!
Season the patties liberally with salt and pepper.

Cook on a solid flat top grill or large frypan over a high heat.
When you flip the patty, it's at this stage you place your cheese slice on top of the patty and add the previously grilled onions.
When your desired doneness level is achieved, simply put your patties on a resting tray and allow to sit for a minute before building.
Note: I prefer not to cook on a bar grill as it has a tendency to pull the patties apart when flipping. To build: Check out our burger graphic which will show you how to build your O.G.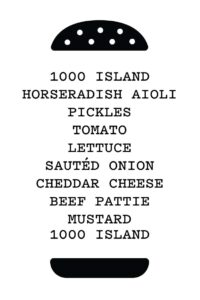 Last note: Don't be shy with the sauce, as a rule, these are saucy burgers!! From our kitchen to yours…..please enjoy!