Stay:
Hotel St. George
Arty, light and oh-so-Nordic, Hotel St. George is the perfect respite from the icy Helsinki chill. Conveniently located in the centre of the city's shopping district, this former home of the Finnish Literature Society impresses with wonderfully comfortable beds, spacious bathrooms and plenty of great cuisine and cocktails in-house.
Dine:
Palace
Housed in a waterfront building almost 70 years old, Palace is a restaurant steeped in history. Its soft, salmon toned interiors pay homage to its art deco past, the perfect spot to while away an afternoon watching the fog roll in and out of the harbour from its 10th-floor vantage point. The food at Palace is simply sublime; elegant and well balanced – Palace is an easy choice for our favourite restaurant in Helsinki and one we absolutely would not miss should we return.
Palace Restaurant
Eteläranta 10, 00130 Helsinki
+358 50 5058643
Visit Website
Ora
A firm favourite of chefs near and far, Ora delivers soulful Nordic cuisine with a focus on ingredients and sustainability. Ora seats less than twenty guests, so ensure you book ahead to experience this quaint culinary gem. We particularly loved their Red kuri squash with sea buckthornberry and Sunflower and caramel dessert. (Six-course lunch, 89€ )
Ora Restaurant
Huvilakatu 28 A 00150 Helsinki.
+358 40 0959440
Visit Website
Ask
A cosy and warm restaurant that seats only 22 people, Ask creates ingredient-driven daily menus with a focus on organic and biodynamic produce (and foraged, of course). It's also a very people-driven restaurant – with passionate owners Linda and Filip at the helm, hospitality is also a highlight here. If you want to understand the essence of seasonal Helsinki produce and taste interpretations of Finnish classics, this is the place to head.
Ask Restaurant
Vironkatu 8, 00170 Helsinki
+358 40 5818100
Visit Website
Drink:
Helsinki Distillery
Whether you want the full distillery tour or just want to sample some of their wares at their upstairs cocktail bar, Helsinki Distillery is a must visit for spirit lovers. Distillery tours are available Fridays and Saturdays at 6 pm for 15€ / person or 30€ / person including a guided tasting of 3x2cl and a 33cl Helsinki Long Drink. It's the only distillery in town and produces everything from Akvavit to Whiskey to Applejack…plus there's plenty of unusual gins to be sampled.
Helsinki Distillery
Työpajankatu 2a R3, Helsinki
+358 40 706 0388
Visit Website
Wintergarden
You'll find this gem tucked inside Hotel St. George, so you won't even need to head outside! Perfect when the weather is feeling a touch too frigid to venture out. The Garden Bar has creative cocktails galore, warming fireplaces and yet more art to discover.
See Hotel St. George for more details
Liberty or Death
This dimly lit, tiki-goth spot is the perfect place for some late night drinks. Serving up a delicious range of cocktails with a good dose of humour, this would have to be our favourite cocktail spot in Helsinki. Don't miss the 'Drunken Bunnies Tiki'…we may have ordered more than one repeat!
Liberty or Death
Erottajankatu 5, 00130 Helsinki
+358 40 1271731
Visit Website
Do:
Taste traditional Finnish pastries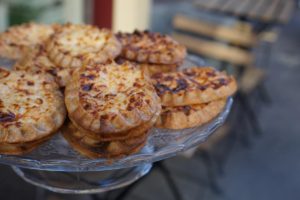 You can't visit Finland without sampling their traditional Karelian Pasties. Consisting of a thin rye crust filled with either potato or rice (served warm and then topped with butter or 'egg butter' when eaten), these are a carb bomb and half, no doubt designed for icy Finnish winters where plenty of energy is needed to keep warm. You'll find these everywhere in Helsinki so there should be plenty of opportunity for carb-lovers to indulge!
Visit Kaivopuisto Park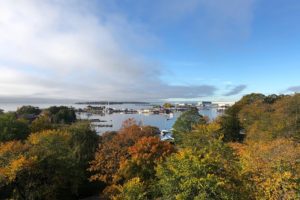 This serene waterside park offers panoramic views over the harbour and out to sea, which come winter, turns into a glassy, frozen vista. There's plenty of green space to relax in, so why not pick up some Karelian pasties and natural wine and chill for the afternoon?
Have you visited Helsinki? Let us know your favourite spots below!