We'll be honest. When the long-awaited W The Palm project announced their restaurant offering, featuring concepts by current World's 50 Best no.1 holder, Massimo Bottura, and Akira Back, we didn't have the slightest clue about the latter. Fast forward quite some time to their eventual opening and we can't say we know too much more about Back, but we did manage to glean the following facts on our visit. The former pro snowboarder heads up a fast-growing empire of restaurants (7 opening this year), one of which holds a Michelin star (nice, but let's be honest, no guarantee of greatness in Dubai). His mother is a fantastic painter it seems, with much of her work adorning the walls and plates – judging by the restaurant decor, Back has clearly inherited his mother's eye for aesthetics. Seems like a lovely chap by all accounts. But in a city overrun with celeb chef concepts, the real question is whether the food on the plate measures up – and whether it will continue to when the watchful eyes of the name emblazoned over the door depart the country.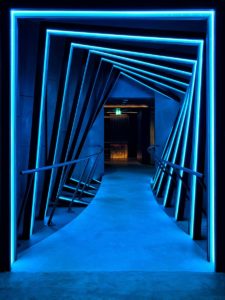 Unlike a lot of recent Dubai openings, they've absolutely knocked it out of the park when it comes to the fit out. From the 'vortex' entranceway to the neon smoke projected on the panels hung from the ceiling, it's as impressive as you'll find in the city and matches the W vibe perfectly. The main dining room features floor to ceiling glass windows to take full advantage of the W's amazing views, which can also be enjoyed in style from the restaurant's expansive outdoor terrace. This is a restaurant that oozes evening glam (though we're crossing our fingers that they'll have a brunch here too because it would slay).
We kick off with a dish that sums up what we want to see from Back – modern Asian that's unique. The Eringi pizza with umami aioli, micro shiso and white truffle oil (85dhs) is a cool concept with its filo-like base, but we'd prefer real truffle to the lashings of truffle oil that ended up lending a touch too much petroleum flavour to the dish. It fared far better than the Duck Prosciutto, however, which at 95dhs for five paper-thin slices of duck breast and not much else had us puzzled as to the point of the dish.
The real hero of the starters, however, was the AB Tacos (115dhs for four). The deep-fried shells filled with finely minced Wagyu bulgogi and roasted tomato ponzu would have to be the dish of the night – they are as good as, if not better, than fellow celeb chef Nobu's version down the road.  We also highly recommend you order the Corn on the cob (65dhs for 5 pcs) from the robata section…delish, just gone too soon!
The AB Shabu Shabu (245dhs) is up next, and unlike the previous starters, this one doesn't offer anything different to the norm so we're not sure why it's billed as an 'AB' version (that stands for Akira Back we presume). The only unusual ingredient here is foie gras, of which we're not a fan, and it seems out of place. The broth doesn't have the depth that we love and leaves the (very fatty) beef and vegetables tasting rather bland. This dish doesn't seem to really offer anything special enough to justify ordering it in this environment.
Being avid sushi fans, we take three of Back's rolls for a spin. The signature Pop Rockin' (70dhs for 8 pieces) certainly ticks the 'unique' box with its unusual combination of crab and pop rocks candy (inspired by Back's childhood, apparently), but unfortunately garners a thumbs down from our tables' seafood eater (you can find her full verdict on PassMeTheDimSum.com). The Vegan Rainbow Roll (65dhs) suffers a similar fate – while billed as 'marinated tomato, grilled nasu (eggplant), smoked mango, grilled asparagus and kombucha ponzu', in reality, the filling is mostly boiled spinach and overall it's bland and unappealing. Our third roll saves the day, however, with its filo wrapped beef filling and coleslaw topping. It's not yet on the menu, but probably will be by the time you visit – if you see it, we definitely recommend it.
While we always feel sticking with smaller sharing plates is the way to go on a menu like this, we of course take Back's main meat and veg for a test drive. Our 300g Kiwami 9+ marble score ribeye with Kizami wasabi butter (450dhs) is deliciously fatty and juicy, cooked in a Josper oven to a perfect medium rare. We don't really get any wasabi, but that's not a biggie when the meat is this good. We love the Brussel sprouts with rice puffs (50dhs) and the Potato puree (also 50dhs) is sinfully smooth and glue-like (in a good way).
The menu at Akira Back does a great job of delivering Asian-influenced desserts that sound super appealing, which isn't always easy. We're sent the Chocolate in a cup, a Nutella and banana foam based dessert (45dhs), and the Butter mochi cake (45dhs). The Chocolate in a cup is a strikeout with its unpleasant textures and strange-tasting banana foam, but the butter mochi cake is a winner. The cake has the texture of mochi – rubbery, a little slimy…but we like it. Served with coconut sorbet and topped with salted caramel popcorn and macadamia, this one is delicious and has that Akira Back uniqueness that we're looking for.
So how does Akira Back measure up? It boasts killer views, an even more gorgeous fit out (it has to be one of the best in town, hands down) and fab cocktails and mocktails. Foodwise, we recommend you lean towards the more unique dishes as this is where Akira Back excels – and absolutely don't miss those tacos. How does it stand up against its rivals on Palm Jumeirah? It beats Nobu in food and decor hands down, while next door neighbour Kempinski Emerald Palace's slightly more casual Matagi beats Back's establishment in flavour overall, but suffers when it comes to fit out and ambience. Akira Back's Dubai outpost definitely warrants a visit, we'd go so far as to even say perhaps two. Definitely one that's here to stay.
Facebook Comments