Nook joins Lowbrow as the latest in the Culprit culinary family
The latest in the Culprit restaurant family, Nook joins their fried chicken joint, Lowbrow, in K'Rd's St. Kevin's Arcade. It's a casual, kushiyaki-focussed joint with a fairly compact menu, barely open three days by the time of our visit. St. Kevin's Arcade boasts a group of small shopfronts converted into restaurants, including the acclaimed Gemmayze St, with communal-style seating.
The setting is probably the biggest factor in deciding whether Nook is for you – the tables are quite food-hall-esque and given that it's open to the street, it can get quite chilly in winter (they've put in heaters, but you'll still need to rug up a fair bit). Add to that the interesting crowd that you'll find roaming on K'Rd on a weekend night, and it becomes quickly apparent that this is a spot more tailored to the younger, hipster segment of the dining populace. We don't have a problem with that personally, but it's worth mentioning as some of our dining party really didn't enjoy this aspect of the experience.
Quirky venue aside, the food served up at Nook is pretty great. The menu is divided into 'sticks' and 'not sticks', leaning heavily on the former. Being that Nook is in St. Kevin's Arcade, however, you have the added bonus of being able to order from Lowbrow too, so there should be enough on both menus to satisfy all at the table. Lowbrow also provides the wine list for Nook and it's mostly natural, which fits given the hipster K'Rd vibe (you'll also find an abundance of natural juice at nearby Clay and Bar Celeste), but thankfully the Colere Chardonnay we ordered hit the mark for us, not tasting remotely cider-like. (You may have noticed that we don't mind 'natural' but we want our wine to still taste like, well, wine. Just our personal preference.) You'll also find Japanese Whisky, Japanese influenced cocktails and craft beers (back on the Lowbrow side).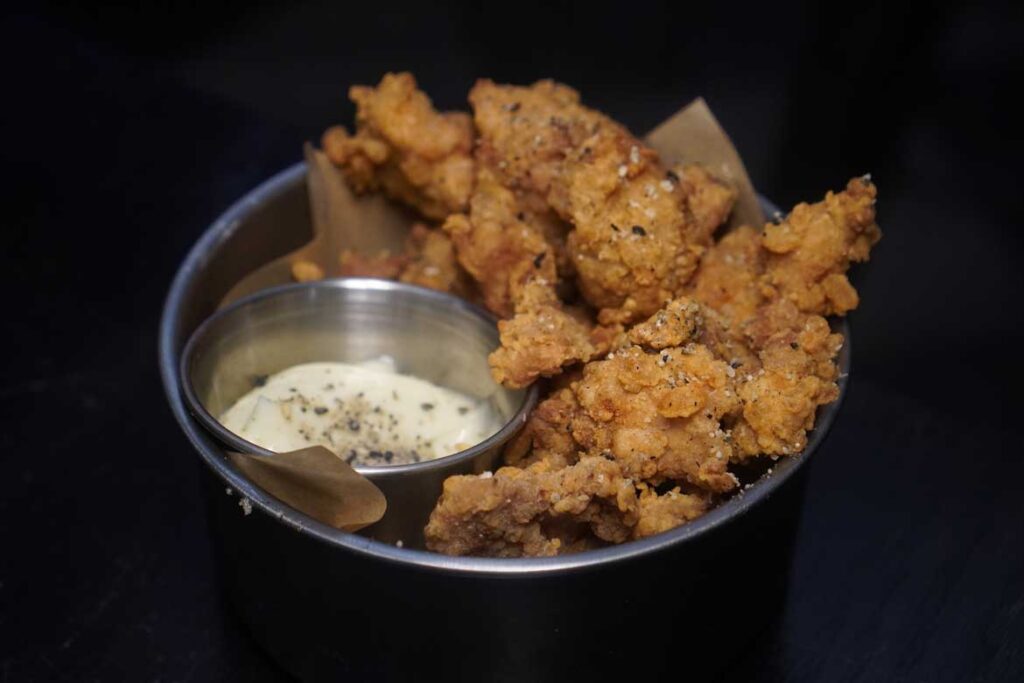 Being karaage chicken addicts, we had to take Nook's version for a test drive. It's small in both piece size and portion size, but tasty and crispy with no signs of dryness (and thankfully, served with kewpie mayo which puzzlingly, is becoming less and less frequent). We feel it's just a touch dear at $13 for the rather petite bowl, but we still order a second serving as it's pretty damn good. Given stablemate Lowbrow's wings are pricier than most at $16 for four, we can only guess it's down to the free-range organic chicken used (most often, the quickly-becoming-famous Bostock's).
The highlight of the menu for us was the beef tartare, made from bavette and served with shiitake dijonnaise and nori crisps. The beef is delightfully soft, the creamy base wickedly rich, and the nori crisps a great Japanese twist on the usual crispy bread accompaniment. As far as the menu goes, we think this dish is great value at $15.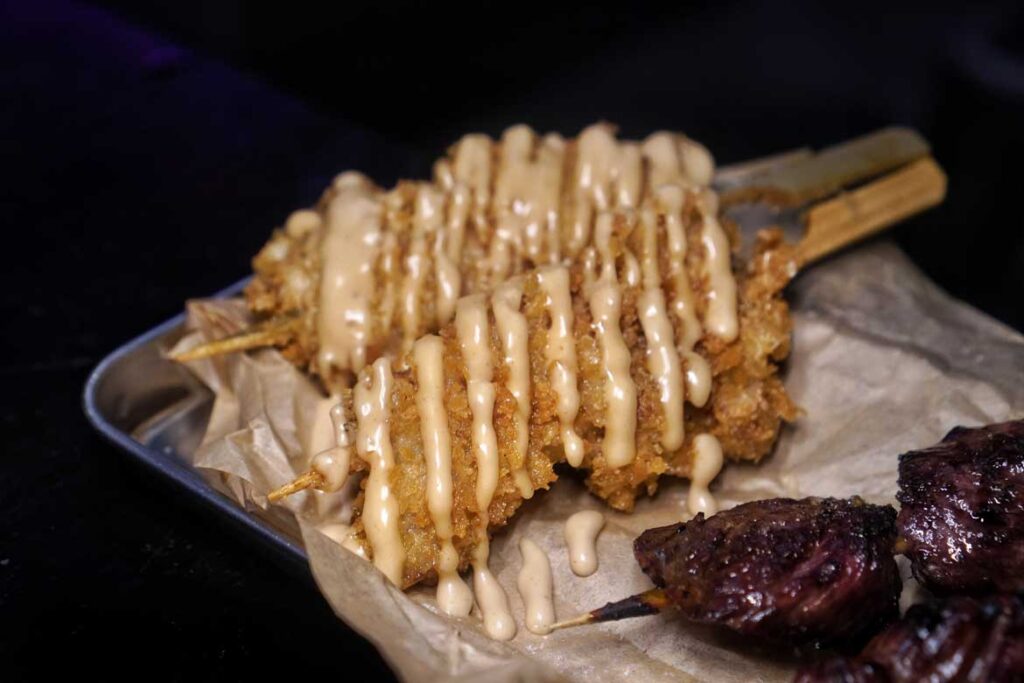 When it comes to the 'sticks' side of things (which range in price from $6 to $10 per stick), we merely dipped our toes into the section as we were unfortunately pretty full from the previous dishes. We opted for the grilled beef bavette – super tender, juicy and flavourful, and the fried chicken thigh with tonkatsu mayo – panko-crumbed and quite different to the karaage (but equally delicious). If poultry is your thing, don't forget (like we did) to ask for the quail – it's not on the menu, but you might get lucky.
As to be expected from the Culprit team, the food at Nook is high quality and packed with flavour. If you don't mind a more casual, fast-dining table set up and, while we hate to mention the term again, hipster vibe, then we definitely think you should check it out. Nook fits right in in its new home on K'Rd and we anticipate it will be welcomed with open arms.