Looking for flavour packed fine dining that excites but doesn't intimidate? Look no further than Paris Butter, Auckland.
Chef Nick Honeyman has had a long history of creating waves in the New Zealand food scene despite his young age. We first sampled the South African import's cooking over ten years ago at Sale St, before Honeyman moved on to The Commons in Takapuna and then his own kitchen, Jervois Rd's Paris Butter. Paris Butter started its journey as more classic French fare and has now graduated to modern French fine dining-meets-Kiwi cuisine, with Sous Chef Zennon Christian and team adding some formidable skill in the kitchen.
Paris Butter's cosy, sophisticated dining room is casually romantic with its muted tones and mood lighting. It's intimate, with only a handful of tables in each section, giving you the feeling of dining in someone's home – someone very well-heeled and with excellent taste, that is.
Paris Butter offers two menu types; a three or four-course 'Menu Paris Butter' ($85 and $95 respectively), and the 'Menu du Chef', a longer seven-course tasting menu ($155). We recommend opting for the beverage pairing, which features a mix of top-notch Kiwi and French wines. There's also the odd cocktail thrown into the mix, the first of which is their signature 'Paris Bubble' – a creation made using oxidised white wine that would have otherwise gone to waste. A delicious drink to start proceedings, and we love the sustainable ethos behind its creation.
Both menus include their superb snacks course to begin, one that consistently features their lush potato veloute served in an eggshell. If you want a taste of Paris Butter without leaving your own home, they've been kind enough to share the recipe for this silky soup on their website, among others – you'll find it here. (You'll also find some dishes from Paris Butter in our recipe section.)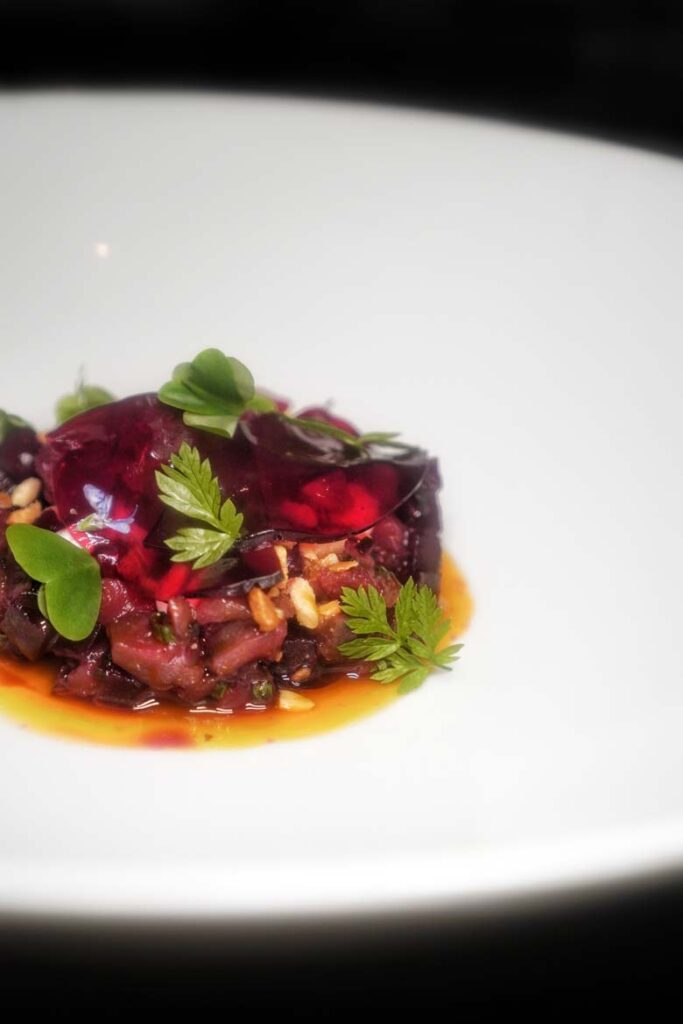 On this visit we were served three other bites alongside the veloute, including an excellent milo meringue filled with liver parfait and a fabulous beef tartare cone. Paris Butter's bread is also wonderfully good, especially when topped with truffle butter so good that regulars don't let them dare remove it from the menu.
Our first course proper, Venison tartare with beetroot granita, almond, coconut koji, kiwi onion dip and beet jelly was truly sensational. The addition of Massaman curry oil was a stroke of genius, leaving a long-lasting, latent heat on the palate.
Next up, a petite tower of finely layered celeriac sits on our plate, topped with black truffle. It's soon surrounded by a thick, incredibly indulgent parmesan veloute with spring onion oil. We swear we probably gained a pound throughout the consumption of this course, but let us tell you – it's worth it.
Our 'main' course of the evening features truffle and thyme marinated Eastherbrooks farm Quail breast rolled in serano, alongside a duck fat-confit leg brushed with black garlic, smoked potato, kawakawa oil, jus gras, and burnt onion purée…a mouthful for sure, and a deliciously layered one at that.
Paris Butter's 'Crossover' course takes the place of a traditional pre-dessert, and our 'Fairy bread' with it's burnt butter ice cream and hundreds of thousands takes us back to our childhood – but white bread, butter and sprinkles has never tasted as good as this dish.
Our dessert, described simply on the menu as 'Carrot cake', is not your average cafe slice. Steamed carrot cake, smoked hay ice cream, cheesecake, ginger custard, caramel foam and mandarin come together to create a lush, indulgent rendition of the classic. Desserts are a highlight at Paris Butter with plenty of creative combinations on show – we're always impressed.
The 'Treats' course changes regularly at Paris Butter, much like the majority of the menu, but you'll find such gems as whisky gummy bears, their take on the classic Mackintosh toffee and 'the end of the Trumpet'. If you've opted for the drinks pairing, a hot meets cold take on an espresso martini accompanies this course, which we admit we find a little unsettling – but this could be PTSD from our 'espresso martini' at Neolokal in Istanbul. Let's just say their first attempt at making the drink wasn't quite a success – think gritty Turkish coffee with vodka…enough to put us off hot alcoholic beverages for a very long time.
Over our many visits, we can happily say that Paris Butter serves up consistently excellent tasting menus. The clever way they balance playful and unusual combinations with classic dishes and ingredients results in tasting menus that are not intimidating for those to whom the concept may be new, yet complex enough to keep experienced foodies happy. Like a fine French wine, Paris Butter is a restaurant that is only getting better with age.