If you're looking for a spacious and sophisticated staycation (or vacation) destination in the capital, look no further than the Abu Dhabi EDITION. Located at the Al Bateen Marina waterfront, the Edition feels away from it all while still being close to the action (and fab restaurants) of the downtown / Corniche area.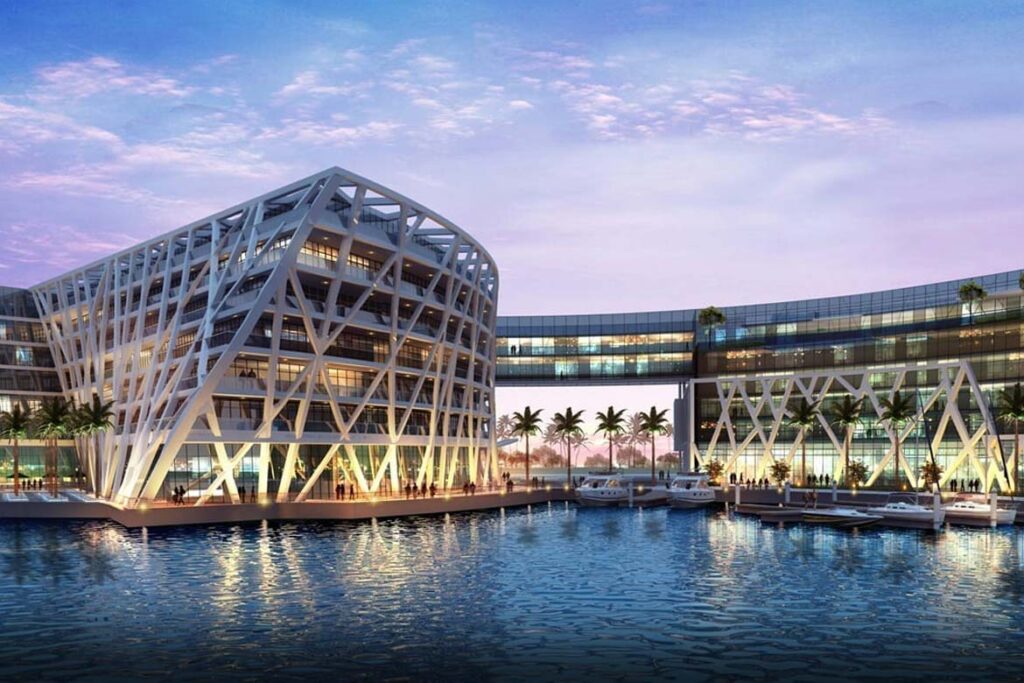 Initially designated to be a JW Marriott, the atrium lobby feels a little out of place when it comes to modern hotel design, but once you step into the rooms, it's signature EDITION all the way. There's just something about an EDITION hotel….the intoxicating scent, sophisticated palette and high end materials craft a signature brand experience that is perhaps even more recognisable than another of our all time favourites, Marriott stablemate St. Regis.
The interiors of our suite are instantly calming. The suites afford plenty of room for relaxing with a lounge area featuring a desk/dining table, chaise lounge and large TV, a seperate bedroom, spacious bathroom with freestanding bath and double vanity plus a guest powder room.
We're head over heels for the multi-tonal wood accents, sleek stone counters, ethereal curtains and natural fabrics; the textural blend of hard and oh-so-soft that we've come to love from the brand.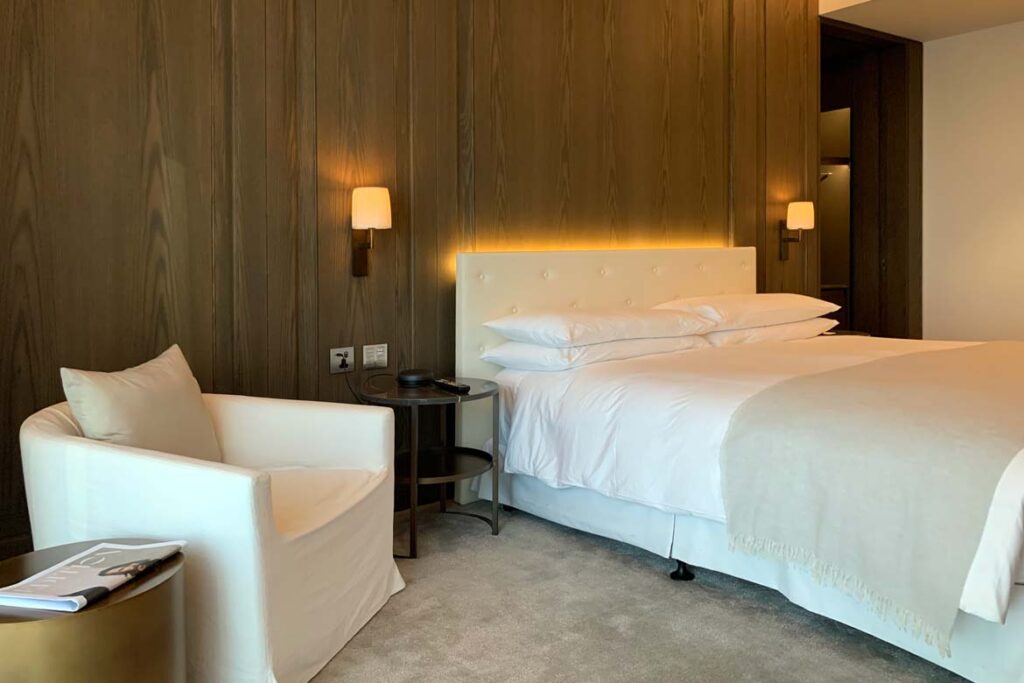 EDITION's linens are some of the best in the game – from the sheets to the robes, you'd be hard pressed to find better. In fact, we love the robes SO much we bought one for continuing that staycay-feeling at home. The large beds are wonderfully plush and comfortable, definitely amongst our favourite brands when it comes to a great night's sleep (they're also more consistent than many brands given how new the EDITION hotels are across the board). There's a USB and international power socket by each bedside (finally, hoteliers are getting it) and you'll find water placed by the bedside of an evening (in a sustainable glass bottle, of course).
Toiletries at the EDITION fall into the 'oh, we're definitely taking these' category – they boast Le Labo branding but not a Le Labo scent – rather one exclusive to EDITION – and personally, we think this scent is better than anything in the current Le Labo line up (note to EDITION: please bottle and sell this godly concoction).
How to get the full EDITION experience? Lathered yourself in the delightful smellies on offer, slip into the ridiculously plush robes (is it wrong that we may be wearing ours as we type this review?), sink yourself into the pillow top bed and your teeth into the
It's all these little details that make the EDITION experience – and if you're a foodie, there's one more that's worth mentioning. Each day a pair of gourmet treats appear in your room and while we usually wouldn't give such deliveries more than a cursory poke and sniff (they're typically not worth the calories), we highly recommend you don't sleep on these delicious morsels (literally – the sheets are awfully white and it would make quite the mess…).
The marina-facing suites also boast a very comfortably sized balcony, perfect for soaking in the waterfront vista with your morning coffee.
Of course, it's hardly a surprise that the Abu Dhabi EDITION delivered a stunning stay – honestly, we've come to expect it from the haute hotelier. The Abu Dhabi rooms and suites boast an unusually large amount of space, something the global EDITION hotels often don't have the luxury of given their prime inner city locations. It's nice to be able to see the EDITION aesthetic in such a setting, really – and rather hard to want to leave such a calm oasis.