We review another killer scent from one of our favourite houses, Arcadia by Amna…
Local UAE parfumier Arcadia by Amna has had a busy start to 2020. Not only have they opened their new flagship store in Dar Wasl mall, but their packaging (which to be honest, we already thought was pretty stylish) has been given a sleek, minimalist makeover. No.15, Hysteria, is our second review of the eight EDPs in Arcadia's Dark Series (read our thoughts on No.13, Fever, here), the second collection by the young (and very impressive) fragrance house. (No.s 1-10 make up Arcadia's lighter Edition One range.) Arcadia are showing no signs of slowing down when it comes to concocting complex fragrances, releasing two limited edition scents – Bounded and Infinity – in support of their core 18-fragrance range.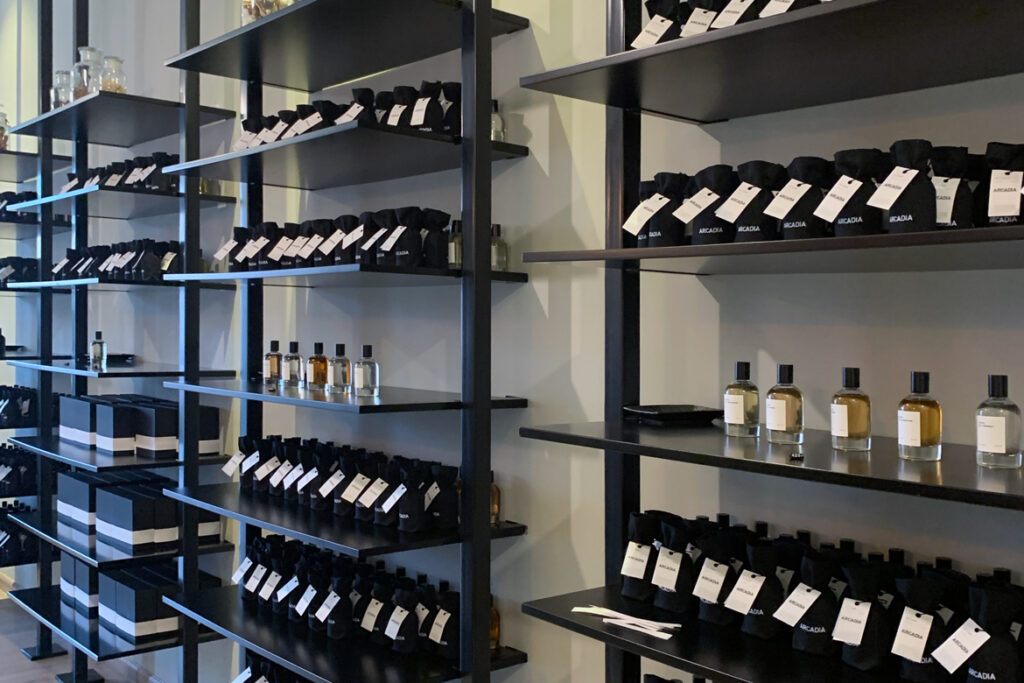 Hysteria begins with a burst of blooms that is part powdery sweet, part darkly sexy. Black currant and pink pepper are the predominant top notes we notice, the hint of peach and coconut that appears next making it perfect for wearing at the beach at dusk. We're talking Dubai-April-evenings vibes (we almost get a little frangipani). The scent wears down into an oriental floral, the rose and jasmine making the amber, vanilla and sandalwood base tres femme fatale. Jasmine is probably the standout note for us, the powderiness making the scent feel quite ethereal.
Arcadia are known for giving each scent a narrative, and for Hysteria it reads, "She captivated me completely. I belonged to her. I felt no guilt for the ones I would be leaving behind. They had been erased. I entered a new state." Like Fever, Hysteria makes no apologies for its hedonistic nature.
While all Arcadia scents are unisex, Hysteria definitely falls on the feminine side of the fence. Their scents are undoubtedly complex, yet they are comfortingly harmonious – something we seek to find, but often struggle to, when it comes to niche fragrances. One can tell an expert nose is at work here.
We've said it before, and we'll say it again – while some may avoid wearing 'heavier' scents in warmer climes, we believe one shouldn't use that as a rule, especially when it comes to Arcadia. Given that Arcadia formulas are crafted in the UAE, with its oft-sultry temps, it gives rise to our belief that they work oh so well with warm weather, whether it be in a seaside or desert setting. Hysteria is the perfect finishing touch to any evening outfit.
At 500dhs for a 100ml EDP, the punch that Hysteria packs makes it great value and on par with many famed fragrance houses such as Diptyque. Hysteria is available from ArcadiaME.com, their flagship store and selected boutiques across the UAE (including Harvey Nichols and Bloomingdales). Tell them we scent you. x
Notes:
Top: Mandarin Orange, Peach, Coconut, Black Currant, Pink Pepper
Heart: Rose, Jasmine, Flowers
Base: Musk, Amber, Vanilla, Sugar, Benzoin
Season: Spring, Summer
Destinations: Zanzibar, Florence, Bali, Seychelles