On the last day of our visit to Bangkok for Asia's 50 Best 2017 we dragged our suitcases to one last stop – Issaya Siamese Club, no. 21 on the list. A historic, brightly coloured villa nestled in a verdant garden, Issaya Siamese Club by the famous Chef Ian Kittichai was the perfect retreat on a drizzly Bangkok afternoon. Little did we know, however, that we would experience one of our favorite dishes of all time – their Kraduk Mu Ob Sauce. These ribs simply blew our minds – we are beyond excited to be able to share one of our favorite dishes in the world with you! If you're in Bangkok, don't miss stopping by ISC for an authentic, fun and relaxing meal. But now, on to the ribs….(and if you don't eat pork, never fear – just substitute beef).
You can find the ingredients you'll need for this recipe at our fave, Kibsons. Their produce is super fresh, has a ton of organic options, is fabulous value and they'll even deliver to your doorstep. They also have lots of hard to find Thai ingredients. Click here to find out more.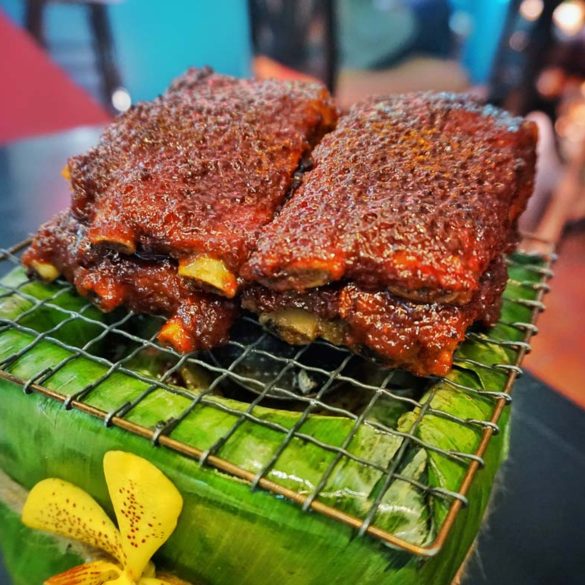 Ingredients
SAUCE
500g palm sugar
160g salted yellow bean paste
250g Nam Phrik Kaeng Daeng (Red Curry Paste, see above for recipe link)
BABY BACK RIBS
2L water
50g galangal, smashed and cut into 2cm pieces
50g lemongrass, smashed and cut into 2cm pieces
5 kaffir lime leaves, veins removed and finely chopped
5g black pepper
2g salt
500g baby back ribs
TO SERVE
Steamed jasmine rice
Instructions
Step 1: In a pot, bring all ingredients to a boil, cover with alumnium foil. Reduce heat to low and let simmer for 2 hours.
Step 2: Remove ribs from pot and pour sauce over them.
Step 3: Place baby back ribs under salamander or grill for 5-8 minutes.
Step 4: Serve with steamed jasmine rice. Enjoy! (We love these so much, we hope you do too!)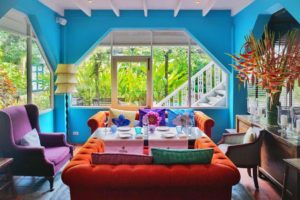 Like this recipe? It's an extract from Issaya Siamese Club Cookbook: Innovative Thai Cuisine by Chef Ian Kittichai. This recipe has been used under permission from Issaya Siamese Club. You can purchase this amazing cookbook for only $9.99 USD on iBooks – click here! It's available on iPhone, iPad, iPod touch, and Mac and contains 81 amazing Thai recipes.