We're celebrating the iconic Waldorf Astoria opening a brand new luxury property in the Maldives by sharing the recipe for one of their signature dishes – their Maldivian curry! If you've visited the Maldives then, like us, you're probably a fan of the richly flavourful and spicy local dish. Here's how the residents make it…
Waldorf Maldivian Curry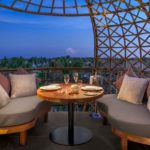 Print This
Ingredients
Curry Paste:

250g Red onion

100g Garlic

30g Curry leaves

10g Ginger

2 Pandan leaves

3 whole coconuts grated

15g Cumin seed

10g Coriander seed

1g Chili padi

10g Dry chili

10g Turmeric powder

5g Fennel seed

5g Black peppercorn

Curry Ingredients:

450g Reef Fish

180g Onion

20g Garlic

5g Curry Leaves

50g Maldivian Curry Paste

150ml Coconut milk

5g Hot Chilli

30ml Vegetable Oil

350g Rice

10g Chilli Powder

5g Black Pepper
Instructions
Heat the oil and add chopped onion, chopped garlic, curry leaves and chili, sauté until the onion is transparent. 
Add the Maldivian curry paste (recipe here), chili powder, black pepper and salt, whilst stirring.  Add the coconut milk (we recommend coconut milk without additives, such as and fish, and toss until fish pieces are well cooked.
Serve with chapatti/naan bread, white rice and papadams.
Facebook Comments
Facebook Comments