Is the Waldorf Astoria DIFC tailored to business or pleasure? We find out…
It's been a long time coming, but finally, the new Waldorf Astoria DIFC has taken down the hoardings and opened its doors – and we're rather excited to see what Dubai's newest luxury hotel brings to the table.
We're definitely not in need of hotels in Dubai, but we are in need of more that really deliver on an international luxury level, a la Rosewood Bangkok. We're happy to say that Waldorf DIFC does exactly that, however. The mood is New York 1960s, rather perfect for its location in the heart of Dubai's financial district. It's tres 'banker chic'. The public areas feature an unusual palette of pale chartreuse yellow and British hunting green, flanked by dark wood, copper, brass and rose gold (probably didn't need the last one, in our humble opinion) and of course, an abundance of marble. Unusually, green marble has often been used in place of black, definitely a bold choice, but we're not mad at it.
The rooms themselves focus on a more neutral palette of browns and marbles with plenty of textural and metallic elements that evoke that 60s vibe. The furniture, of which there is plenty in our King Corner Suite, is wonderfully comfy – something that's often not the case in hotels, almost like it's been placed with the hope that no one will ever actually sit on it. We'll admit, we usually don't sit on it, due to aforementioned comfort issues, but we sat on every single piece of furniture in our suite – one for the books.
Our King Corner Skyline Suite is well, rather spectacular, we have to say. At 127sqm there's oodles of space to luxuriate in, and again given how comfortable the furniture is for a change, you might actually find yourself spending a good amount of time 'luxuriating' in it. We'd rather happily move in, actually. The suite is separated into two areas, the lounge area and the bedroom area, by two sliding doors either side of the televisions which allows for both the feeling of space and privacy when desired. We did get some morning light coming into the bedroom under said doors, however, so make sure you close the lounge room curtains before bed (luckily, all curtains are mechanically controlled).
Speaking of bed, despite being at least medium firmness, the bed is pretty darn comfortable. The pillows are so good we didn't even reach for our own pillows that we always travel with – in fact, I think I prefer the Waldorf's, and that's saying a lot! You can definitely leave your pillow behind with confidence. Now that we're on to all things snuggly and comfy, we, of course, have to mention the robes. You know we're die-hard robe aficionados and we have to say – the Waldorf's are in the same vein as The Edition's robes (brushed sateen exterior, fluffy interior), and we just adore them. We were lucky enough to arrive to a gift of our very own robe with our name embroidered on it – and whilst of course, our opinion cannot be swayed by gifts of delicious robes, we highly recommend that you try. By contrast, we found the slippers quite basic and think this is one area they could turn up the luxury a tad.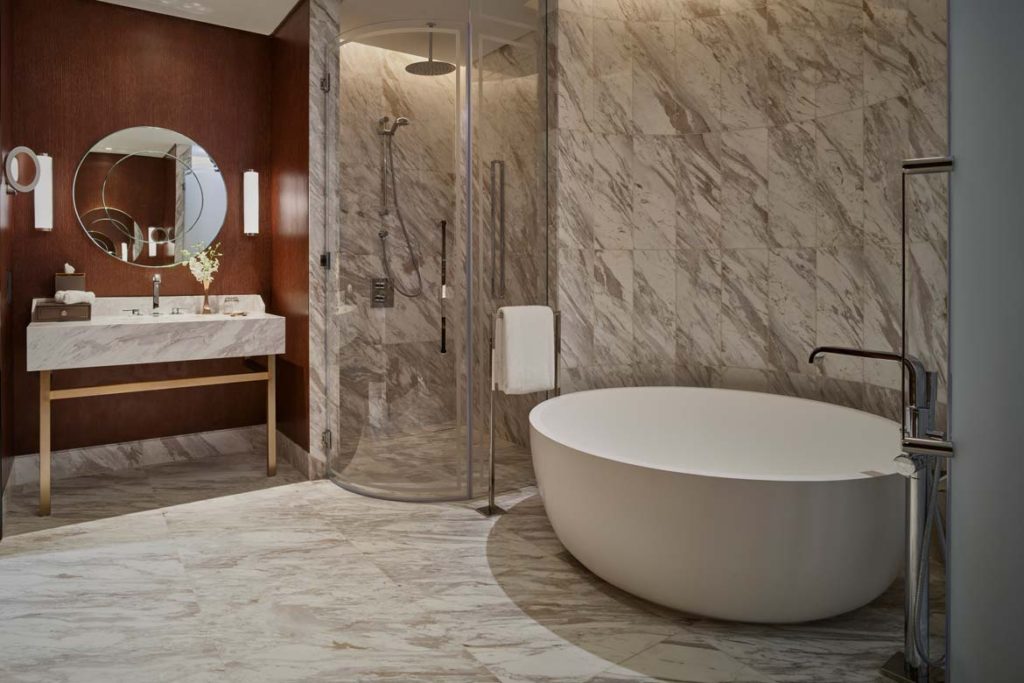 The suite features a guest powder room by the entranceway and a spacious master bathroom. It's marble from floor to ceiling and again has double sliding doors like the lounge. Toiletries are Salvatore Ferragamo which we've never been that enamoured with (much like Ritz Carlton's obsession with Asprey's Purple Water) but it's not a biggie – they're just not take-home good. The master bathroom is centred around an oversized round bath, flanked by two vanities on opposite sites of the space.
There are two large televisions, one in the lounge and one in the bedroom, which were lovely pieces of hardware but didn't offer much in the way of connectivity. Although you can download an app to control the TV, this doesn't offer more than simple channel changing functions so isn't really adding any functionality. We'd really like to see the ability to stream from our devices to the televisions, given how lovely and large they are and how nice the suite is to relax in. Wifi is of course, complimentary, and you'll need to be connected to it – strangely, we could barely get any cell service from our room. There is a Bluetooth speaker by the bedside, which also offers USB charging – FYI though, only on one side of the bed. We're puzzled as to why they didn't simply integrate USBs into the bedside power sockets (these are British plugs).
Speaking of power, there's a power centre hidden in the bedroom (in the desk) and in the lounge (in a small chest of sorts). We were relieved once we found these, both of which contain international sockets (yay!), USB charging points and the HDMI inputs for the televisions in their respective rooms (you'll find the HDMI input showing on channel 160). There's also an AUX input and Bluetooth connection for you to play music via the televisions.
The minibar chest houses a Nespresso machine, stemless wine glasses and a mini-fridge, though we recommend you give the teeny tiny spirit bottles a miss – at 95dhs a pop (that's 20 pounds, 25 USD or 40 NZD) you'd be better off ordering a room service cocktail for around 65dhs.
Waldorf Astoria DIFC's pool area does a good job of creating a relaxing space despite the fact that it's in the thick of Dubai's business hub, surrounded by skyscrapers and constant construction. There are some great views to be had, from the Dubai Frame in the distance on one side, to the majestic Burj Khalifa on the other. The elegant pool was kept ultra-cool despite the soaring 40 degree+ summer temps, and there's a spa pool too for when winter arrives. We haven't tried the Waldorf's Spa yet, but we'll keep you posted when we do. There's a modern fitness centre and the pool also has a bar, St Trop, opening once the mercury recedes a touch further.
There are two dining venues in the Waldorf Astoria DIFC so far – the aptly named Bull & Bear, just perfect for its location in the financial district, and Peacock Alley. Bull & Bear is glitzy Dubai chic – mirrors, velvet and lots of gold – we loved the fit out. Peacock Alley is all about the 1960's vibe, complete with custom Art Deco clock. Peacock Alley serves lunch, snacks and cocktails (they have a cosy cigar lounge too, where we tried our hand at baccarat and lost hopelessly) while Bull & Bear serves the hotel's breakfast (buffet plus a la carte), lunch and dinner.
Our favourites? Bull & Bear's beef cheeks with rigatoni, celeriac puree, gruyere and truffle, and Peacock Alley's wagyu sliders – both delicious. We think both outlets need a little time to finely tune their F&B offering, but that's to be expected with a brand new property. (We hear the breakfast is fab though, for all those egg and avocado toast addicts out there.) Dubai's fabulous Italian locale, The Artisan, is opening on the ground floor soon and you'll also find the wonderful modern Indian restaurant, Carnival by Tresind, on the P5 level.
Overall? The Waldorf Astoria DIFC is a welcome addition to Dubai's luxury scene, and undoubtedly one of the best luxury properties Dubai has to offer right now. We just adored our King Corner Skyline View Suite! It's perfect for business travellers – no doubt those wanting to stay close to DIFC for work will swoon over its 'banker chic' aesthetic, and it's a great choice for leisure travellers too – it's close to downtown Dubai, The Dubai Mall and all of DIFC's renown eateries. We're looking forward to seeing how Dubai's second Waldorf Astoria settles into its new home in the city of all things luxury.