Morpheus at The City of Dreams bets big on their signature Zaha Hadid-designed restaurant, Yi Macau
We've been long awaiting the opening of Macau's Morpheus ever since we watched pieces of the crazy framing being lifted on to the building from our table at The Tasting Room two years ago. It looked spectacular even when under construction, and the finished result certainly doesn't disappoint.
The Morpheus building was designed by world-renown Zaha Hadid Architects, and Yi is lucky enough to boast dramatic interiors designed by the very same. The restaurant, located in the sky bridge on the 21st floor of Morpheus, is spectacularly intimate despite it's elevated ceilings and abundance of open space. Intricate arrangements of individual golden scales, designed to evoke the image of a curled dragon's tail, cocoon just twelve tables in eight semi-pods. All pods face the clear exterior of the structure so you can gaze upon the neon lights of the Cotai Strip over dinner (if you can tear your gaze away from your food, that is).
The only thing you'll know about what you're about to eat is that award-winning Chef de Cuisine Angelo Wong and his team will serve up a masterful array of dishes hailing from Cantonese, Sichuan, Chaozhou, Hunan, and Shandong cuisines – there is no menu. That's a rarity in restaurants of this type, and we're living for it.
We elected to explore the fine wine pairing on the evening we dined, but a team of certified tea sommeliers are on hand if that's more your cup of…well…tea. We also opted for a sans-seafood menu due to allergies, but for those of you who are fans of undersea cuisine, you'll be happy to know that you won't find a single freezer in the Yi kitchen – everything is freshly caught and delivered daily. Because there is no menu, the team are able to fully cater to dietary requirements – something that truly delights this allergy-addled diner.
We begin our evening at Yi with a glass of Dom Perignon 2009, certainly the fashion in which we wish every meal was commenced. The amuse bouche of Chicken and Mushroom Puff, Vegetable Rice Roll matches superbly with the Dom and is every part as delightful and light.
Our next small bites are Roasted Pork Roll with Sausage and Pumpkin Purée and Spicy Szechuan Chicken, both delicious. Our original dish was meant to be birds nest, which yes, we know is a delicacy, but we're just not into it – so instead of wasting this expensive ingredient, we suggested that if they could serve us an alternative, please do. Not only did they manage to roll with our request at short notice with no apparent hassle at all, but they also delivered something we loved. Impressive.
Next up is Hot and Sour Soup. A classic dish, yet one we've seen served so many different ways. All we can say is that we like the way Yi serves it. No, we love the way Yi serves it. It was a rather large serving for a degustation, but it was so good we couldn't help but inhale the whole bowl. Not literally, but you get what we mean. It was good.
In place of the usual seafood course, we had Pan-fried Iberico Pork with Ginger Sauce, White and Green Asparagus in Chicken Broth and wow. Wow. The 'chicken broth' wasn't a broth but more of a reduction – think the best pork stir fry you've had and this is it, on steroids. (I seem to be using a lot of italics for emphasis already, so you just know it's amazing.)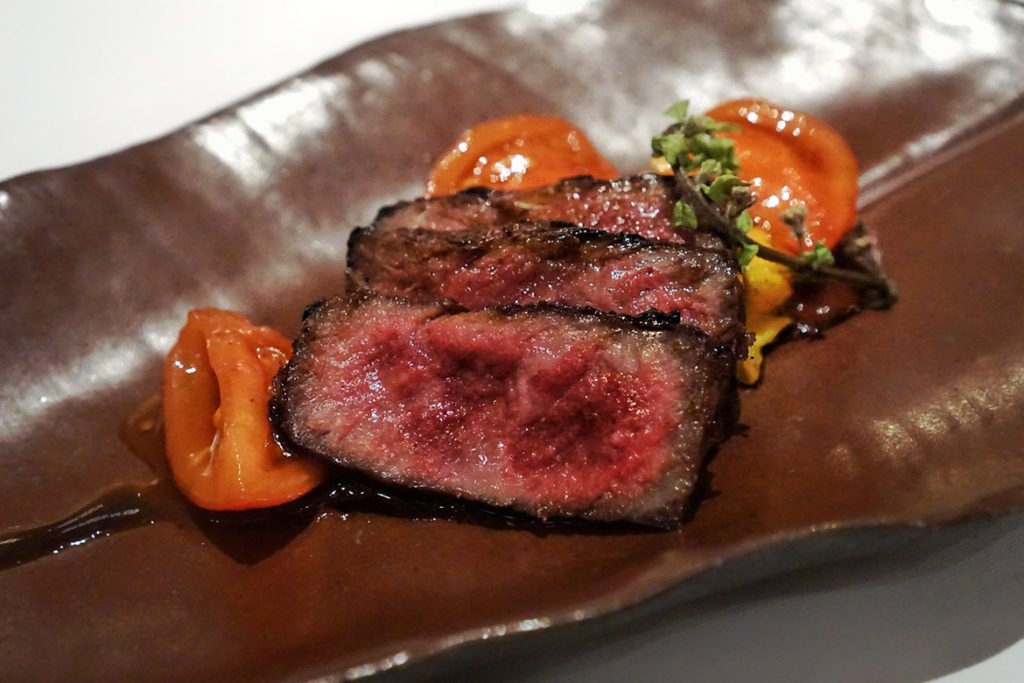 We'd been told about the next dish by a frequent diner, and we'll admit sounded…er…interesting? Scrambled eggs on a degustation menu? Really? Well, these aren't your usual scrambled eggs – they're served alongside Honey-roasted Wagyu Beef Char-Siew with Japanese Tomato and it's like the traditional English breakfast had enough of Old Blighty and fled East. To a palace of some sort. Because this is a dish fit for royalty. It's utterly unctuous and an absolutely killer dish, the Wagyu tender and sweet.
We're told to eat the next course with our hands – something that seems a little out of place in such lavish surroundings, but given how good the Oven-roasted Lemongrass Baby Pigeon smells, we're more than willing to tuck in sans-cutlery. Every bite is simply superb, the lemongrass really adding a unique element to this petite piece of poultry.
China's favourite fungus, Cordyceps, is up next, paired with Maitaki Mushroom Purée and Bean Curd Sheet with Amaranths. It's far milder than the previous dishes so doesn't really grab the spotlight, but it's pleasant nonetheless.
'Rice' is the category of our next course and we're told a tale of how this rice is painstakingly collected from mountain rocks – yes, this is rice that grows on rocks, not in water. I'll admit that often I roll my eyes at such extreme sourcing lengths as sometimes, well, it just doesn't taste any different. Not so, this time. This rice was something altogether new, like no rice I'd ever tasted. Well worth the trip up that mountain, I say (as long as it's not me, I'm cool with it). Each grain is an almost-round pearl, gelatinous and creamy…it's textural heaven. I need more of this rice in my life, and more of this dish! An absolute winner from start to finish.
We don't always have the best luck with Asian desserts so we're happy to see that there's just a singular dessert entry in Yi's mystery menu, Gum Tragacanth and Shizuoka Melon with Sago. It's definitely a lovely flavour, but much like our papaya soup with peach gum at T'ang Court earlier in the week, these gum textures just don't sit well on our palate.
The petit-fours trolley arrives next with a wide array of petite bites on offer, but our heart is stolen by the very Macau-appropriate dice. Each individual die is intricately constructed and perfect on every side, not to mention delicious – we were quite surprised when we were told they were made out of tofu!
Would we return to Yi? Absolutely – we're dying to visit again already! Our meal was just superb from start to finish, the surroundings are breathtaking and the service is absolutely three-star. If you are bored by most of the current three-star Cantonese options out there, then this is for you (mark our words, this one's heading for three-star territory). Yi is modern Chinese in modern surroundings – something that's been sorely missing from the Macau market. It's luxurious, intimate and has that feeling of pure indulgence and sophistication that most of its competitors lack. Do not hesitate in booking a table at Yi Macau, go now before it's impossible to get one…