Tresind Studio serves up a playful season of street food staples in its latest season, the perfect antidote to the COVID-19 blues..
After many months stuck out of Dubai due to border closures, our first meal proper outside of the house needed to be something special – so of course we chose our favourite, Tresind Studio.
Tresind Studio always manages to impress with its flawless execution and bombastic flavours but we loved how apt the new season concept felt given the current climate. Gone is the rather dapper morning suit get-up for the team, late 90's rock replaces modern Indian ambient vibes and the previously pristine white walls are now covered in edgy graffiti.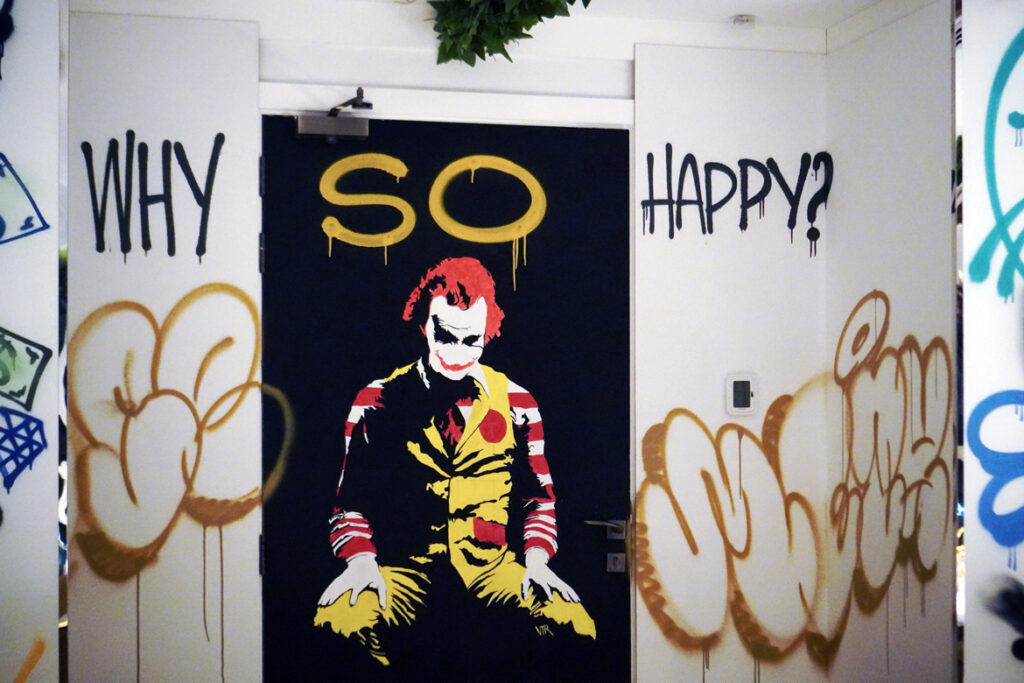 Those aren't the only changes this season; the price is also more affordable than ever at 250++ for the tasting menu and 125++ for the cocktail pairing (if you dine out much in Dubai, you'll know that goes nowhere). The quality of food and length of the menu offered for this price point (thirteen courses!) is, in our books, quite ridiculous value.
If you've been looking for an excuse to finally visit Tresind Studio, this is it.
As with previous seasons, we kick off with a modern take on Pani puri – and this season's shiso leaf tempura version is just as good as each one that's preceded it, definitely getting the tastebuds going for what's to come. It's paired with the G&T Surprise, a delightfully fresh introduction with basil, blueberry, anise and elderflower.
Our next bite, Doritos dynamite, goes down as one of our favourites of the evening – think the best bits of nachos, meets modern Indian. The delicate butterfly crust is packed with flavour and is texturally, rather wonderful.
A crispy Masala truffle papad follows, delivering a playful-yet-upscale Indian take on pizza; light yet satisfying. 'Banana bread' is next, and we'll admit we found it a little unusual to have such a sweet-sounding course at this stage of the meal…thankfully it wasn't as sweet as expected, and it was definitely delicious – so we're ok with it, but admittedly we would have preferred to see it as a dessert bite towards the end of the meal.
Studio's Loaded potato skin is described by my dining partner as 'the best potato chip ever' and that's a pretty good description. It's a super long, ultra crispy slab of delicate potato topped with Indian mustard and herbs; it's tangy and unusual, yet familiar. We're starting to burst at the seams after all the amazing food on offer throughout this tasting menu, but even still, we can't resist indulging in the rich and juicy Lamb birria taco.
As we progress through the meal, drinks venture from fresh, with a Basil Spritzer, before heading into heftier territory with the Elder Bourbon, a classy take on Woodford Reserve. We're very happy to see the Studio team has taken the plunge into pairings, as in our opinion, Indian food does lend itself rather well to bold cocktail flavours.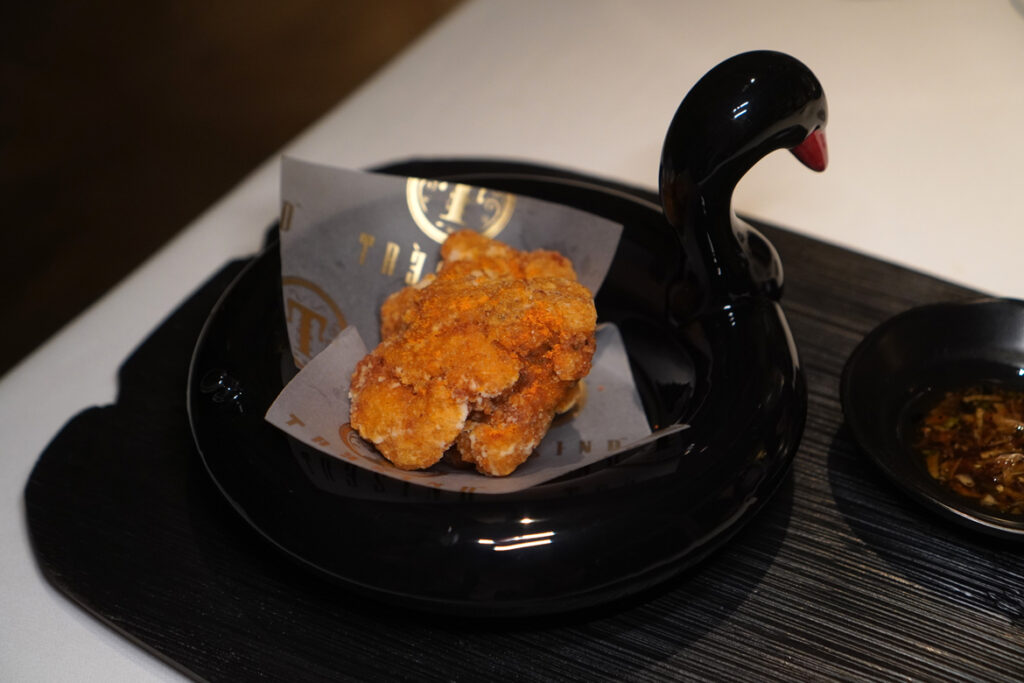 We can never say no to fried chicken, so we're definitely happy to see Tresind Studio's Chicken tikka karaage with octo vinaigrette arrive at the table (despite just how full we are). It's spicy, crispy and delicious, but we can't say we didn't want a good portion of Kewpie mayo served alongside to make this dish perfect.
The kebab-like Beef suya, a spicy African skewered street food, is ridiculously tender and juicy, but the Kerala curry ramen and chilli prawns (ours was a vegetarian version with tofu) is a flavour bomb that quickly climbs the ranks to one of our absolute favourite dishes of the evening.
Chef Saini is bringing back a classic Tresind dish with the next course – Tandoori chicken makhani. It's most known under its colloquial moniker, Airplane chicken, due to it's compartmentalised tray-table style presentation. As much as we've flown First and Business Class, however, we've never come across food this good on an airplane. It's everything you could want – the ultimate curry and all its accompaniments.
Over the years, Tresind Studio's dessert game has continually matured. We love that they serve up desserts that play well with the theme of the menu without being alienatingly Indian, approachable for diners from all walks. This season's Mango cheesecake, PB&J and the signature Coffee stone are all indulgent yet small enough to not overwhelm and a great end to the meal.
If you've chosen to go with the cocktail pairing, a Mud Slider accompanies the sweet courses, its Ciroc, Kahlua and Baileys mix the perfect end to the evening.
Is this Tresind Studio's best season yet? Looking at the response from seasoned-Tresind-goers, the consensus seems to be a resounding yes. Is it our favourite season? It really is splitting hairs when every menu coming out of the Tresind Studio kitchen is so consistently excellent, but give our love for experimental fine dining, perhaps we are a little biased towards the more risk-taking seasons. Certainly from a bang-for-your-buck perspective, we simply think this season is a proposition that can't be beaten in Dubai – book a table while you can!