Searching for amazing Asian cuisine with views to match? Paru may just be what you're looking for.
We'd never heard of celebrity chef Akira Back before he opened his eponymous restaurant in Dubai at W on the Palm, and in rather quick fashion, he now has restaurant number two, located just across the water from his first. While Akira Back at W boasts some amazing views, we think the views at Paru (Japanese for 'pearl') are even more spectacular.
Located on the rooftop of Caesar's Resort Bluewaters Island (adjacent to JBR), Paru Dubai has an incredible perspective looking back towards the marina, out to the palm and from its cocktail deck, the sun setting over the Arabian Gulf. Speaking of sunset, make sure you don't miss it. Paru opens at 5pm and we ensured we were there at opening to enjoy the perfectly pastel transition from beachy daytime views to twinking marina lights (around 5:30pm in the wintertime, but we recommend googling sunset in Dubai for the most accurate timings).
We commenced our Paru experience with cocktails on the seaward facing deck in order to catch that aforementioned spectacular sunset. We chose the Aoi Mizu (gin, cynar, lychee, peach purée, 80 dhs) and the Josei Martini (vodka, fresh raspberries, passion fruit, chili, 70dhs) and couldn't fault either.
Post-sunset we move to the marina-facing deck to start our meal, commencing with three items from the cold plates section – Seaweed Salad (Wakame, Chuka Seaweed, Soy Plum, Ginger Aonori Vinaigrette, 60dhs), Avocado Crispy Rice (75dhs for four pieces) and Wagyu Tataki (Mixed Mushrooms, Truffle Soy, 140dhs). All fairly safe options for sure, but all were delicious and delivered exactly what we had hoped for – the Avocado Crispy Rice being particularly flavorful and one of the best dishes of the meal. The only caveat we feel we need to add, however, is that the price point on these items is quite high, even by Dubai standards.
Our Wagyu Gyu Aburi Sushi is delicious, but at 85dhs for just two pieces, again we're starting to raise an eyebrow at Paru's premium pricing. The Craze Chicks (Miso Chicken Thigh, Sweet & Spicy Yuzu, 75dhs) is unexpectedly spicy (which we're not at all mad about) and given the large serving size compared to the other hot dishes on the menu, it's definitely one of the best value items on the Paru menu.
By contrast, the Beeflicious (Enoki Mushroom, Cream Cheese, Yaki Sauce, 80dhs) is as mild as the Craze Chicks was fiery. There's nothing wrong with the dish but flavour-wise, we don't feel it makes enough impact to go on the reorder list.
Our Truffle chicken gyoza are delicious, but the truffle is only barely noticeable and at 105dhs for five pieces, we might have liked it to be a touch more evident. The Chicken skewers (chicken thigh, green onions, teriyaki sauce, 60dhs) fall into the same category as the Beeflicious – perfectly fine, but perhaps a tad bland and not a dish that stands out from the pack.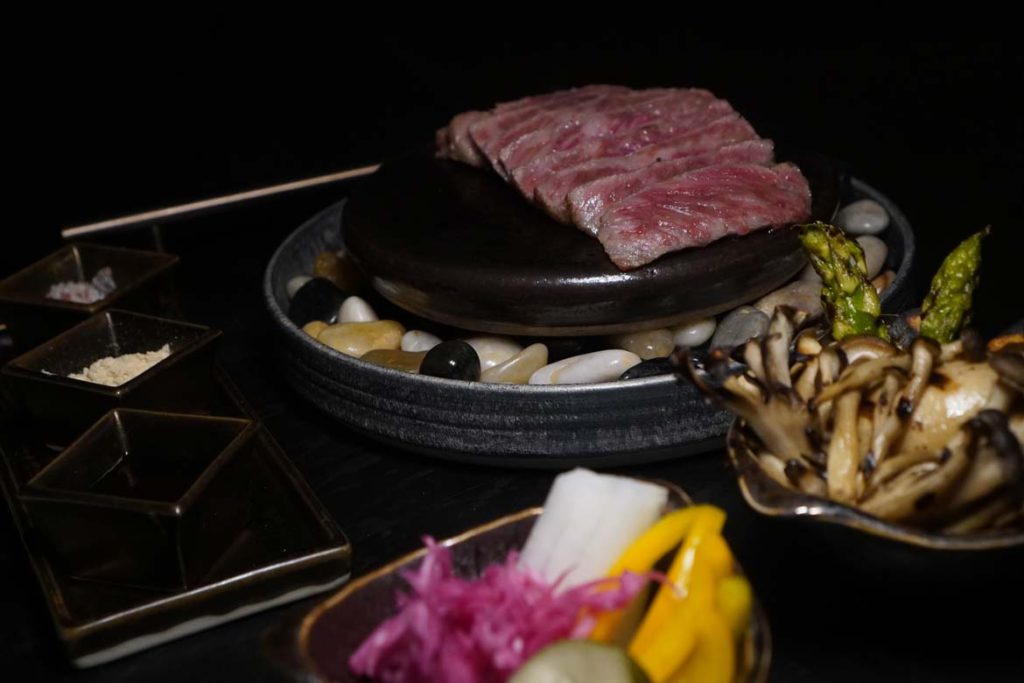 On the contrary, our Kobe Gyu served on a hot stone with ponzu, pepper salt and roast grain powder with grilled vegetables and mixed pickles is an absolute stunner. At 495dhs, this is super-premium pricing but the Kobe, albeit being a small portion, is utterly melt-in-your-mouth and pure luxury. A stunning dish.
We're not big dessert fans but across the board, Paru's dessert options impress. The very coconutty Mango Samurai (Toasted Coconut, Lemon Grass Sorbet, 55dhs) provides the seemingly obligatory-in-Dubai melting sphere option and the Yuzu cheesecake with orange confit and sorbet (55dhs) is super silky and indulgent yet refreshing. Both a great end to the meal for those who need something sweet to complete the experience.
Overall, we really loved our Paru experience. We didn't come across a single bad dish which we'll be honest, is rather rare for Dubai. Dishes were fairly evenly spread across the categories of oh-so-amazing (Kobe Gyu, Avocado Crispy Rice and Wagyu Tataki), pretty-darn-delish (Wagyu Sushi, Seaweed Salad, Craze Chicks and Truffe Gyoza) and perfectly-fine-but-not-that-exciting (Beeflicious and Chicken Skewers). We think the food is more consistently great across the board than the original Akira Back at the W (read our review here), though the menu is perhaps a little less adventurous than that at the vibrant W. The views on offer at Paru are utterly spectacular and absolutely some of the best currently on offer in Dubai, but just bear in mind that you're going to pay a premium for them (and portion sizes are on the small size). Bearing this in mind, it's a venue we recommend visiting during the cooler months so you can dine alfresco and make the most of the panoramic vistas.
If great views, great food and great cocktails are what you're looking for, look no further.