Looking for a sophisticated night out with cuisine to match? Marea Dubai may just be what you're looking for…
We make no secret of the fact that our taste in food leans more Asian than European, but when New York's two-starred Marea arrived in town, we figured it was probably worth making the trip to check it out. (Ok, it may have taken us a little while to get there but all that counts is that we got there in the end, right?)
Helmed by Yunus Emre Ayrdin, who Dubaians might recognize from his head chef position at Palazzo Versace's Enigma, Marea serves up traditional-yet-luxe Italian fare. It's the kind of refined, classic cuisine that stockbrokers and bankers like to take their business clients and trophy wives to, where the menu won't intimidate but will impress. It makes sense then that Marea has set up shop in DIFC, Dubai's financial district, but it does face stiff competition in the upscale Italian market with both Roberto's and Cipriani just a few doors away.
Marea's fit-out is effortlessly chic, a vast improvement on the gaudy grey, turquoise and pink stylings of the short-lived Totora. Taupe leather, white tablecloths and mood lighting make for an ambiance that feels perfectly at home in DIFC.
Our meal begins with a bread course of impossibly skinny grissini, focaccia, and white bean dip, followed by a stunner of an amuse-bouche – a delicate rectangle of super-thin potato layered mille-feuille style, topped with truffle. Not a bad way to commence our introduction to Marea.
Haiya of Pass Me The Dim Sum and I opt for our usual burrata and steak tartare appetizer combo, both delivering exactly what we would expect from such an establishment – very classic flavours well-executed, even if the tartare did need a touch of olive oil and a pinch of salt to reach its full potential.
Our Funghi Risotto made with aged acquerello rice, wild mushrooms, and Parmigiano is perfectly cooked and definitely moreish – luckily, we've asked for just a small portion to leave room for the pasta (and main) dishes that are to follow.
Our Garganelli with black trumpet mushrooms is perfectly al dente and loaded with truffle, though the black trumpet is only present in tiny specks – not that we mind in the slightest, really. The Pansotti with herbed ricotta filling, arugula and basil puree is delicate and light, each piece perfectly formed. Most pasta dishes at Marea clock in at 100-200dhs per dish but bear in mind that our photographed portion is not indicative of actual serving sizes, which I hear are very substantial and will feed multiple diners – we simply asked for tasting portions as to reduce waste and stomach impact.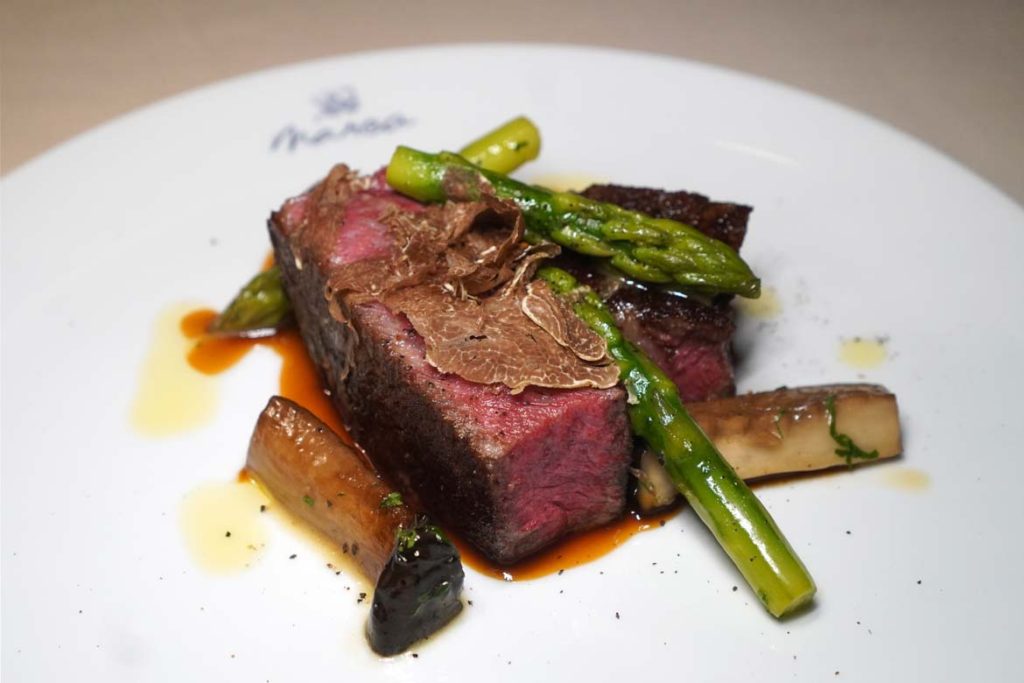 The dish of the evening, however, would have to be Marea's spectacular A9 Wagyu Rib Eye. Steak lovers take note: Marea serves up one of Dubai's absolute best pieces of meat – perfect bark, a ridiculously luscious and buttery texture and exploding with flavour. This succulent slice of steak absolutely blew us away and definitely warrants a repeat visit. \
Desserts at Marea were a two-sided affair. We didn't view a dessert menu (apologies that I can't find one online either, so I can't give you more specifics) but rather trusted the Chef's recommendations. Already full to the point of bursting, it would need to be an impressive dessert to catch our attention at this point in the meal. Refreshingly, Marea rose to the challenge with their Strawberry Panacotta – silky smooth creaminess, flavourful strawberries, refreshing basil, and gorgeous white chocolate combined to make one of Dubai's best desserts. By contrast, the 'Truffle' was equally as beautifully presented as the pannacotta (it really did look like a wonderfully large truffle) but leaned too far towards the mushroom end of the spectrum for us. An interesting one for sure, but one we felt wasn't quite there yet when it came to flavour balance.
From start to finish, Marea definitely exceeded our expectations. No, you won't find avant-garde flavour combinations or molecular dishes on the menu – but for much of the dining population, that's a good thing. We have no doubt that with their broad-yet-classic menu you'll be able to keep every diner in your party happy, and the quality of food is excellent throughout. One thing to keep in mind, however, is that prices on Marea's menu are subject to 7% municipality tax + 5% VAT. We do prefer it when establishments present the all-in price for ultimate transparency (and no surprises when the bill comes). Service is great and the ambiance is sophisticated yet laid back. Marea is one of the very best Italian experiences in Dubai and fits DIFC to a tee – we envisage it will be around for a long time to come.