Dubai has it's fair share of excellent Italian restaurants (see Marea, The Artisan) so while we're not lacking great options when it comes to Italian fare, we're definitely curious to see if newcomer Bella measures up. It's located in, well, a rather…unusual hotel. You might be forgiven for thinking you've pulled up to the wrong address as you enter the Grand Millennium, the lobby of which more closely resembles your grandparent's lounge room from the 80's than a 5-star Dubai hotel. The decor at Bella itself, however, we quite like. It's actually the existing decor from Bella's short-lived predecessor, Chingon, but in a city where sustainability is hastily overlooked in the rush to be the hottest, newest thing on the block, we're actually pretty impressed they chose to keep the decor and just change the name above the door – if it ain't broke, ya know?
The dining room offers views across the canal to the Burj Khalifa, and we were rather impressed that the windows actually open up to give a semi-alfresco feel – the fresh air was appreciated, even in the peak of summer. The tables are spacious and the large, comfy chairs encourage you to settle in and relax – something we don't find often enough.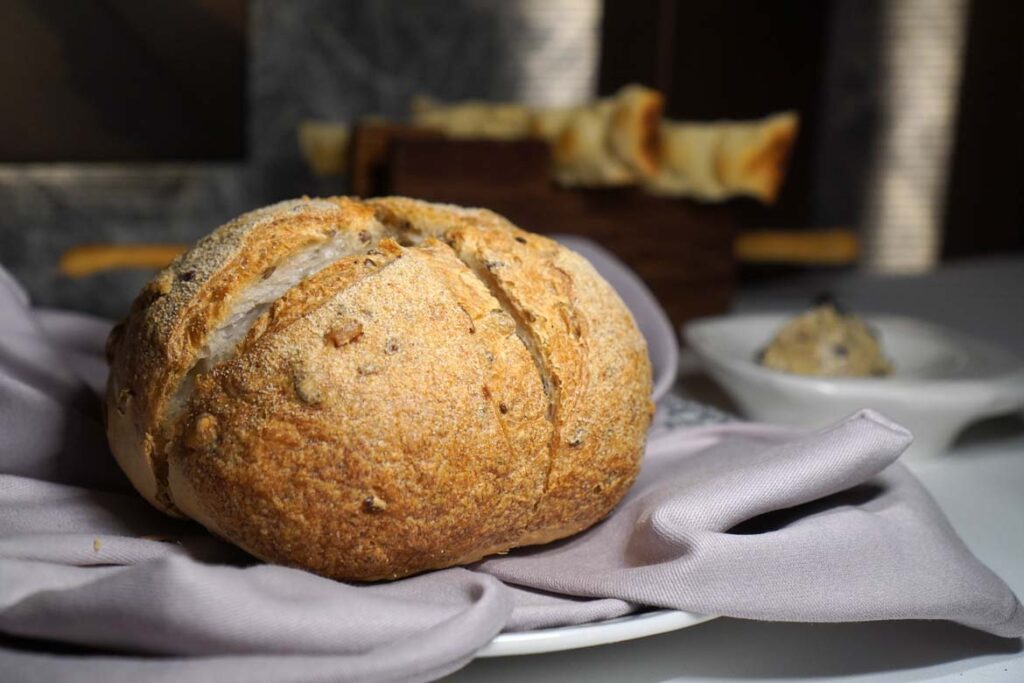 Having arrived feeling rather ravenous, we are more than happy to see a selection of breads placed on the table. Much to our surprise, they are rather good (we even ordered seconds of the grissini, Bella's version of which is much tastier than the average). We are feeling perhaps a little jaded after a series of forgettable Dubai meals, and breads are something you rarely see about town, let alone good breads. Happiness ensues.
On the beverage side of things, Bella again gets off to an impressive start. They have a knowledgable sommelier (honestly, points for even having a sommelier or at least someone educated on wine – a rarity in this town) who helps our table mate find a wine they are very satisfied with, and our mocktails are far beyond the quality usually seen. They definitely lean more cocktail-like and are given the attention we feel mocktails should be given, instead of being an afterthought compared to their alcoholic counterpart as is commonplace.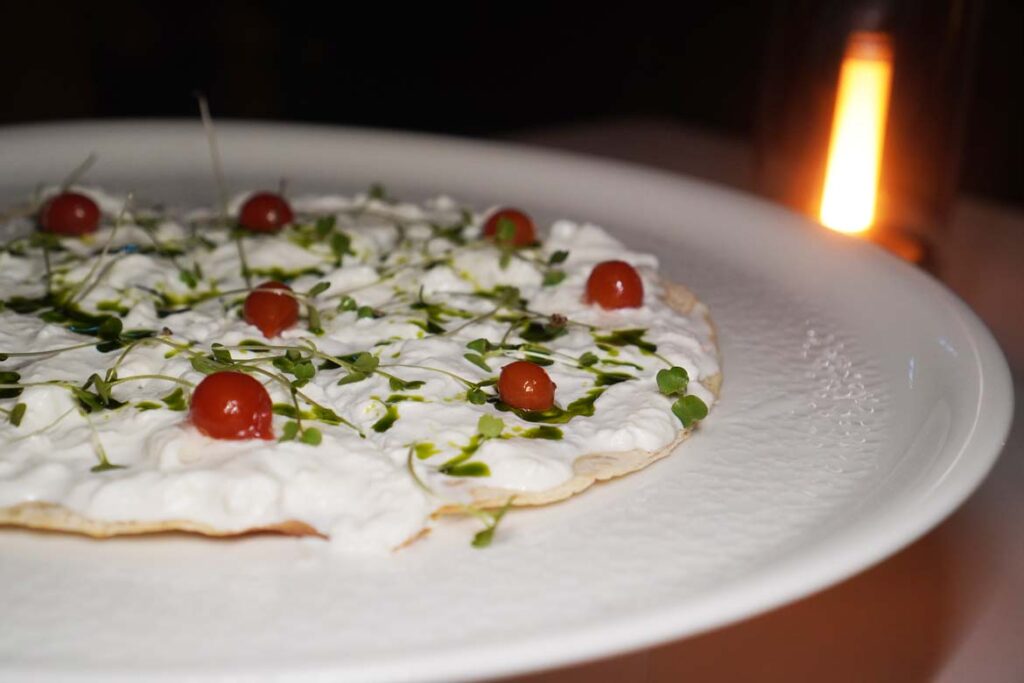 To start we order the Crispyzza Burrata – Crispy dough, burrata, datterini tomatoes, fresh rocket (95 dhs), and while the name may be questionable, thankfully, the dish itself is not. While we were expecting a pizza of some sort, we are delivered a delicate, light crisp base topped with fresh, ultra creamy tomato, beautiful basil oil and pops of flavour that burst forth from the tiny datterini tomatoes. We're glad we skipped the traditional burrata option (105 dhs) and opted for Bella's unique take instead.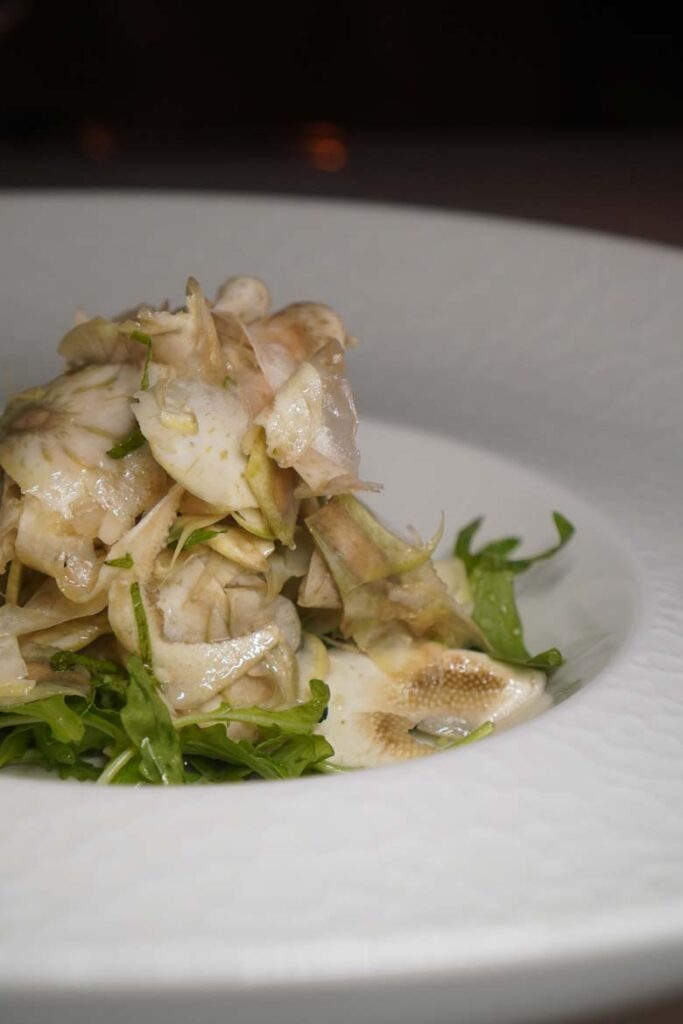 We routinely order salads to balance out the richness of our indulgent pasta choices and while both the Rocket leaves, cherry tomatoes, Grana Padano (75 dhs) and the Artichoke, Parmigiano Reggiano Vacche Rosse 24 months, artichoke vinaigrette (95 dhs) were well executed, we did feel they were rather overpriced for the size, simplicity and ingredients. (We feel the ex-Roberto's team behind Bella may have brought with them Roberto's love for let's say, confident pricing – lentil soup for 95dhs, anyone?)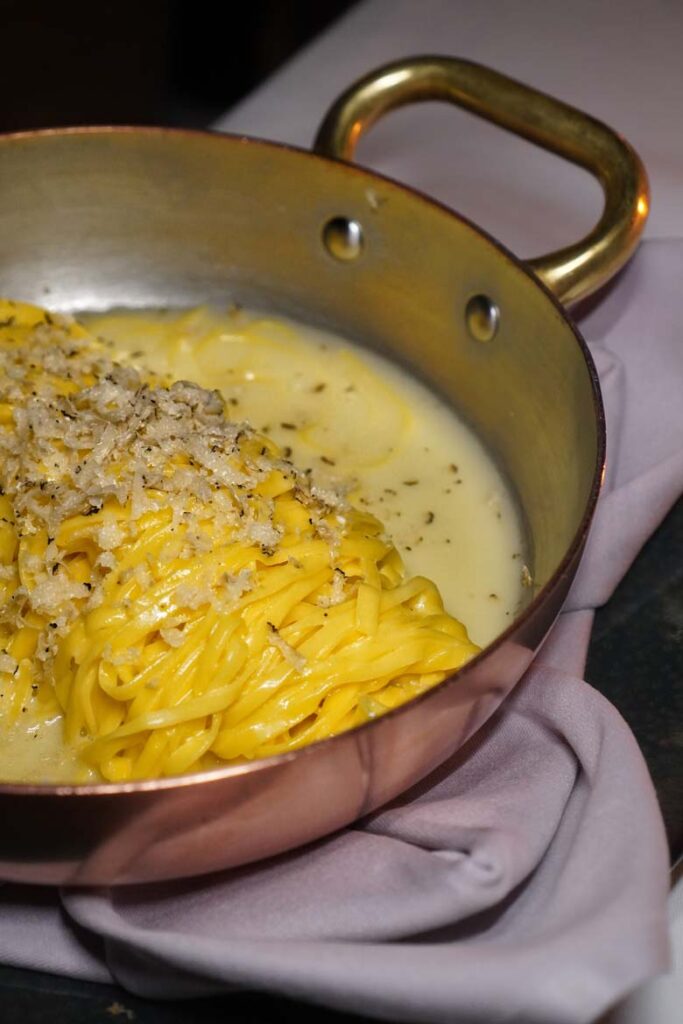 Bella's pasta and risotto selection is rather enticing as a whole, but two of the pasta dishes sounded simply too irresistible not to order. We're a sucker for ossobuco (we simply do not have the patience to make it ourselves) and the Homemade pappardelle, ossobuco, Grana Padano, gremolada (95dhs) did not disappoint. We wouldn't have described it as pappardelle, however; it was more like an elongated, caterpillar-like ravioli. Much like the 'Crispyzza', the dish was a little different to what we had expected; we had envisaged rich, rustic ossobuco melded with thick pasta strips but even though this was quite a different dish, it's silky filling and simple approach worked perfectly.
'Simple' done well is very much the theme at Bella and the Tajarin al tartufo – Homemade tajarin pasta in white truffle butter sauce (195 dhs) is exactly that. The tajarin pasta is cooked beautifully (think fettuccine that's on the thinner side) and the sauce, accompanied by fresh white truffle grated at the table, is rather divine. Certainly no complaints here.
To be honest, it's really hard to find anything to complain about at Bella (well, save for that ghastly lobby and prices that may induce the odd wince). Service is excellent, with plates changed every course (and even in between, on occasion) crumbs scraped and we even found our napkin folded when were popped to the window to take a snap of the view (something we are always keeping an eye out for but thus far have only seen at Tresind Studio in Dubai).
We of course have to sample the house Tiramisu (60 dhs), a sweet and foamy take on the classic, followed by a simple slice of watermelon with sweet vermouth and a new dessert not yet on the menu. The latter involved a satisfying melange of lemon, yoghurt and almond that made us long for the dreamy Italian vistas it seems every Dubai expat is posting on Instagram right now from their summer sojourn. A passionfruit-filled bon bon to finish the meal again demonstrated that Bella's attention to detail is above most Dubai dining experiences.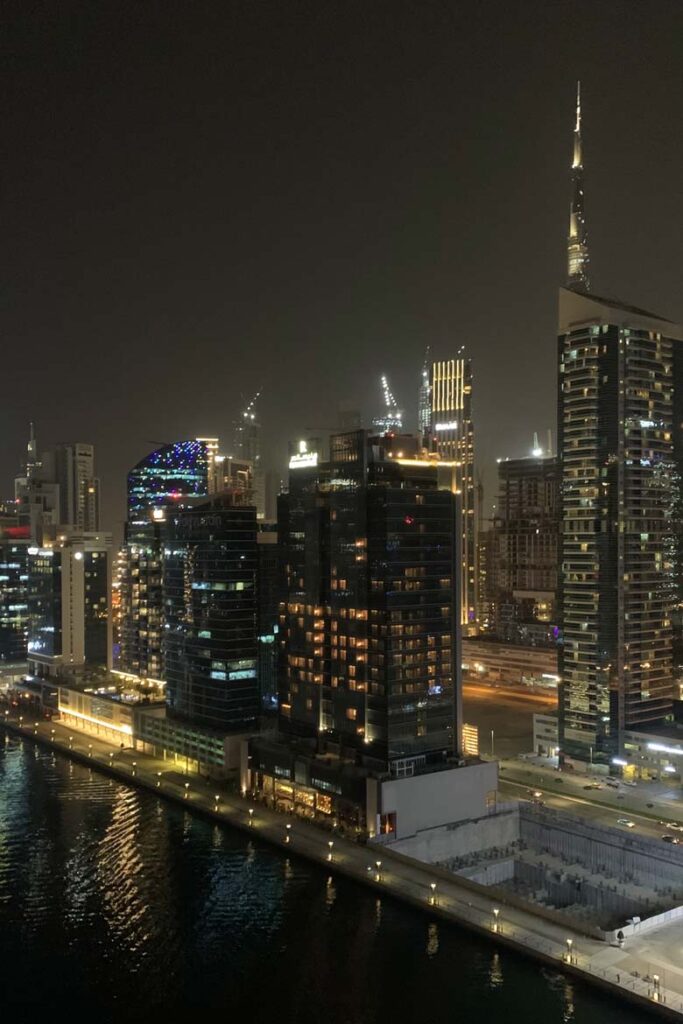 Would we return to Bella? Given the quality of the dishes we tasted (and the beverages) paired with the excellent service on offer, we think Bella is absolutely worth a return visit. If we have any criticism, it would be that the prices feel on the dear side – we assume they've priced against (the pointy end of) their DIFC rivals but the location is not quite as salubrious and we feel a slight improvement on the pricing would make Bella a very solid proposition. Would we place it in Dubai's best Italian? It's certainly a very strong contender in our books – but we feel we need to investigate a little more of the menu first. Should you visit Bella? We think that's a definite yes.