It's no secret that Dubai is sorely lacking in tasting menu experiences, let alone those that would measure up on an international level. With the departure of Reif Othman's The Experience, the scene was left bereft of options that really cut the mustard. Finally, I can proudly say that Dubai now has an option that will please even fussy global gastronomes such as ourselves…introducing Tresind Studio.
You've probably seen us rave about Tresind before, and also their sister restaurant, Carnival by Tresind. Both serve up the best modern Indian cuisine in town (as far as we're concerned) so when they announced they were opening a strictly degustation only, 20 seat restaurant, we were intrigued to say the least. It's tough to get Dubai to embrace a tasting menu concept, given the sad lack of appreciation for the art of gastronomy in this sandy city, but given that Tresind Studio was full on the Monday night we dined just two weeks after opening, perhaps Tresind Studio's Indian influence will be just the right mix to change this. Snippets of conversation that floated over from other tables included tales of journeys to The Fat Duck and recommendations to fellow diners to check out Netflix's Chef's Table, so clearly Tresind Studio has piqued the interest of Dubai's dining enthusiasts yearning for a true degustation experience without getting on a plane to do so.
The Studio is accessed via Tresind's bar, a simple white door leading into a light and airy room decorated with the restaurant's signature motif, the butterfly. Art created by the chef from Carnival by Tresind adorns the walls (how he found the time to create these beautiful pieces I have no idea) and there's an open prep station with a view to the kitchen and what will become a vast tea cellar (this was set to showcase wines, but don't get me started on the peculiarities of the restrictions that abound here).
Tresind Studio's first 'chapter' reflects on the signature dishes from the history of Tresind, elevated and reinterpreted by Chef Himanshu Saini. A meal at Tresind has always begun with a take on pani puri, and this meal is no exception. Studio's version arrives in a coriander lined ice bowl and is as packed with deliciously tangy heat as it is icy cold.
The bread course is up next – missi roti made from wheat and chickpea flour, flavoured with green chilli pickle and served with freshly churned butter. The miniature roti is served piping hot, the butter instantly melting into an unctuous glaze atop the bread. It's utterly amazing – we even requested seconds, to which thankfully they kindly obliged.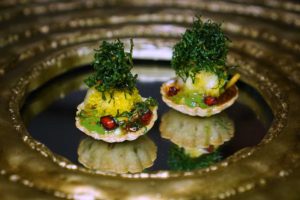 The next course arrives atop an enormous gold platter, with all the amazing flavours you'll find in Tresind's chaat trolley wrapped up in one teeny tiny tart. It's got all the elements I crave from the classic chaat trolley – sweet yoghurt, mint and tamarind chutneys, pomegranate and more…our only complaint is that we wanted more!
We were also happy to see Tresind's famous Mushroom Chai make an appearance, this time in the form of a flavour filled ravioli exposion cradled atop a decadent broth. A tube crafted from potato noodles filled with yoghurt mousse follows, accented by smoked pepper chutney and topped with pickled ivy gourd and the most amazing pop of ginger (more ginger, please chef!). Thoroughly enjoyable.
It's all about texture on the next dish, chicken atop a tempura shiso leaf topped with wild rice. The multitude of crunchy elements was so strangely satisfying alongside the delicately herbal shiso flavour…we loved this dish.
A beetroot tartare does a fantastic job of making me not wonder 'where's the beef', the minced texture doing a great job of emulating the classic meat dish. Speaking of meat, the lamb chop is up next, coloured inky black with vegetable charcoal. Being a local lamb with a slightly mealy texture, it's probably our least favourite of the menu thus far. It would no doubt be a good dish on most menus, but given how high the Studio has set the bar we felt it stood out by comparison.
The palate cleanser takes us on a brief segue to the Nordic seaside – a sorbet of sea buckthorn served inside a shell, nestled on a bed of white coral. Add a touch of popping candy and this is a fun interlude, inspired by Himanshu's recent culinary travels.
When it comes to the main part of an Indian meal, naturally a curry, or perhaps many, will feature. The downside of indulging in multiple curries, however, is the huge amount of food that comes with it – but the Studio has found a way around this. Five individual curry sauces (coconut, rosemary, and spinach amongst them) accompany a single tender steak, enabling you to taste all the wonderfully rich and complex curries Tresind has to offer without any of the stomach overload (or heavy carbs).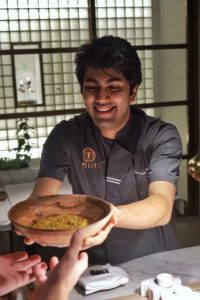 The next course is a communal one, served at the open prep kitchen. It's a khichri that showcases ingredients from the entirety of India, presented on a beautiful marble map of the subcontinent. Chef Saini places each ingredient individually into the mix before serving it in a bowl handed to each guest to represent the caring, charitable and communal nature of food culture in India.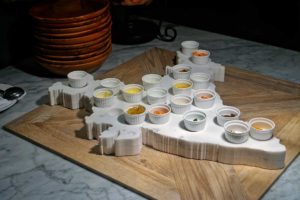 Desserts start with a revamped portion of Tresind's Black Forest dessert, which was classically served in the same fashion as the chat cart, followed by a dal ki chaat which we enjoyed even though it had a touch of saffron to it (we find saffron in desserts to be a love-hate type ingredient – you can guess which side of the fence we sit on).
The real winner of the dessert section, however, combines passionfruit and poppadoms to effortlessly bridge the gap between Indian desserts and western palates. Absolutely delicious.
An extensive array of petit four are more impressive than the majority we've tasted around the world this year and thankfully didn't fall into the trap of horridly sweet jellies and macarons. (Can we move on from macarons already?! Please, no more macaron gift packages!) A tea trolley concludes the tasting menu journey, blending freshly snipped herbs and plants with a well-curated selection of fine (and very interesting) teas – we even had a tea that is blended to evoke the flavours of tiramisu. This non-tea drinker thoroughly enjoyed these, much to my surprise!
The service throughout our experience is impeccable. The ridiculously well-attired staff hit all the right notes – charming, courteous and catching all the little things. Napkins were always folded delicately for your return to the table, cutlery handled with white gloves, wine correctly presented and dishes cleared at appropriate times. For non-Dubai residents, these may seem like the basics of fine dining service – but you'd be tough pressed to find a venue that didn't make mistakes on one if not all of those points. This level of service is truly Michelin star worthy. The wine pairing isn't fully online yet, and when this detail is completed no doubt the experience will only get better.
So how does it stack up? Let's just say, we're more than just a little excited to see a dining room of the standard of Tresind Studio launch in Dubai. Finally, we've got something to tell the world about – a tasting menu that's captivating, intelligent and utterly delicious from start to finish. Add to this a good dose of the Michelin-styled service that Dubai sorely lacks and you've got a combination that is going to make waves. It's time the Dubai restaurant scene got its head out of the sand, and perhaps Tresind Studio is just the wake-up call it needs. Whether you are just visiting or have put down anchor in the shifting sands of the desert, Tresind Studio is unequivocally Dubai's must-visit restaurant.