Stuck in self-isolation due to COVID-19? Let us bring a touch of fine dining to your home with a series of recipes from our favourite restaurants from around the globe…our COVID-19 Kitchen Quarantine cookbook.
The third in our series of gourmet recipes comes from Dubai's renown modern Indian restaurant, Tresind. Tresind has been a staple on the Dubai dining scene for almost five years, winning countless awards and building a legion of loyal fans over this time. Click here to read our thoughts – Tresind is one of our all-time faves. If that's not enough to convince you that Tresind Dubai is absolutely worth a visit as soon as possible, you can read their glowing Trip Advisor reviews here. 
Dining in at Tresind Dubai during COVID-19
In an abundance of caution for the health of their staff and diners, Tresind Dubai remains closed at this time. If you would like to support Tresind Dubai, why not make an advance booking?
About this recipe: Galouti kebab is known for its rich, melt in your mouth texture and this vegetarian version recreates the texture of this kebab using ripe avocado. Traditional accompaniments like ulta tawa paratha and chutney are replaced by tortilla, salsa and sour cream in Tresind's Mexincan-inspired modern interpretation.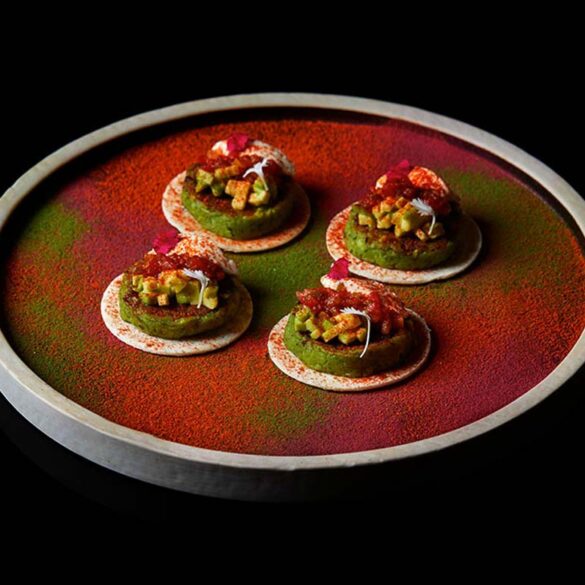 Ingredients
AVOCADO GALOUTI MIXTURE
3 Hass avocados (ripe)
2 Boiled potatoes
10 gm Chopped onion
10 gm Chopped tomato
5 gm Coriander leaves (chopped)
30 gm Roasted gram lentil powder
10 gm Clarified butter (ghee)
5 gm Salt
2 gm Green cardamom powder
4 Tortillas
------
TOMATO SALSA
50 gm Onion (chopped)
100 gm Tomato (chopped)
10 gm Red bell pepper (chopped)
10 gm Green bell pepper (chopped)
5 gm Coriander (chopped)
20 ml Tabasco sauce
50 gm Tomato ketchup
Salt to taste
------
SOUR CREAM
50 gm Fresh cream
10 ml Lime juice
2 gm Salt
Instructions
To prepare the Galouti Kebab:
In a mixing bowl add onion, tomatoes, coriander, boiled potato, roasted gram powder, green
cardamom powder and scooped avocados. Mix well and add clarified butter.
Make small kebabs of 40 gm each and keep in the refrigerator to set.
Cut the tortilla sheet into small circles to hold the avocado kebabs.
To prepare the tomato salsa:
1. In a bowl add chopped vegetables, tabasco and tomato ketchup. Mix well, adjust salt to taste
To prepare the sour cream:
Combine the cream, lime juice and salt and whisk together.
To finish:
Sear the avocado kebabs and tortilla sheet.
Place the kebabs on tortilla circles and top with sour cream and tomato salsa.