Winter is coming, the mercury is falling and that's not that's not all we're happy about – after a summer off, Dubai's legendary Indian institution, Tresind, is back – and it's better than ever. Even Tresind's most loyal fans will struggle to recognize the space as it's been completely remodeled – gone is the white and brown decor and the green-lit bar. A completely redesigned space now offers three distinct areas – the main Tresind dining room, a separate (and spacious) bar area and the new Tresind Studio, a tasting menu only venue seating just 20 diners. The new dark and cosy decor provides the perfect backdrop for Tresind's colorful and flavorful dishes – we love the new look!
There are some new dishes to accompany the new look (and plenty of new cocktails too) but don't worry – the much loved classics are still on the menu! We took the new dishes and the old favourites for a spin, and let's just say we are happy that Tresind is back…we've definitely missed it.
the beautiful new bar area offers a plethora of new creations, from a vast number of takes on the Old Fashioned is selection of 'petit' drinks, many topped with wonderous things and served in creative ways, in true Tresind style. The old classics from Tresind 1.0 are still there too – but we recommend you take Petit III for a spin, which features gin, amaro, violet liquor and orange pulp, and also recommend the Petit IV with its rose theme.
Our dinner gets off to a flavorful start with Tresind's new amuse bouche bento box. The rice roll, dehydrated okra with salsa, onion focaccia and their new take on the pani puri (this time it's frozen) are all hits. We're even obsessed with the spicy, sour and crispy puffs that the 'pani puri' are served on – we asked for an extra bowl full to snack on in between courses (not that we are ever lacking for amazing food when at Tresind)!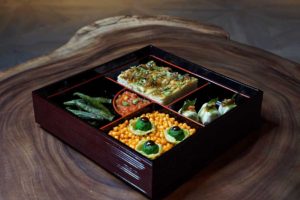 We kick off proceedings with a classic – the Mushroom Chai. A medley of dehydrated mushrooms is drowned in a deep mushroom broth, topped with truffle milk powder – it's oh so rich and oh so good. We revisit another old favorite next – because it just wouldn't be a visit to Tresind without their amazing chaat trolley. It's legitimately one of my all time favorite dishes, bursting with flavor and texture. Definitely one of the best dishes in Dubai – don't leave Tresind without ordering this dish.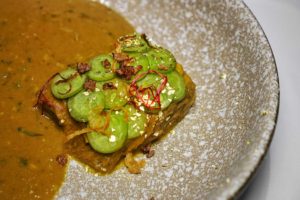 Next up is something new – garlic prawns cooked table side. These are so good that my fellow diners were even stealing them off each other's plates when they weren't looking! I have it on excellent authority that these will cause cravings – be prepared to be coming back for more of these succulent shellfish. A wonderfully tender slice of short rib follows, topped with Goan curry and gorgeous cucumber and gold leaf and let's just say, I'm a fan.
Adorable mini backyards arrive to the table, featuring individual serves of tortillas pinned to a 'washing line' above astroturf, ready to be filled with amazing chicken tikka – so good. Tortilla features again in our next course, Avocado galouti kebab, sour cream, tomato salsa, tortilla paratha – and keeps the hit train rolling. We also loved both the plating and the taste of a superb bite of smoked chicken carpaccio served under a magnifying glass.
If you're as into tandoori chicken as we are, then make sure you check out Tresind's version finished table side, smoked in cedar wood atop grilled pineapple and served with a chilli marinade. It should appease even the fussiest tandoori chicken connoisseur. If lamb is more your protein of choice, you can't go wrong with any of Tresind's famous lamb dishes.
A plate cleanser served under a tree segues our meal from appetizers to mains, and the yuzu beetroot sorbet is just superb.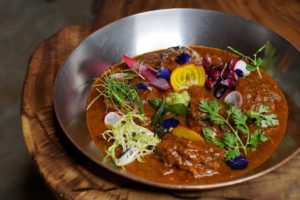 There's a host of new curries including the hearty Chettinad chicken curry served with Thai black rice appam and the flavourful Bengali kosha mangsho and green pea kochuri with punched onions. Both have the table heartily serving up seconds despite our stomachs about to burst at the seams.
Dessert has a range of options on offer, which you choose really depends if Indian desserts are your thing or not. I'll be honest – desserts featuring saffron and cardamom are not my cup of tea, so I went the a gorgeous Daulat ki chaat, soan papdi crumble and gold dust and their Deconstructed Black Forest. Both divine!
If you are a fan of Indian desserts then dive into the sharing style Inspiration ghewar, angoori rasmalai and raspberry sorbet that is big on the saffron, and the fusion desserts of the pastry trolley.
As always, we depart from our Tresind experience feeling well sated, happy and already talking about coming back for more of their delicious and bombastic flavours. The food is better than ever – pair that with the gorgeous new fit out and you have a restaurant that should be on everyone's must visit (at least once!) list. Looks like Tresind's reign as Dubai's most loved Indian restaurant is set to continue for a long time to come…