Situated in a convenient spot next to perennial tour bus favourites Stonyridge and Wild on Waiheke, the Shed at Te Motu is not too far off the beaten track for those who want to add the Bordeaux blend specialists to their wine tasting itinerary.
Whilst you can come here for just the wine (albeit one of the priciest tastings on the island at $20 for five tastings), we were here for the food. We did also get to taste a few wines along the way while we dined so, in the end, it was the best of both worlds.
For some reason, both visits I've made to Te Motu have been rainy Waiheke days, despite being in-season. But that's New Zealand for you, four seasons in one day as the song goes. The rustic shed restaurant with its metal, concrete and wood seems even moodier on days like these, the sound of rain like dry rice falling upon the tin roof. It's a very small venue, so you'll need to book ahead – though I think on sunny days there are some outdoor tables that can be utilised also. On the whole, the decor is very 'NZ' – bach meets farm shed. Pared back, rustic and earthy, blending in with its semi-wild surroundings. It lacks warmth – but a few wines later that won't be too much of a problem. In fact, we hazard a guess that you may have already sunk a few by the time you arrive here for your reservation.
Our first visit to the Shed at Te Motu was a couple of years back, and it's flirted with the Metro Top 50 list over this time. Back then it was awarded Best Rural Restaurant, Metro Top 50 2014, and following that, a finalist for Best Destination Restaurant, Metro Top 50 2015. It dropped off the 2016 list just a day or two before we arrived to dine. I hate to say it, but from our visit, I agree with their decision.
What we ordered:
Chicken liver parfait, peach mostarda, pickled shallots, toast – $14
Merino alpine lamb shoulder, baharat, cumin tahini lentils, pickled cucumber, yoghurt – $34
Wild Raukumara Range venison, Waiheke figs, butternut pumpkin, black pudding, hazelnut dukkah, amaranth, pickled blackberries – $36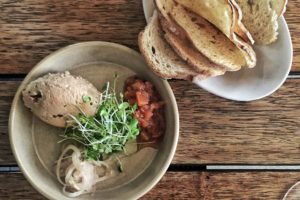 To start, we ordered the same dish we ordered years ago (albeit with some minor changes over the years), the chicken liver parfait – this dish was our favourite of the lunch, we love a good parfait (not the sweet kind). The mostarda and pickled shallots were a great foil to the parfait, but, as is usually the case, there was far too much parfait for the bread and condiments (or conversely, not enough bread and condiments for the amount of parfait – actually, that's our preferred assessment). They were kind enough to bring some more bread, however, when they noticed how much we had left which was commendable.
Sadly, the good times ended there. For two dishes that sounded so good on the menu, we really don't know how they ended up tasting so…uncomfortable. And that pretty much sums it up (we say sums it up, but that doesn't mean you can stop reading here) – uncomfortable tastes, uncomfortable textures. Both dishes befell some of the same pitfalls – overly bitter and sour, and way too 'earthy' tasting. The venison dish was so 'earthy' that the taste of literal dirt springs to mind when we think back to eating it. We suppose it doesn't help that the black pudding crumbs resembled dirt…they do say you eat with your eyes!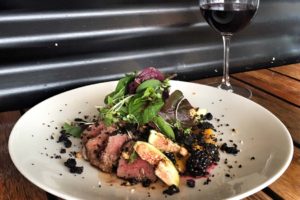 Certainly, the quality of the ingredients is good, and the meat was tender in both dishes, we won't challenge that – but the flavours are just off for us. It wasn't a pleasant mouthful or mouthfeel with the combination of ingredients in either of these compositions and we wouldn't choose to consume them again. That says a lot to us – mostly, that perhaps the menu needs some recalibration here.
By the same token, we found some of the wines here intensely challenging – too much so for our palate that likes easy, yummy, smooth, fruity, delectable reds. These were like reading a giant, much lauded, arty-looking book – we felt like if we pretended to like them we'd look more like a wine connoisseur, but we really couldn't get into some of them even for appearances' sake. Perhaps a true Bordeaux aficionado would rave about the wines on offer here, they certainly seem to be well regarded. So we'll admit these aren't our cup of tea (or rather, glass of wine). Will we go back again next visit? Sadly probably not, especially when options like the excellent Mudbrick are serving up top-notch food and wine that we can't get enough of.
CONTACT:
Check out their website
+64 9 372 6884
info@temotu.co.nz
Opening hours