Craving a serving of the American classic? Here's a list of our favourite burgers in Dubai available for contactless delivery to your door via Talabat.
High Joint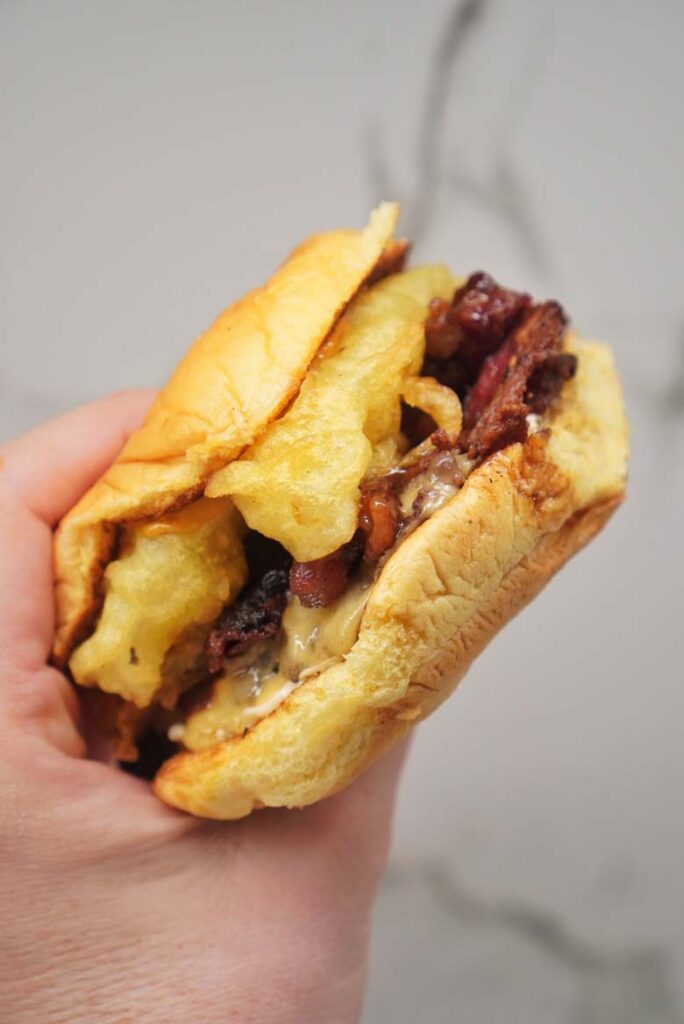 Often touted as Dubai's best burger, High Joint has accumulated a cult following in the few years it's been in existence. The dine-in location boasts merely a handful of seats – but never fear, you can now experience High Joint's legendary offerings in the comfort of your own home. Our fave? The Smokey Burger: BBQ sauce, pepper jack cheese, bacon, tempura onions and ranch sauce.

BRD by SLAB
Ahh, the chicken burger. Too often sidelined as a menu minority when it comes to burgers, BRD is flipping that concept on its head. In fact, chicken burgers are the only burgers you'll find on their menu. Our favourite? The Americano: Smoky bacon, cheese sauce and jalapeno. Hot sauce lovers? Check out The Insanity.

Slider Box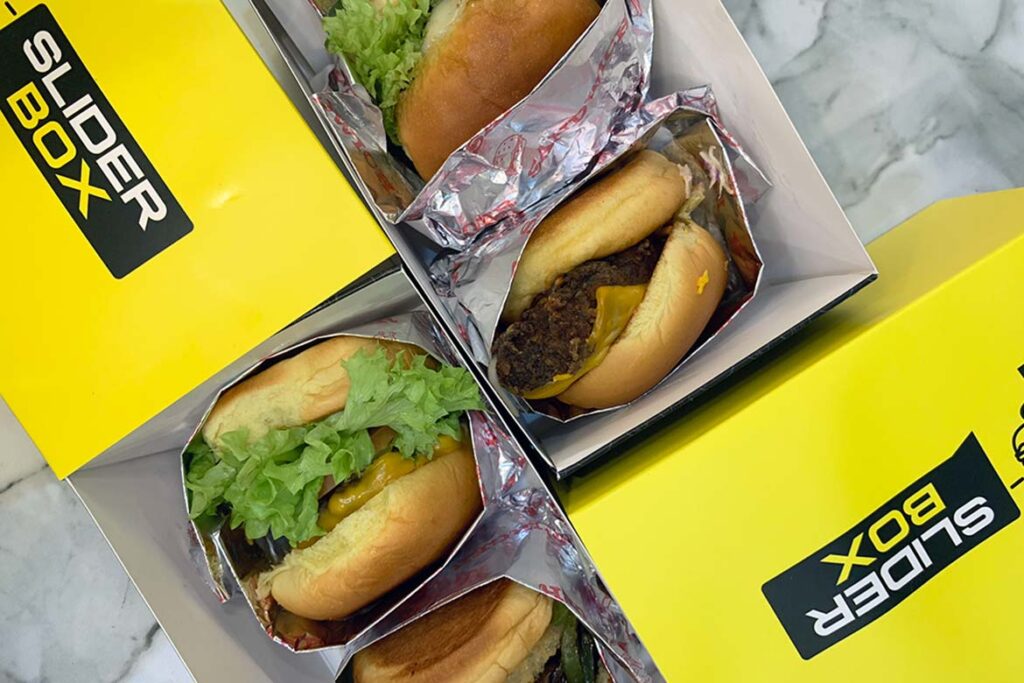 Finally, someone who understands why you'd want to make burgers mini-sized at all. If you don't have tiny hands, there really isn't any advantage to shrinking a burger – unless it means you can try more varieties! Many slider spruikers want to shill multiples of the same burger, but Slider Box gets it – you can choose a different burger for each slider, enabling you to easily conduct a taste test of (almost) the entire menu. Super soft potato buns, juicy patties and plenty of sauce – this is the perfect excuse for an in-home slider degustation. Our faves? The Original, The Beef Philly Cheese Steak and The Wild Mushroom and Swiss.

Burgers & Burgers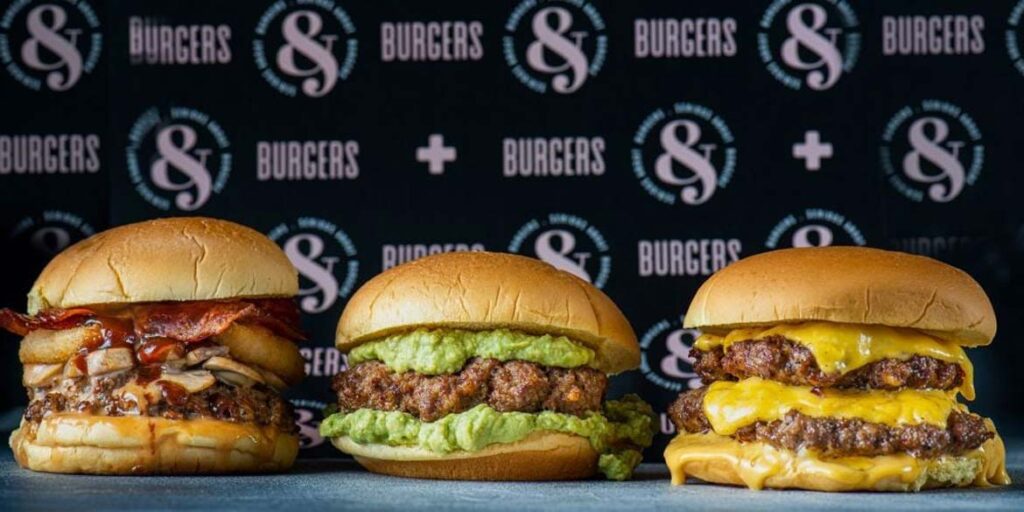 An outlet with a fairly unconventional menu, Burgers & Burgers stands out for us primarily for one menu item: the Chicken Doughnut Burger. Described as, "A buttery doughnut stuffed with our fried chicken breast topped with B+B mayo", we recommend you order this indulgent innovation with extra cheese and heck, even a side of their cheese sauce. Cholesterol, we don't know her. Coming in at number two on our B&B rankings? The Crunchy Wasabi Burger. Think wasabi mayo, wasabi peas…yes, like the bar snack…sounds weird, but it works.
The other stand out about Burgers & Burgers? They package their meaty sandwiches in a hard cardboard box (no squishing here) and the vegetables are sat alongside the burger, not in it – so soggy lettuce or tomatoes!

Argentina Grill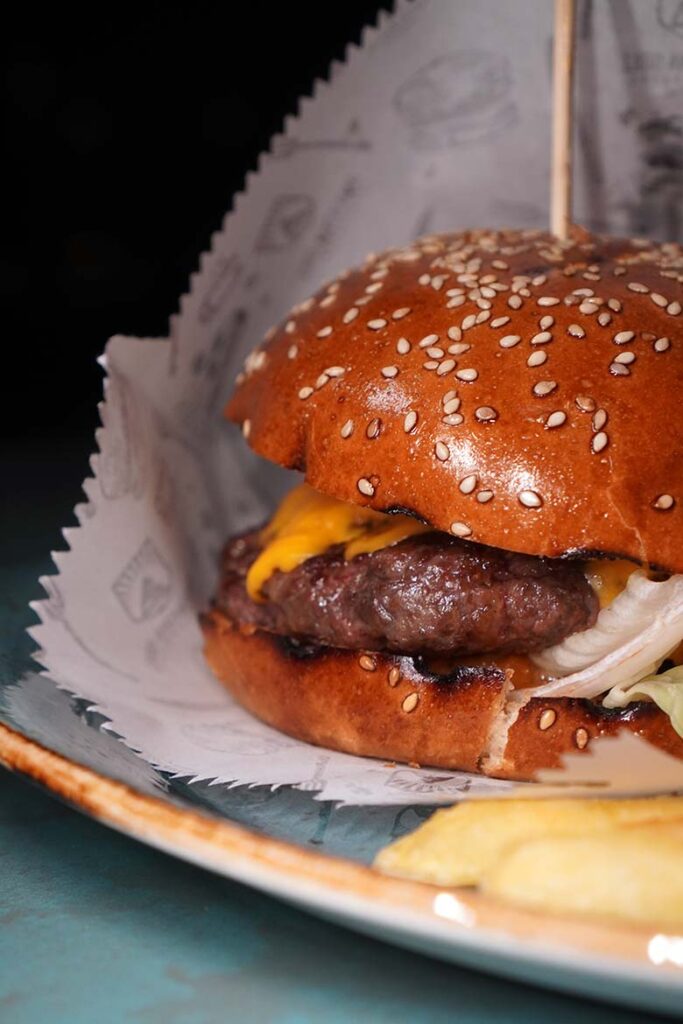 If you've loved their La Mer location, you'll be happy to know Argentina Grill now delivers their killer 510g Burger Los Glaciares right to your doorstep via Talabat. We fell head over heels in love with the chunky grind, perfect medium sear and mind-blowing caramelised onions. It's certainly not a budget burger, but it's a luxurious option that delivers a hefty flavour punch.

Disclaimer: This article is kindly sponsored by Talabat. All opinions are honest and wholly our own. Many calories were ingested in the creation of this article.