Curious about Alchemist Copenhagen, the free-wheeling fine dining spectacle that is changing the global culinary game? Read on…
Our fascination with Alchemist and the mad scientist at the helm, Chef Rasmus Munk, first began in 2015, when the young chef was just 24. Already at this point, it was abundantly clear that Munk was one to watch, his dishes being the stand out courses of our OAD Best New Restaurants dinner in Copenhagen. His 'ashtray' of charcoaled crab and potato and his lamb brain with ants and mealworms served inside a faux sheep skull were unapologetically provocative in a way we hadn't seen before.
Two years later we embark on our first full Alchemist dining experience, at the original location. Seating just 12 diners served by a mere six in the kitchen, Alchemist 1.0 was a free-wheeling forty-course journey into the mind of Chef Munk. His passion for pushing the boundaries and cheeky (if not sometimes macabre) sense of humour was evident throughout the meal, much to our delight.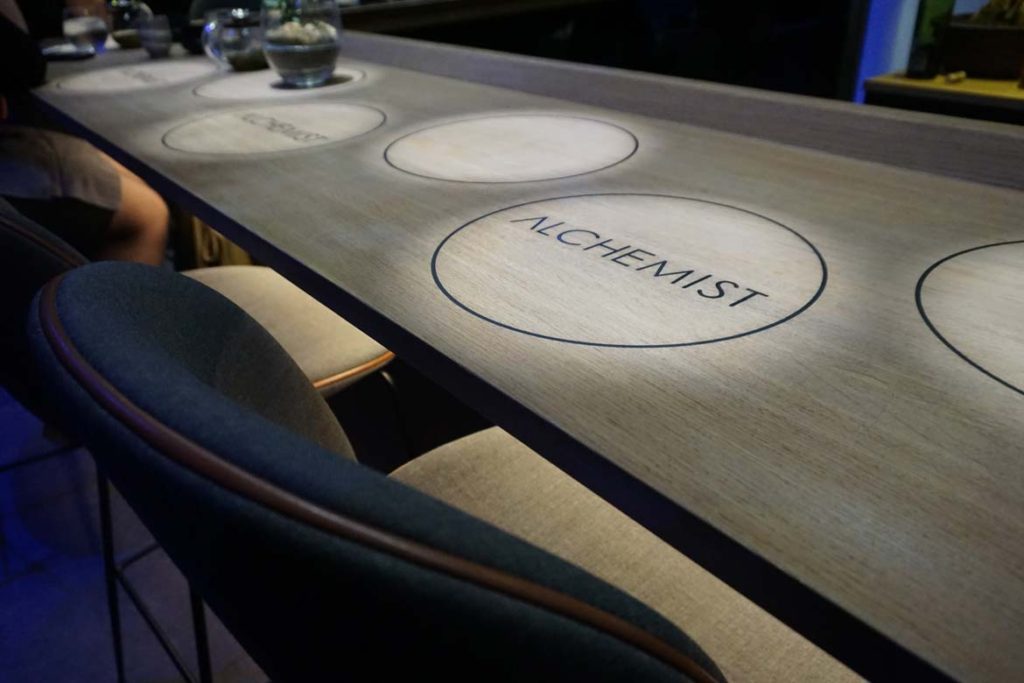 A lamb tartare is presented inside a frozen lamb's heart on ice, its cherry sauce administered via an IV bag on a stand. The dish was delicious, of course, but this plate was, as is often at Alchemist, mostly about the message. Munk designed the dish to raise awareness of Copenhagen's organ donor shortage, inviting guests to sign up to become a donor during the course. Over 500 new donors resulted from the recruitment drive, certainly an impactful outcome.
The 'Goldfish in a blender' was another unforgettable course and one that always elicits a strong reaction from diners. Based on a famous art exhibit, a goldfish is placed in a blender in front of you, atop which a bite threaded on a skewer rests. You're instructed to sprinkle goldfish food onto both your bite and into the water for the fish – what you do with the blender, that's up to you (yes, they make a show of plugging it in). We're told no-one ever turned the blender on, but apparently, two people ate the fish…
A Bloody Mary encased in a faux tomato, crushed in a cocktail shaker to reveal a cocktail and a sparkling claw that becomes the salad for a lobster roll were two other wonderfully whimsical dishes from Alchemist's first incarnation.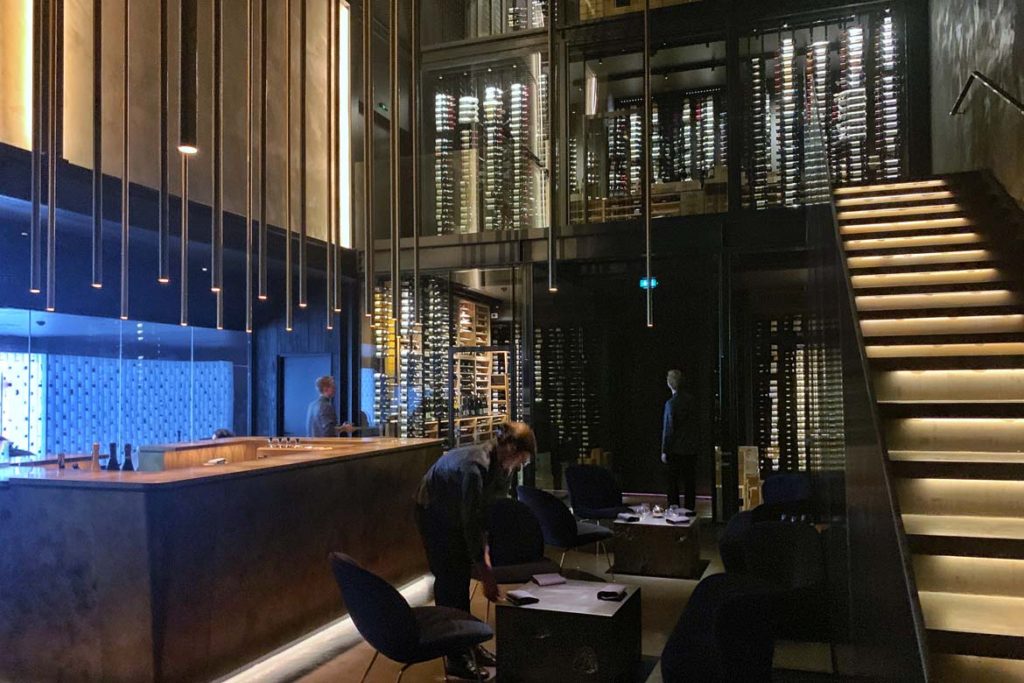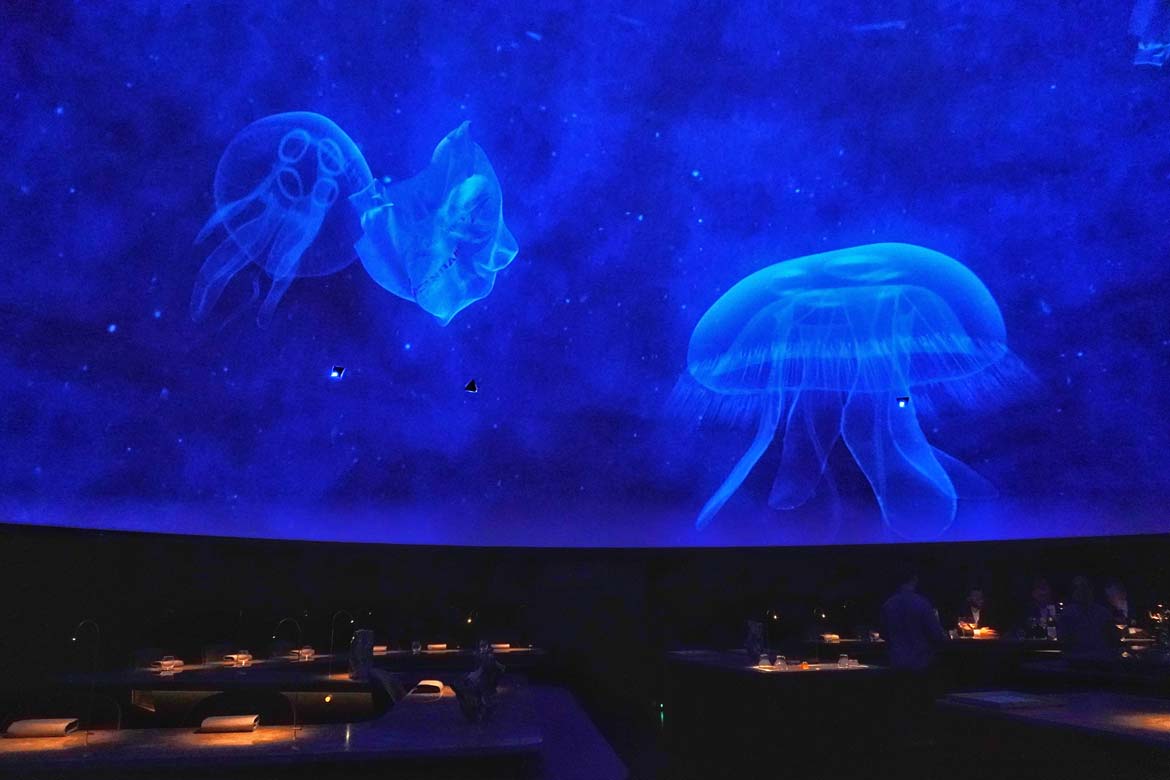 Fast-forward to 2019 and after an extended hiatus, Alchemist is reborn in its new location. Previously an airplane hangar, the space is enormous, allowing plenty of space for Munk's imagination to run wild. The Alchemist 2.0 experience encompasses a series of five 'Acts', each served in its own space. We won't give away all the surprises, but we will show you where the two main 'Acts' of the meal take place – one is served in a lounge looking into the development kitchen (above), and the other in Alchemists iconic dome (below). And we mean, iconic. We'd seen pictures of the dome on social media, but nothing prepared us for the enormity of the experience.
Death Star-esque doors part to reveal a truly awe-inspiring circular dining room, the likes of which we've never witnessed. The vast illuminated dome showcases a series of scenes throughout the night, from an ocean filled with jellyfish swimming amongst floating plastic bags to a sunset and the aurora borealis. The experience cannot be conveyed in words or pictures alone, however, you must visit to truly understand it.
The meal consists of 40-45 courses depending on the current menu, a number which most people find shocking. Having experienced Alchemist 1.0's 41-course menu, we weren't intimidated in the slightest. Each course is amuse-bouche sized and we weren't uncomfortably full at the conclusion of either meal. The pacing of dishes is excellent, and we appreciated the offer of breaks throughout the evening (which, unusually for us, we didn't feel the need to utilize).
Much of the thrill of the Alchemist Copenhagen experience is in the continual stream of surprises, so we don't want to take that away from you. We'll share with you our favourite ten moments from the Alchemist experience, and leave the rest for you to discover…
1. Dumpling
Have you ever had a dumpling encased in Japanese candy floss? Neither had we, but this bite filled with fermented tamarind and Asian herbs delivered a fabulous juxtaposition of sweet and sour.
2. The Omelet
This is Alchemist's attempt at creating the perfect omelet – and we think they might just have pulled it off. The egg yolk membrane is so delicate, squishy and slippery that we struggled to pick it up! Topped with lardo and truffle and filled with a foam of raw egg and Comte cheese that explodes in your mouth, this will make you rethink the humble egg dish.
3. Sunburnt Bikini
The classic Spanish bikini sandwich has been reimagined into a mochi form, filled with Joselito 2014 ham and gruyere cheese…chewy, gooey and ridiculously delicious.
4. Snowball
It's not every day that a pair of ski gloves are placed in front of you in lieu of cutlery, but all makes sense when the dish arrives, a simple looking snowball in a puddle of olive oil. In a surprisingly flavorful twist, the snowball dipped in olive oil evokes the flavours of pan con tomate – this is the only time in life we'd recommend you eat the yellow snow.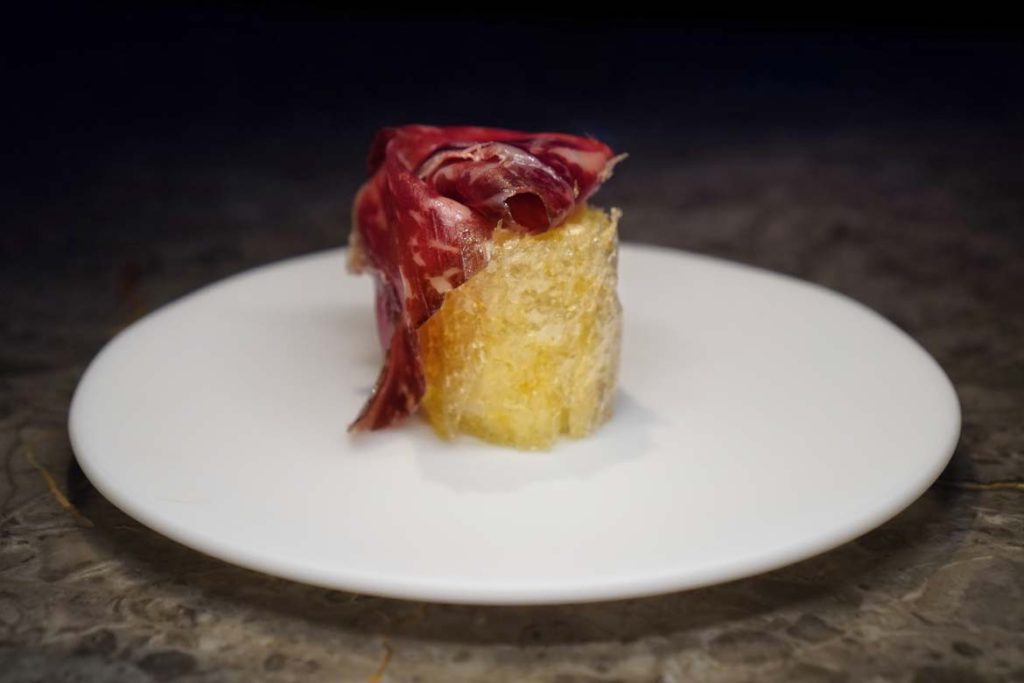 5. Airy Bread
Potato starch coated in brown butter, filled with air, rolled and baked under pressure. Add 20-year-old Galician grass-fed beef, fresh cheese foam and more brown butter….need we say more?
6. Plastic Fantastic
Much like the jellyfish swimming amongst plastic bags above your head, this is Munk taking a social stand on plastic in our oceans. 30% of fish caught in Danish waters contain microplastic, and this dish contains 'plastic' too, albeit in a more digestible potato starch form atop cod jaw, smoked bone marrow and Comte foam.
7. Mochi
If you're a lover of Pad Thai as we are, this bite is absolute fire. Fragrant peanuts coat a sticky mochi filled with tamarind and chili, the spicy aromas bursting forth as you pull apart the dough. Our favourite Asian dish in a bite, and perhaps our favourite dish of the evening.
8. Tongue Kiss
This is not one for the squeamish – guests are invited to lick a gel with herbs and seeds off of a silicone replica of a human tongue…quite the confronting experience.
9. Udder
More sucking on silicone here, with goats milk dulce de leche housed inside a faux 'udder'. You'll need to suck on the right teat to get the treat, reminiscent of an Alchemist 1.0 dish where you were required to 'inhale' your dish through a funnel, simulating the unfortunate treatment of foie gras geese.
10. Pig Fix
Another thing Alchemist takes a stand on? Antibiotics in meat. Their pork is 100% antibiotic-free, but you'll still get to inject it – with something far more delicious than your typical antibiotic, thankfully.
Without a doubt, Alchemist is a game-changer in the fine-dining space. Provocative, evocative – but not at the expense of taste. Too often, concepts as ambitious as Alchemist can stray into 'art we'd rather look at than have to eat', however, deliciousness is certainly not an afterthought here. Our experience had us smiling ear to ear, altogether excited, elated and a little bit nervous – something we haven't felt for a very long time when it comes to fine dining. This is experiential and experimental dining at its best, something that has to be seen (and tasted) to be believed – and one we feel is heading for the very top. A future number one in the making? We think so.