After countless years at the top, we return to see if The Grove is still serving up the goods…
We'll admit it – we'd been a touch hesitant to return tao Auckland's two-hatted The Grove since the uber-talented Ben Bayly and Josh Barlow left the much-lauded inner-city establishment. Not because we thought it would be bad, per se – their TripAdvisor reviews seem to indicate that the quality is still incredibly high – but perhaps for fear that it wouldn't be The Grove that we knew and loved. If we'd thought logically about the history of The Grove and Michael Dearth's seemingly savant-like ability to install ridiculously talented chefs in his restaurant time and time again, we should really have had no concern that The Grove would continue to be anything less than wonderful in its newest incarnation. But humans (and in particular food reviewers) are not always logical, and as such, we missed an entire era of The Grove in the meantime (Chef Kira Ghidoni, who followed Josh Barlow, departed New Zealand at the end of 2019). It's only been three weeks since The Grove's newest chef, young Brit import Ryan Moore, has taken control, but we are certainly hungry to see what he's bringing to the pass. (Click here if you'd like to read our review of The Grove during the Ben Bayly / Josh Barlow era.)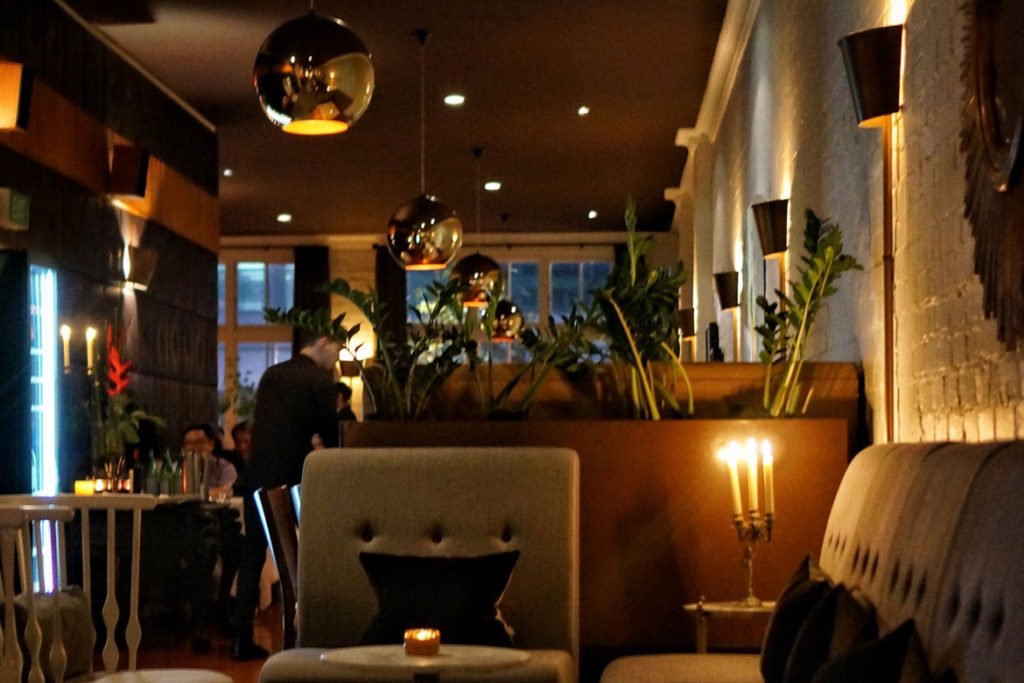 The Grove's interiors haven't changed much over the years we've known it, save for an update to the chairs and some wall panelling. It's always been effortlessly chic, the large spherical brass light fittings as iconic as Clooney's black fringe curtains. (RIP Clooney – but you can find restauranteur extraordinaire Tony Stewart at Queenstown's killer Amisfield now, forming a team as formidable as any in the nation.) We opt for the seven-course tasting menu with wine pairing which clocks in at $165 NZD, with wine pairing $120 for the standard option and $195 for the premium).
We're happy to see the tradition of snacks started by Ben Bayly is still in place at The Grove, ours commencing with a well-executed duo of Beetroot macaron with goats cheese, nori powder and raspberry caviar and a Tartlet of chicken liver parfait, fresh raspberry, and grated hazelnut. They manage to be outdone by their successors, however – a lush piece of croissant with black garlic and parmesan and a scrumptious smoked pork croquette.

Our first course of Buttermilk, kohlrabi, apple, cucumber and elderflower is incredibly clean and fresh, the addictive acidity of the dish well balanced by the buttermilk sorbet. We're starting to relax after seeing the quality of our first bites, and Almond with cherry tomato, basil, ricotta sauce wows us even further, the subtle richness of the blanched almonds adding another dimension to the classic combination.
You'll probably know by now that we are obsessed with beef tartare, and The Grove's version is sensational. Their Waitaka Wagyu beef is almost unfathomably tender in its chunky, raw form, and when accompanied by velvety miso creme fraiche and crispy shallot, what's not to love? The Yolk and Agria potato ravioli with yuzu, chicken sauce, pumpkin seed and truffle puree that follows is ridiculously rich, the silky potato only outdone by the unctuous, flowing yolk.
The Grove's smoked rye sourdough is listed as a course of its own (though thankfully, not counted in the number of courses) and after tasting it, we can understand why. We'll admit this bread already had two mental demerit points against it when it came to the table – the fact that it's billed as 'smoked' (we're not the biggest fan of smoky flavours) and the fact that it's not made in house, but by the buzz-worthy Daily Bread. All that is forgiven, however, when we bite into the warm, crunchy bread – when topped with the jersey cream cultured butter, the result is reminiscent of bacon fresh out of the pan. We did at first wonder if this serious dose of umami was coming from the butter, but it seems it is in fact from the smoked bread – the butter just seems to act as the vehicle to bring it out.
Our meaty 'main' of Origin South Lamb with sheep's curd, courgette and kawa kawa and sweetbreads was quite a surprising dish. The lamb fat appears nearly raw on the chop, raising our eyebrows at first, but our worries are quickly dispelled by the perfectly cooked medallion of meat, a uniform shade of rose. It's incredibly tender, and you'd be forgiven for mistaking it for our favourite lamb breed, NZ's Te Mana. We do love lamb fat, however, so we wish this had been seared a little more so we could have indulged in the entire chop, but given how good the meat itself is, we're not complaining. The accompanying elements of the dish didn't impress as much as the main element, however, the kawa kawa much too overpoweringly medicinal for our taste.
Moving on to the sweeter side of the menu, The Grove impresses us no end with their Sweet peas with coconut, mint and dark chocolate. We love both peas and vegetal desserts, so it's no surprise this dish is an absolute hit with us. It's like a green pea mint slice, and we're living for it. The second dessert of Cromwell cherries, sweet cheese, shiso and dark chocolate (our substitution for pistachio) was pleasant but didn't hold a candle to its predecessor in our books. We didn't sample the petit fours on this occasion, but they do sound good – icy poles and pineapple lumps, anyone? (The gourmet version, but of course.)
The wine pairing served up at The Grove had us singing its praises on multiple occasions throughout the night. We were very happy to see there was only one wine we'd come across before, a rarity given how often we dine. Each was expertly selected, not just pairing well with each course but ridiculously tasty in its own right.
Overall, our experience at The Grove was extremely impressive. Given that this menu (and new head chef) was barely three weeks in, the level of execution was ridiculously high. Bravo Mr Dearth, you've picked another winner – it looks like the legacy of The Grove continues…don't hesitate to revisit this Auckland fine dining institution.