We were looking for a new destination, a getaway within easy reach, but somewhere we hadn't ventured to yet…making The Residence Zanzibar an ideal choice. We had previously loved the Seychelles for its touch of African flair, so we couldn't wait to see what Zanzibar had to offer.
The Residence Zanzibar is voted online as the place you absolutely need to visit if this exotic destination is on your wishlist. Perched on the south-west coast, The Residence offers a tranquil haven on this African island. The resort is comprised of 66 villas, split between Garden villas (most economical), Luxury Ocean Front villas (the category we stayed in) and Prestige Ocean Front Villas (much like the luxury villas, but with an ocean-facing bathroom instead of it being tucked behind the bedroom). After looking at all three villa types, we think the Luxury Ocean Front villas were the best combination of view and positioning (unless you're a serious bath aficionado – we are not). More about that positioning later.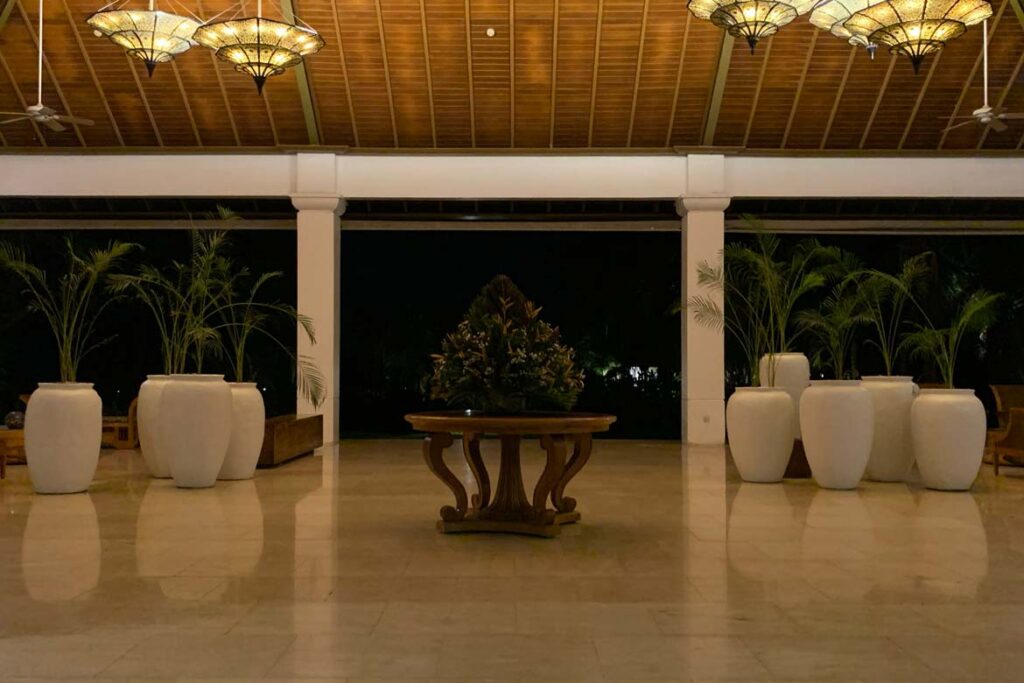 We arrive at the beautiful lobby of The Residence in darkness after a somewhat long day in transit from Dubai (we'll elaborate on the best way to reach Zanzibar later), instantly struck by how tropical and serene it is. From the moment we set foot on the property, it's evident how welcoming and friendly the service is – something that is consistently excellent throughout our stay. A welcome drink and cold towel later, we're off to our villa, which we think is definitely more welcoming and more well-appointed than what is conveyed on the hotel website – one of the reasons we wanted to come here and investigate for ourselves. We're exploring The Residence's romance package on this trip, and romance is definitely in the air as we enter our villa. A bottle of sparkling wine on ice and a fresh fruit platter awaits, alongside a bougainvillea trail to a ready-drawn, candlelit bath and bed that bears a warm island welcome with our names.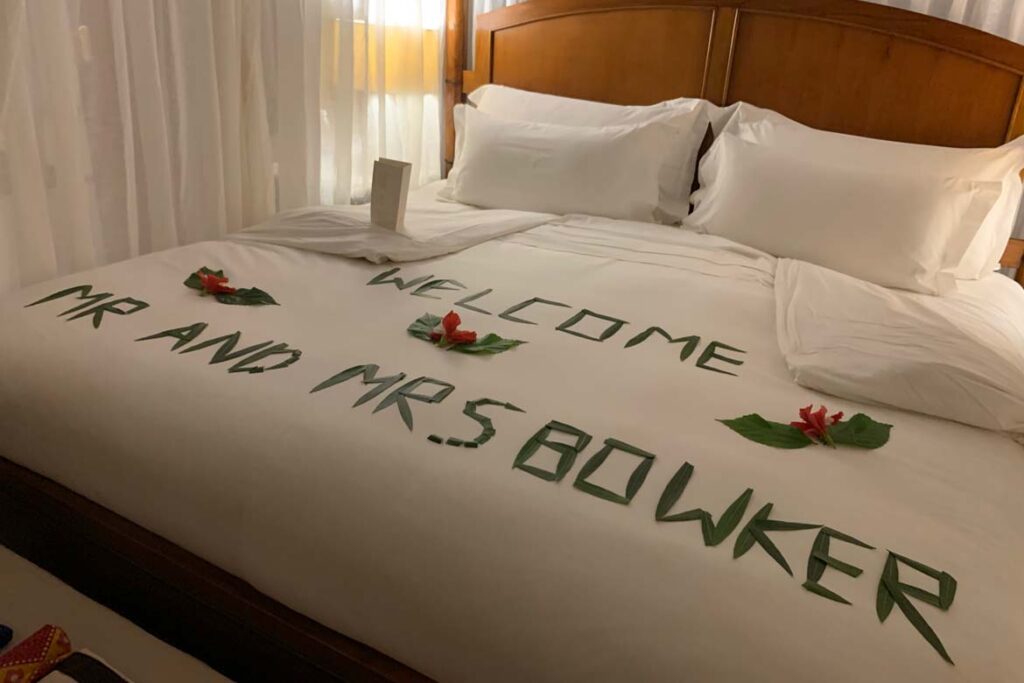 A mosquito net encircles the bed, much to our relief. As you may be aware, malaria is a concern in these parts, and we packed a lot of DEET accordingly. We needn't have been too worried, however, as The Residence sprays regularly to rid the property of mosquitoes and we only saw a total of four on our three-day visit (one outside our villa and three in the bar area). Villas are also equipped with a plug-in mosquito repeller for inside and a mosquito coil for outside use, perfect for those who worry about these things (ahem, me). While there may not have (thankfully) been a lot of mosquitos, there are, however, a lot of large bugs (huge ants, dragonflies, wasps and stick insects) so if you're particularly bug-phobic, remember that this is an area lush with jungle and natural vegetation. It can't really be avoided – just keep an eye out!
Bugs aren't the only thing living in the resort's sprawling grounds – you'll also find plenty of monkeys! The monkeys will generally keep to themselves unless they spy that you have a banana in your possession – and believe us when we say they have a keen eye. Two rather cheeky monkeys swiftly sniped said fruit from our breakfast table, much to our surprise (and enjoyment). The next morning we found a group had gathered outside the patio doors of our villa, having spotted a banana sitting inside. If you don't fancy making new monkey friends, avoid bananas at all costs!
Facilities wise, The Residence is well equipped. There's a fitness centre and a games room that boasts a pool table, table tennis and a dartboard – perfect for a rainy afternoon. Free-of-charge watersports include stand up paddleboarding and kayaking. Bikes are also provided to make getting around the grounds easy, though the buggy service is also very quick if you'd rather avoid the leg work.
When it comes to cuisine, The Residence sticks fairly closely to safe 'resort-style' food, reminiscent of Fijian properties. The dinner menu on most nights is comprised of a set menu with a partial buffet at the oceanfront restaurant, Dining, or theme nights at The Pavillion. Dishes range from average to great – the fresh cheese and onion naan at the Indian theme night is what dreams are made of, and the starters were consistently of very high quality, but serious foodies may be underwhelmed on the whole (same goes for the cocktails). Overall, one element we were slightly disappointed by was the lack of local food on offer – we were told there is a once a week buffet showcasing regional cuisine, but we really feel it should be much more prominent on the menu. Breakfasts are a bit of a mixed bag, as we found classic breakfast items like pastries and bacon not hitting the mark (perhaps due to the humidity), but the vegan options such as vege noodles, detox juices and fresh fruit were a highlight.
In terms of special occasion dining experiences, there are three you can choose from, some of which are included in The Residence's romance package. If you don't want to stray from your private pool, look no further than a floating breakfast – you can have anything (or everything!) from the breakfast buffet delivered to your pool, where you can indulge while keeping cool, or getting a tan.
Later in the day, The Residence's overwater pavilion is the place to enjoy pre-dinner canapes and bubbles while the sun sets – it's probably our favourite spot on the property. Come nightfall, why not have The Residence team set up a romantic dinner on the beach for two?
We love a good beachfront dinner – but we would advise you enquire about the possibility of dining earlier in the evening to catch the sunset (if you're not heading to the overwater pavilion for canapes, that is). Personally, we think the experience would be much more special at sunset than when the ocean is shrouded in darkness. Secondly, if privacy is an important factor for you, you should also inquire as to whether other beachfront dinners are being conducted on the same night, as there were three on the night we dined.
The villa features a spacious lounge room, bedroom, and bathroom, plus outdoor lounges, day bed, dining table for two and of course, a private pool. The bathroom was our favourite room in the villa, featuring a full-size bath, double vanities and outdoor shower (cold water only – but don't worry, you'll probably want some respite from the warm African temperatures). Amenities are by the Cenizaro resort group themselves – our comment would be that if the hotel isn't going to select a luxury brand to pair with, eco-friendly refillable bottles may be a better move.
As we mentioned earlier, there are three categories of villas at The Residence, two of which are oceanfront. If you're booking one of these oceanfront villas it's worth noting that there are two distinct sides to the resort, each with contrasting geographic features. Oceanfront villas to the right of the main pool have easy access to a white sand beach, with the caveat being that due to this stretch of beach being the nicest on the property, there may be other guests passing by your villa. These villas have the best sea views. We were located on the more private side, meaning more foliage in front of the villa and less beach. The beach on this side is quite a distance from the villas and has mostly been eroded, leaving it not particularly suitable for swimming. Whilst our side of the resort was indeed more private and away from other guests, we still spotted many gardeners tending to the grounds while we were in the pool – so skinny dipping territory, this is not – just FYI. In terms of views afforded by this more private side of the resort, we found the ocean was visible when standing n the deck of the villa, but not while in the pool itself. It's a personal choice as to which elements are more important to you – beach and views, or privacy – so make sure you discuss your preferences with the team when you book.
We also took The Residence's spa for a test drive, which might be the only area of the resort where the service didn't wow us. We found our massage to be fairly average, and were a little surprised that there was no apres-spa tea, snacks or facilities/relaxation area.
If you're thinking of travelling from Dubai to Zanzibar, we recommend taking one of FlyDubai's twice-daily flights. We chose to travel to Dar es Salaam on Emirates, which then requires an additional domestic flight to Zanzibar (albeit a very short one) and then a further car transfer to The Residence (about 1.25 hours in duration). This brought our total travel time to around 12 hours, which may be fine for longer stays, but felt restrictive considering our three-night getaway. We had heeded online reports that baggage could take up to 1.5 hours to clear in Dar es Salaam and that visa-on-arrival queues may take an hour, but found this to absolutely not be the case due to the recent opening of a new terminal at Dar es Salaam. Everything was processed speedily, much to our relief after an extended delay in departing DXB. The domestic terminal is a quick 5-minute walk, not a taxi ride, which was oft reported in online forums.
The Residence gives guests a taste of Zanzibar, the highlight being the wonderfully warm African hospitality. Does the luxury on offer equal the level of most high-end resorts in the Maldives, Mauritius and the Seychelles? Not quite – so we would advise comparing price points between these options at the time of booking if you're considering all of the above. We would have loved to see more local flair in both the villa architecture and the food – but it's a good introduction to the African island.
Visit The Residence Zanzibar website