Stuck in self-isolation due to COVID-19? Let us bring a touch of fine dining to your home with a series of recipes from our favourite restaurants from around the globe…our COVID-19 Kitchen Quarantine cookbook.
The first in our series of gourmet recipes comes from much-lauded Paris Butter in Auckland, New Zealand. Paris Butter recently received a perfect 20/20 score from NZ Herald restaurant critic Jesse Mulligan and serves up modern French-styled tasting menus injected with a good dose of 'Kiwi'.
Dining in at Paris Butter during COVID-19
Paris Butter is continuing to serve their full tasting menu in their dining room while removing some tables in order to provide a sensible amount of 'social distance' between each dining party. They've even created their own hand sanitiser to ensure dining out doesn't come with any worries beyond which wine to choose (they can take care of that for you too, however, should you wish)!
Paris Butter at Home
If you're under lockdown at home and feel like testing out their recipe for this indulgent Salted Chicken with Kale and Cassoulet is just a little too much effort, Paris Butter has you covered. They're going back to their roots, offering a three-course menu of French classics that changes weekly for nightly for pick up from their Jervois Rd restaurant. You'll receive their wonderful bread and truffle butter, a classic French main and a French dessert to heat and eat at home for just $30 NZD per person. (This recipe is from their first menu!) Orders are accepted before 5pm and can be picked up between 3pm – 8pm nightly. They've been selling out on a constant basis so ensure you order early for a meal that will make quarantine much more palatable!
Head to Paris Butter's Instagram for their weekly menu and instructions on how to place your order. 
Paris Butter's Salted Salted Chicken With Kale and Cassoulet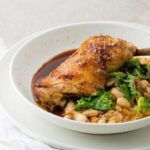 Print This
Ingredients
SALTED CHICKEN

1 tablespoon Paris Butter salt:

- 1 teaspoon salt

- 1 teaspoon smoked paprika

- 1 teaspoon garlic powder

- 1/4 teaspoon sugar

- 1/2 teaspoon white pepper

1 tablespoon olive oil

2 chicken Marylands

--

CASSOULET

100g bacon mince

½ onion, finely diced

½ leek, finely diced

1 carrot, peeled and finely diced

1 garlic clove, minced

½ teaspoon salt

¼ cup white wine or broth

1 cup chicken broth

½ cup water

1 can cannellini beans, drained and rinsed

½ bag baby kale leaves

1-2 tablespoons butter

Chicken Jus (see instructions 6.)
Instructions
Heat oven to 220°C. Line a small oven tray with baking paper.

Pat chicken dry with paper towels. Add to a medium bowl with Paris Butter salt and olive oil and mix well to coat. Heat a drizzle of oil in a medium frypan (preferably non-stick) on medium heat. Cook chicken for about 2 minutes, until golden but not cooked through. Transfer to prepared tray.

Place chicken in oven and roast for 20-25 minutes (depending on thickness), until just cooked through. Set chicken aside, covered with foil, to rest for about 5 minutes. Remove and discard remaining skin off the end of the chicken bone.

While chicken bakes, heat a drizzle of oil in a medium pot on medium-high heat. Cook bacon for 3-4 minutes, until golden brown. Remove from pot and set aside on a paper towel. Return pot to same heat with a drizzle of oil and add onion, leek, carrot, garlic and salt.

Cover pot with a lid and cook for 2-3 minutes, until tender but not too coloured. Add wine/first measure of broth and cook for about 2 minutes, until almost evaporated. Add second measure of broth, water and bacon, bring to a light simmer and reduce heat to low to cook for about 12 minutes, until reduced by half.

Add cannellini beans to cassoulet and cook for about 2 minutes, until warmed through. Add baby kale and butter and fold through until thick and glossy. Remove from heat, season and set aside, covered to keep warm. Add jus (this can be store-bought ready-made, or

click here for Luke Nguyen's recipe on Cooked.com

)  to a small pot on low heat and heat for 1-2 minutes, until just warmed through.

Divide cassoulet between plates, top with Paris Butter salted chicken and spoon over hot chicken jus. Finish with shaved fresh truffle if you desire.
Facebook Comments
Facebook Comments