As much as we write about hotels, it's hard to find the right way to open this review – but it's an easy review to fill, as the reasons to love the Four Seasons Hong Kong are as plentiful as the skyscrapers on Hong Kong's skyline. There are many criteria to consider at when selecting the right Hong Kong hotel for your journey – but if stunning views, amazing cuisine and a bed that's tailored to your personal preference are factors for you, then Four Seasons Hong Kong may be just the right choice.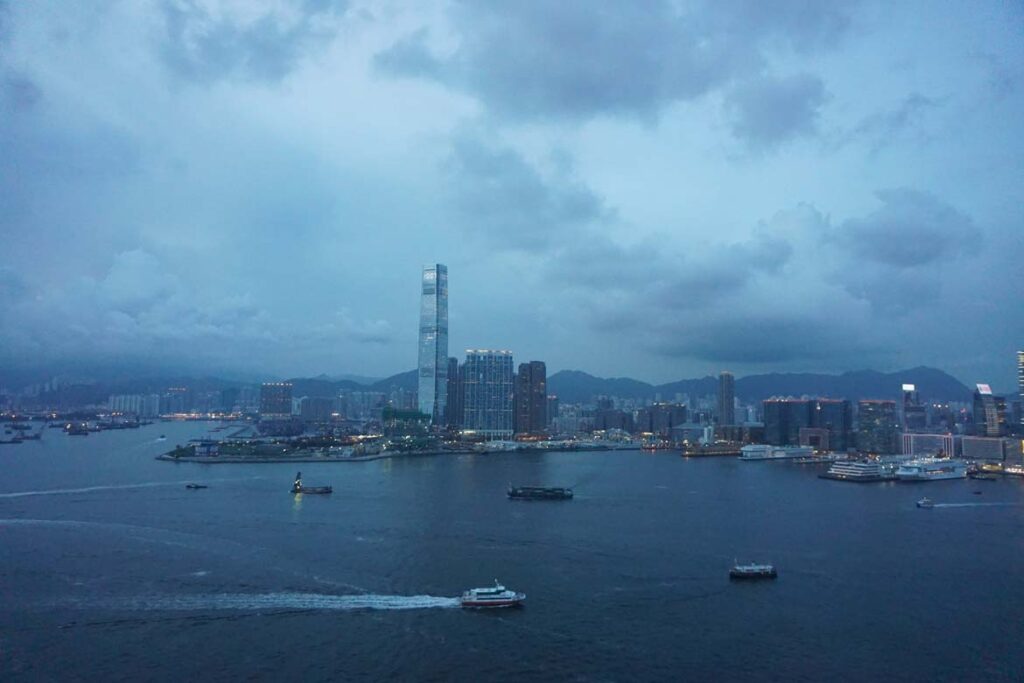 The location of the Four Seasons is a definite plus. Situated above the IFC, you'll have easy access to the IFC mall for luxury splurging, if that's your thing, or for simply picking up daily necessities. It's easy to get to and from, thanks to covered walkways linking it to the Central and Star Ferry piers, the Macau ferry terminal, and the Airport Express and Central MTR subway station. If you've exhausted the numerous dining and imbibing venues in-house (more on those later), it's just a 15-minute walk to Lan Kwai Fong and Soho. Add to this the sprawling views of Victoria Harbour afforded by the rooms, club lounge and restaurants, and all in all you have a pretty tidy package when it comes to positioning.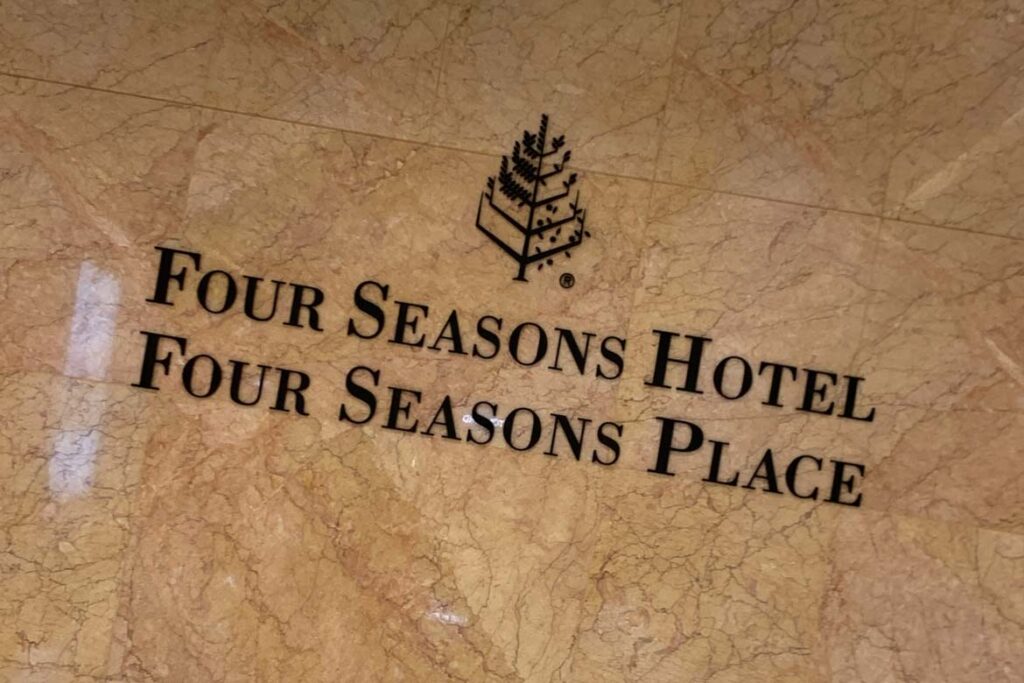 The hotel boasts 399 rooms and suites, and interestingly, you won't find floors 13, 14, 24, 34 or 44 in the building. Styling-wise, the hotel offers two types of decor in its rooms, Asian or contemporary (we've stayed in both), and while the fit-out isn't offputting, we've got to be upfront and say it's feeling a little dated a decade on from its inception – it's old school luxe. That being said, that's not enough of a factor to outweigh the many benefits of the hotel, and we have been told for a while now that a refit is coming soon, which will surely make the property hard to beat.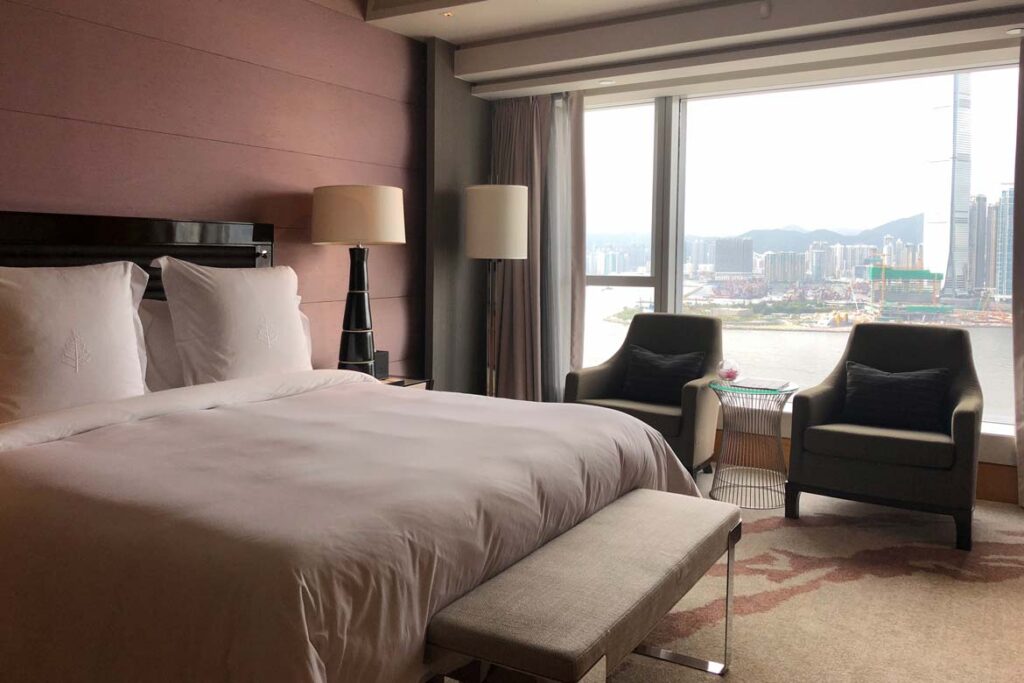 The beds at the Four Seasons Hong Kong are an oasis to retire to at the end of a busy day. The pillows and duvets are so satisfyingly fluffy, the sheets so silky soft. As to be expected, there's a pillow menu on offer – seven options in this case, including the intriguing 'stone'. (Not intriguing enough for us to want to risk our neck sleeping on it, but intriguing nonetheless.) The luxury sleep experience doesn't stop there, however. Four Seasons offers a fully customizable bed experience, allowing you to select your desired level of firmness in the mattress – yes, the mattress – something we've not seen elsewhere on our travels.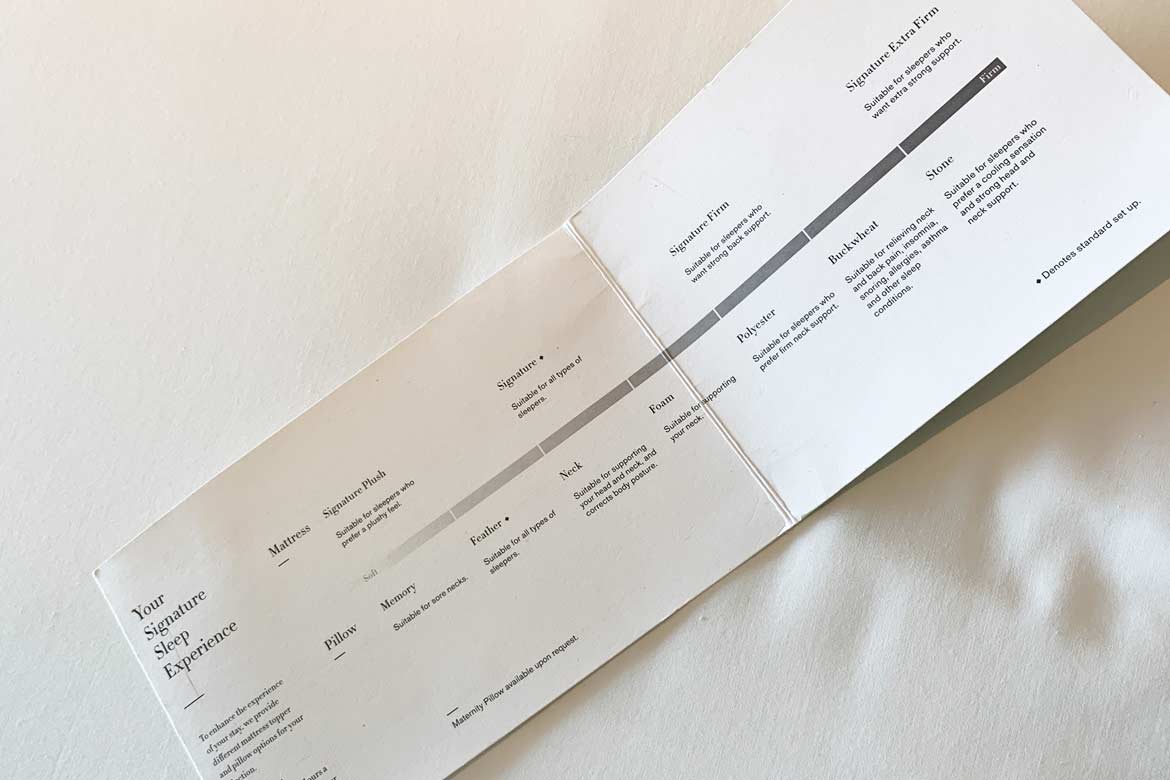 There are four levels, ranging from super firm to super soft – and being lovers of cloud-like beds, of course, we chose the Signature Plush. We simply called housekeeping before leaving for dinner, and on our return, the bed was transformed into our personal idea of heaven. This level of bedding customisation is almost unfathomable to us – truly, next-level comfort. (If you like this type of thing, check out our review of Banyan Tree Spa Villas Phuket!) Once you've been spoilt like this, other hotel beds just won't seem the same. This is hands down the best hotel bed we've come across, period.
We've stayed in both the Deluxe Harbour View room and the Harbour View Suite, and whilst when staying in the smaller of the two we didn't miss the living room area, the real benefit of a suite is access to Four Seasons' Executive Club lounge. Club lounge facilities are also available as an upgrade at a rate of 1700HKD per couple, which may seem a tad extravagant, but considering what's on offer in the lounge, it may well be worth it if you use it well. The Four Seasons Hong Kong Executive Club Lounge is something rather special, to the point where it almost warrants its own review.
Free-flowing premium wine and Champagne (not just any Champagne, we're talking Bollinger here) is on offer midday to midnight, and the quality of the wines is really so far above most hotel lounges that even the experienced fine diner will be impressed. The food is also of excellent quality; if you're not planning to dine out, you could eat here for every meal and be extremely well sated. The one meal you shouldn't miss at the lounge? Afternoon tea.
We're not much for sweet treats, but the Devonshire tea at Four Seasons is exceptional. World-class. In fact, we truly believe their scones are the standard to which the world should compare themselves against, they are really, that good (especially paired with the incredible house-made jam and cream). We ensured that we visited for afternoon tea every day of our visit, no matter our dining plans, as their scones are truly, perfection. Paired with a glass of Bollinger and spectacular harbour views, what more could a guest want?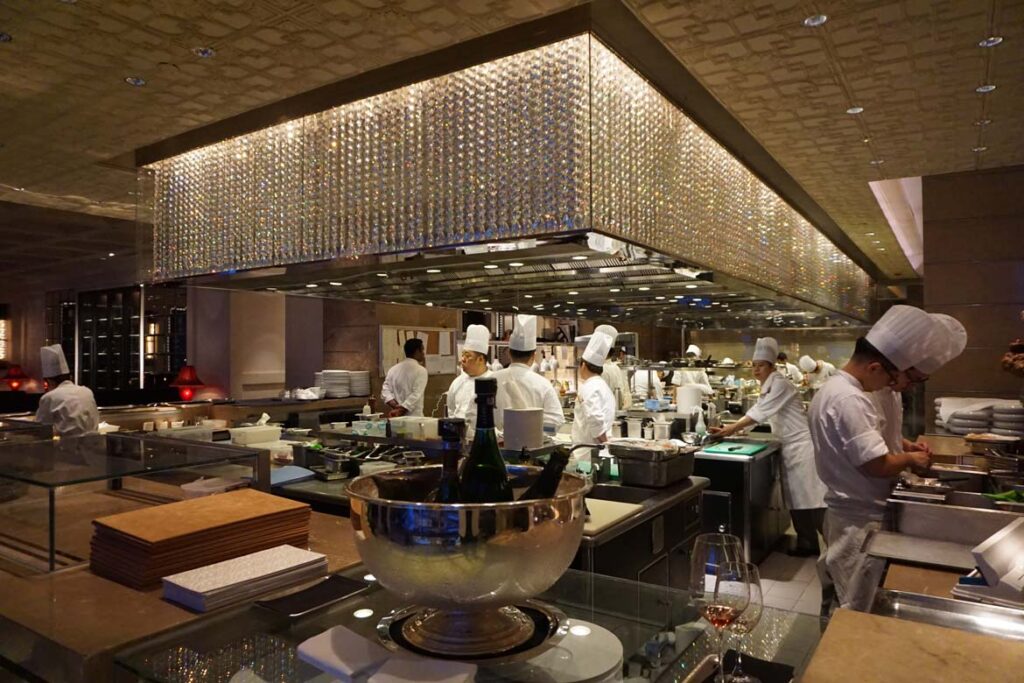 When it comes to cuisine, it really doesn't get much better than what the Four Seasons Hong Kong serves up in-house. The property boasts a ridiculous eight Michelin stars across three different cuisines, making it the only hotel to have two three-star establishments under one roof.
Chef Guillaume Galliot heads up three-starred Caprice, an impeccably classy experience. I always find it interesting that Guillaume Gaillot, formerly of Macau's starred The Tasting Room (located at City of Dreams on the Cotai Strip) ended up unknowingly swapping kitchens with Chef Fabrice Vulin, formerly of Caprice and now, The Tasting Room, at exactly the same point in time. Not really relevant to this review, but just something I find amusing. Caprice's dining room is nothing short of dramatic with it's mirrored walls, immense crystal chandeliers and views of the Hong Kong harbour. If fine French cuisine, cheese and wine pique your interest, this is a dining experience you should not miss. The adjacent bar also serves up amazing cocktails so ensure you leave time for a pre or post-dinner drink.
If you want to dive into Cantonese cuisine instead, Lung King Heen is a superb choice, having held three Michelin stars since 2008. It's traditional cuisine made with plenty of love (Chef Chan Yan-tak came out of retirement to open the restaurant in 2002 and is still there to this day), lots of technique and some interesting quirks (don't knock mayonnaise filling until you've tried it). Their award-winning XO sauce was so good, we had to take some home with us. Ensure you book ahead.
The Hong Kong outpost of Tokyo legend Sushi Saito holds the remaining two stars, but due to our seafood allergy, we sadly can't give you a personal recommendation on that one. We'd hazard a guess that it's likely pretty good, however.
If you're feeling guilty after all those gourmet calories, the Four Seasons offers an excellent, modern gym, and if that just all seems too hard, their spa is equally top-notch. You're well catered for, no matter your energy levels.
Put simply, what's not to love about Four Seasons Hong Kong? Incredible cuisine, personalized bedding, million-dollar views and fabulous service – it all adds up to a unique hospitality experience where you feel lucky to have had the privilege to be a guest. Now that's a feeling worth returning for.