Serving up an impeccable menu of fine Italian fare and carefully crafted cocktails, The Artisan is back and serving up some of the best Dubai has to offer…
A long time Dubai favourite of ours, The Artisan, is finally back – and we're more than happy to see its return. It was love at first visit in 2016, and we've been fans ever since. Needless to say, we've been having withdrawals since it closed it's Burj Daman doors, hungrily waiting (and waiting, and waiting) for its reincarnation inside the Waldorf Astoria DIFC. (You can read our review of the luxury property here). The new location is just downstairs from the original, but The Artisan really feels more at home here than ever.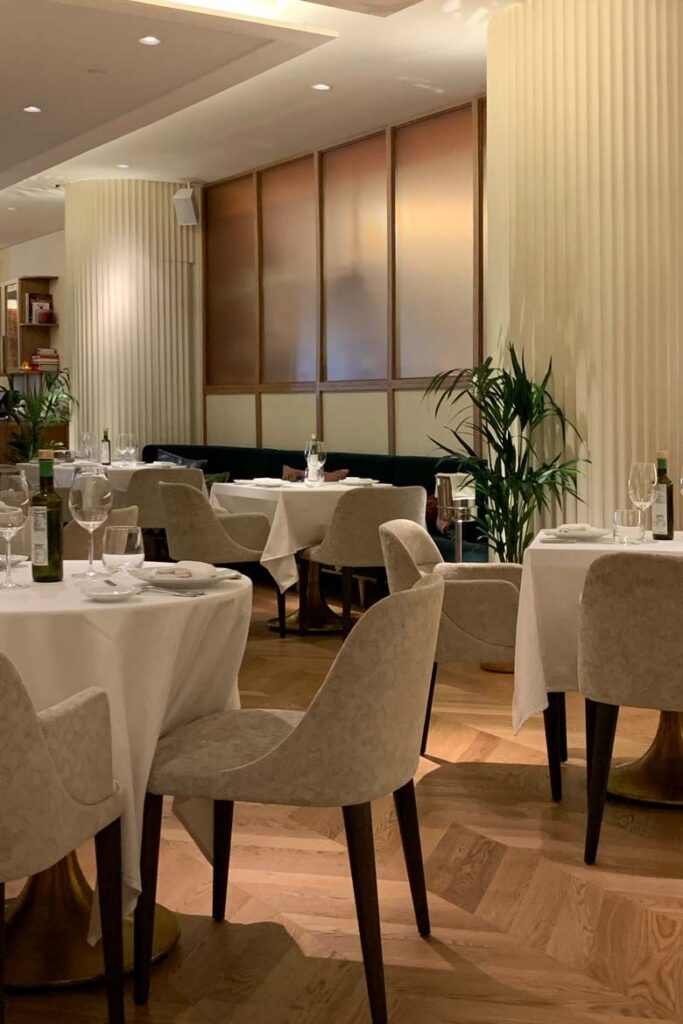 We loved the original location's grey-lilac and gold decor, but we're just as enamoured with the restaurant's new fit-out. The luxury hotel in which it's housed has a very specific signature style and a palette that isn't the easiest to work with – think hunting green, chartreuse, brass and marble of all shades – but The Artisan's cosy interiors truly feel like an extension of the hotel itself. It's restrained luxe, sophisticated but not flashy. It feels comfortable, but not casual. Just right for the elegant cuisine served up by Chef Luca and team.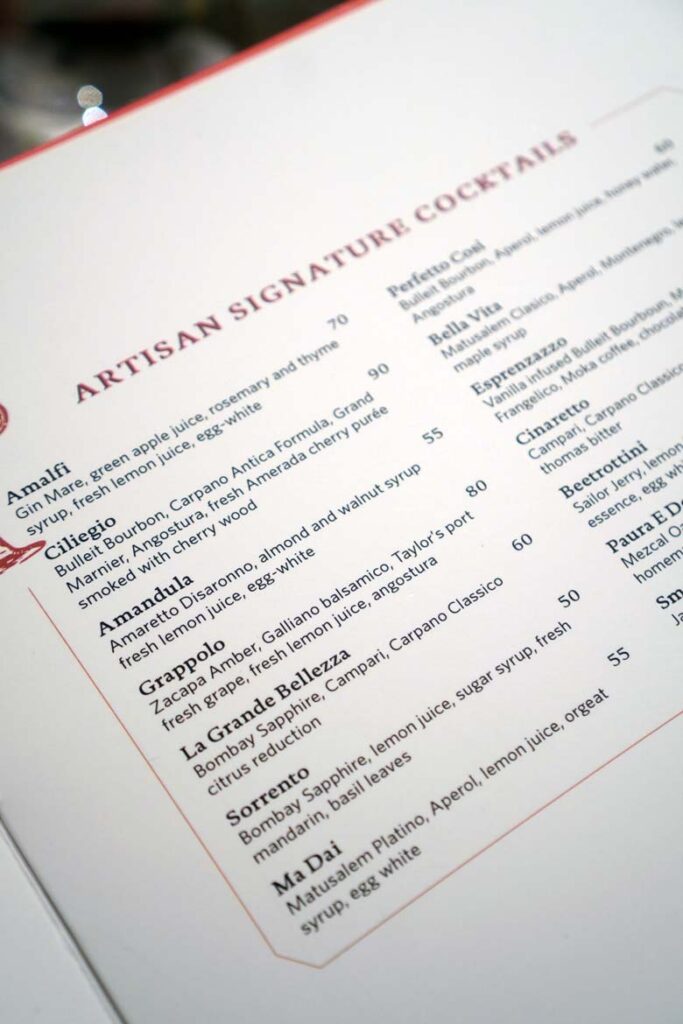 We've always thought The Artisan served up some of the very best cocktails in Dubai, so of course, our first stop is making sure their mixology hasn't lost any of its magic. We started with the ultra-refreshing Sorrento (Bombay Sapphire, lemon juice, sugar syrup, fresh mandarin, basil leaves, 50dhs) and thankfully, we can the cocktails are just as good as we had remembered. In fact, everything we tried on the list impressed.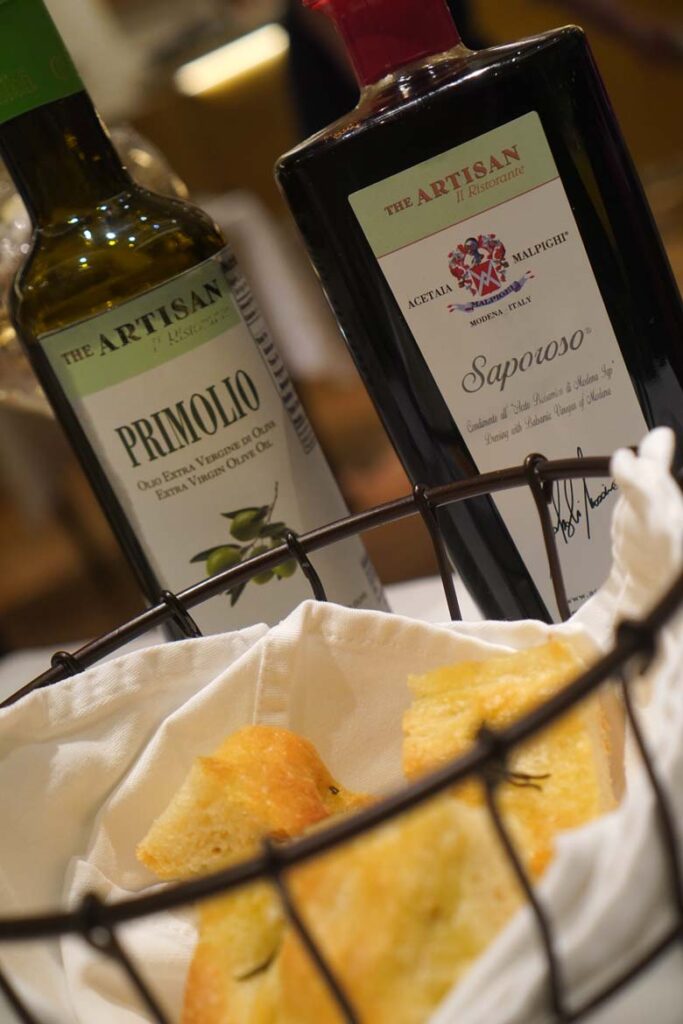 A word of warning: the focaccia that arrives at the table at The Artisan pre-starters is dangerously good (as is the Italian olive oil and balsamic). Resisting a second piece is truly an exercise in will power. We're always disappointed that we have to save stomach room and can't go wild on their breads.
We started with one of our favourite dishes from The Artisan, the Zucchini flowers stuffed with buffalo mozzarella served with Tuscan pesto (93dhs). It's currently only available as a special due to the sporadic availability of zucchini flowers in Dubai, but if you see it, order it – this crispy, creamy, flavour-packed dish is pure Italian perfection.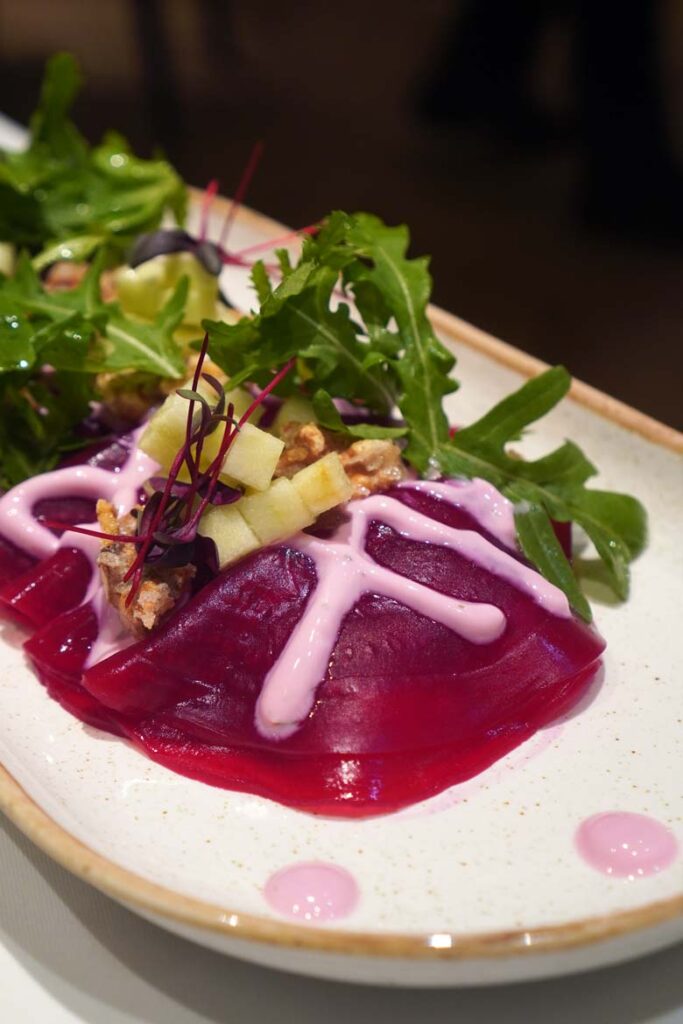 The perfect foil to this indulgent starter? The wonderfully clean and fresh Sweet and sour beetroot carpaccio with caramelized walnuts, buffalo ricotta, green apple and rocket salad (50dhs). We really couldn't ask for a better balance of flavours when it comes to this dish.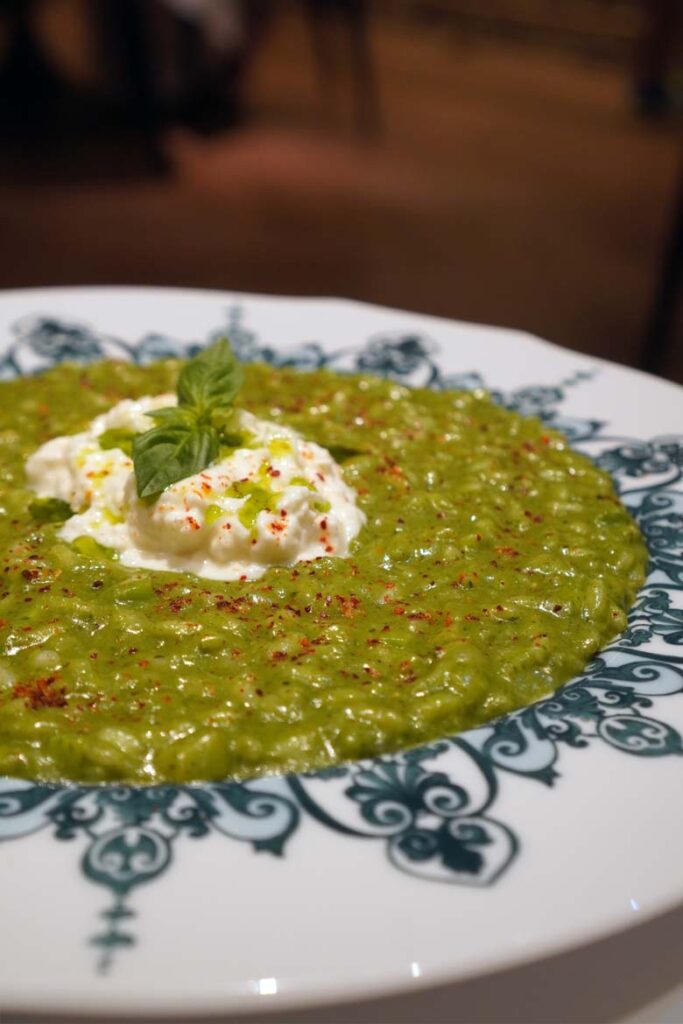 Selecting primi courses at The Artisan is always a difficult task. There are just too many mouth-watering choices – but given that we've tried a few of their signatures over the years, we elected to try the Cacio e Pepe-inspired tortelli, artichokes and fresh marjoram (85dhs) and one of our faves, the Basil pesto and burrata risotto with green asparagus and chili (83dhs). If it's your first time, don't miss what we consider to be their best pasta, the Homemade agnolotti del Plin stuffed with pumpkin. butter, sage, 30 months-aged Parmigiano Reggiano fondue and roasted Bronte pistachio (95dhs). It's the cream of the crop when it comes to pasta here.
We loved the nuanced flavours of the risotto, but we were very happy when the kitchen obliged our request for some sliced red chilli on the side – we just couldn't make do with only chilli flakes, given our love for fiery heat. Our Tortelli Cacio e Pepe was also very nice, though we think it would have benefitted from coming out of the kitchen hotter so we could get a little more ooze from our Tortelli. Overall, two great dishes, as one expects from The Artisan.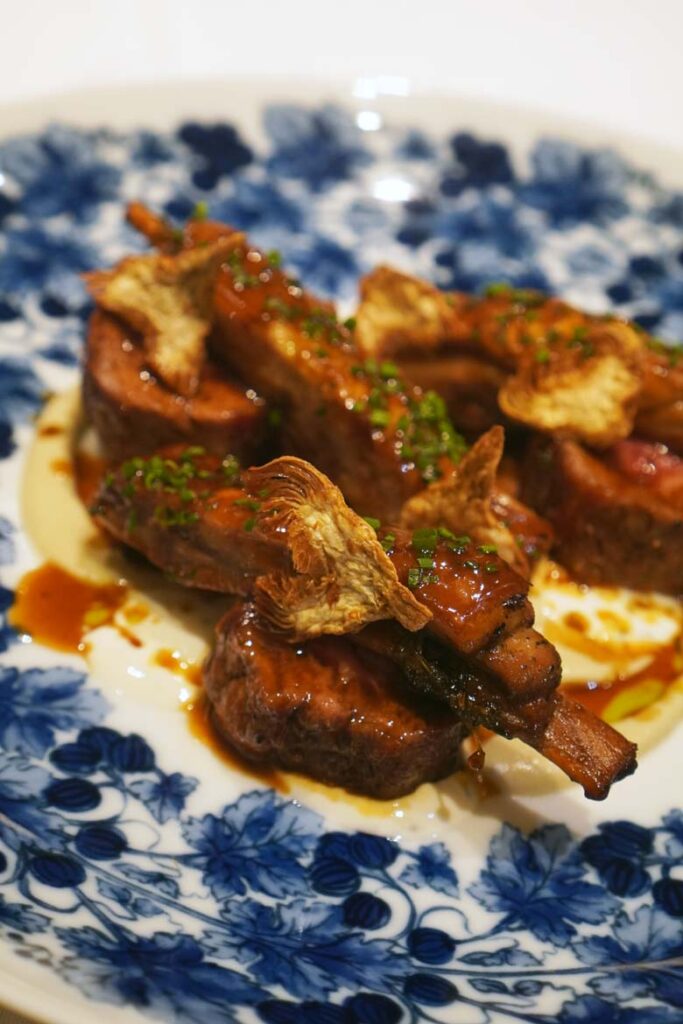 We struggle with choosing secondi also, as we're never one for 'meat and a vegetable' dishes. We have loved the beef cheek and the tenderloin in the past, but seeing as we haven't yet tried the Pan-fried lamb striploin, stew lamb ribs, artichokes and mint flavoured yogurt sauce (192dhs), it wins the vote this time despite my initial hesitancy due to the rather boring menu description.
This dish turns out to be quite the surprise, and thankfully, really very different from what we expected. In a good way, that is. It's not huge, and rather a nice size shared between two (especially given that we've already had antipasti and primi prior to this dish). It sounded heavy and quite Lebanese-inspired but in reality, it was delicate, tender and flavoursome with no 'mint yoghurt' vibes to be seen. A very well executed dish.
If the mains feel a tad heavy, then we highly recommend, nay, implore, you try the spectacular pizzas at The Artisan – a new addition to the menu that came into being during lockdown. We've experienced their pizza delivery and we can say that these are some of the best pizzas we've had the good fortune of tasting globally, not just in Dubai. They're also well priced for the quality, with their unforgettable Burrata pizza coming in at only 75dhs. We also loved their Tartufo (we opt for sans potatoes, 120dhs) and Salame Picante (90dhs) varieties.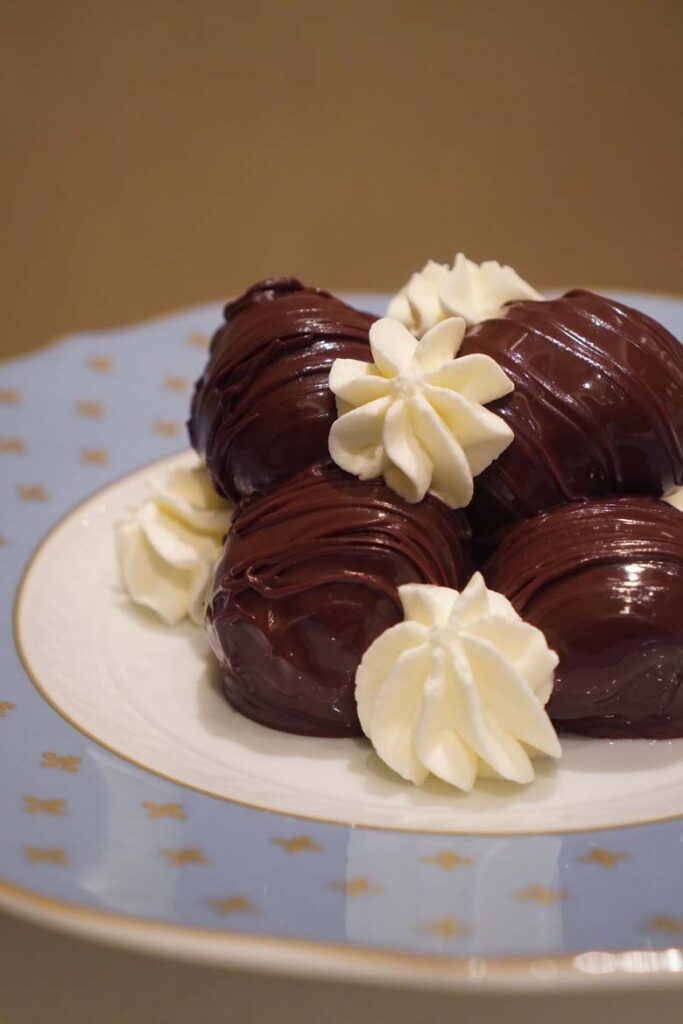 For dessert, it's hard to resist The Artisan's Profiteroles – Bigné filled with vanilla custard, dark chocolate topping and whipped cream (40dhs), though we'd like a bit of crispy pastry left not covered entirely by the thick chocolate. The Albicocca, Dark chocolate mousse and sponge cake, vanilla-flavoured apricot compote and apricot sorbet (50dhs) was well executed, but we're just not one for citrus and chocolate combinations (we'll never understand the love for chocolate oranges).
Our comment has always been that we'd like to see some more interesting desserts at The Artisan (though the Albicocca is definitely a step up from what was previously a wholly traditional menu), but we'd even take a tarte tartin; in fact, we think that would be just perfect.
The Artisan serves up consistently excellent food and cocktails across the board – and perhaps, it's now better than ever (especially considering the addition of their killer pizzas). It's a home run, every time – we simply don't think it's possible to have anything less than a fabulous experience at this establishment. Our only frustation is that we'd love to see some new dishes on the menu. After years of dining at The Artisan we're pretty much out of new dishes to discover, and though they do have chef's specials, we'd like to to see them change things up a little more regularly to give us more excuses to return. We know how good Chef Luca's cooking is, we just want to see more of it. That being said, we're sure there a legion of Artisan regulars who will fight to ensure the menu stays exactly as is so they don't lose their favourite dishes!
The Artisan is a must-visit in Dubai and absolutely one of the best restaurants in town. We're glad to see that it hasn't lost any of its magic – hopefully this time, it's here to stay.
*Prices stated in this review are subject to 7% authority fees and 5% VAT