Since man discovered fire, there haven't been too many advances in the methods we use to cook food, according to Miele. They're about to change all that, bringing the next leap in food prep tech to your kitchen via a new appliance known as the Dialog oven.
The Dialog oven, so named because the oven is in two-way dialog with your food unlike standard 'monolog' ovens, retains the conventional radiant heat and convection fan processes but adds its unique electromagnetic wave technology into the mix. Don't confuse this with your standard microwave, however, the two are extraordinarily different.
It's not just the waves that make up the magic of the Dialog oven, it's the specially designed receivers that regulate and read the energy absorption of the food being cooked and adjust output accordingly that are the key to the Dialog's unique sensor cooking abilities. It can even tell when optimum cooking has been completed – say goodbye to burnt food. This feedback-adjusted process has the ability to create perfectly cooked food in less time than conventional methods.
Brand new to the food industry, the Dialog oven's electromagnetic wave technology originates from technology currently used to save lives by making organ transplants possible. Chilled organs need to be warmed to body temperature pre-surgery evenly and without being 'cooked' – using this technology, the Dialog oven can produce medium rare meat from core to crust without uneven cooking.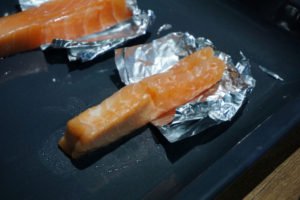 In fact, the oven is so 'smart' that it can isolate different organic materials and treat them differently. To illustrate this, we witnessed fish being perfectly cooked in the oven inside a block of ice and veal cooked gorgeously inside a coating of beeswax that, similarly to the ice, did not melt. We even saw salmon emerging from the Dialog oven optimally cooked while foil covered portions of the fish remained raw.
I'm looking forward to seeing how chefs will be inspired. by the possibilities created by the new Dialog oven, but never fear, home chefs will have a helping hand – Miele's 'M Chef' app will provide recipes to inspire you, with settings for these being transferred to the Dialog oven via wifi.
How can you get your hands on the oven of the future? Be prepared to invest a cool 8000 euros to get your hands on this state-of-the-art kitchen equipment, and you'll have to be just a little patient – the oven is scheduled to be released in Germany next year, rolling out to Europe soon after and expanding into further global markets in 2019. That gives you a little time to dream up just how the Dialog oven will revolutionize your cooking until then…