Budapest would have to be one our favourite destinations in the world. It's officially the cheapest city in the world in which to drink – so wine lovers, you're going to be in heaven here. In fact, everything is great value in Budapest.
The stunning scenery in Buda and Pest (each side of the river carries a name that forms part of the city's moniker) is more than enough reason to visit, but oenophiles should definitely visit this picturesque city as it's pretty much the only place in the world you'll get to taste Hungarian wine. Hungary boasts over 100 varietals, 22 regions and produces around 2% of the world's wine – but the locals have such a thirst for their own drop that they consume almost all of it within their borders.
For those wanting to try a wide range of Hungarian wines without leaving the inner city, we recommend heading to Sofitel Chain Bridge. It's perfectly located, right by the picturesque bridge it's named after that links the two sides of the city, and has a fabulous outdoor bar that affords lovely sunset views across the river. They offer wine tasting flights and have a very knowledgeable sommelier – we spent well over an hour talking wine with them. Why not stay at the Sofitel and save yourself the crawl home (we were severely ripped off taking a taxi leaving the Sofitel one night – watch out for dodgy taxi drivers in Budapest, it's one of the few downsides of the city).
The most famous varietal? Tokaji – special enough that some of it actually manages to escape the clutches of voracious Hungarian wine drinkers to be enjoyed by connoisseurs worldwide. Often called the 'Wine of Kings, the King of Wines' and with good reason – there are plenty of historical references to this wine being loved by royalty all over Europe. Produced by noble rot, this sweet dessert wine is pretty damn good. If you try one wine in Hungary, make it this one.
Those who prefer whites such as Sauvignon Blanc and Riesling will no doubt enjoy Hungary's offerings in this category, but for us, it was all about the reds. Certainly some interesting drops on offer, and of course, given those fabulous Hungarian prices, all represent fantastic value – personally, we recommend anything from the Villainy region.
We love to get amongst the vines in any country we visit, so decided to embark on a wine tour of nearby regions that we booked through Viator.com – and we are so glad we did. With zero expectations, the day surprisingly turned into one full of amazing memories.
You'll get to experience the full spectrum of 'wine life' in Hungary with this tour. The tour starts with one of the largest, most commercial wineries in the area – Etyeki Kuria. Surrounded by vines, Etyeki Kuria offers beautiful brand new facilities and a large selection of wines to taste, along with some of the most amazing traditional savoury scones. (Seriously – they are insanely good.) We suggest purchasing some wine here for the drive back to Budapest later, as it's a long one.
The next stop on the tour is both unique and atmospheric – an old limestone quarry that has been repurposed into a group of wine caves, each owned by a different family residing in the small town. The story goes that the vintners and residents got sick of having to journey up the mountain to taste the new season's wines, then somehow have to roll back home after all that tasting – thus, they created a closer environment where they could store, taste and enjoy each other's wines as a community. We're not gonna lie, it's pretty special.
We enter one of the caves for some more tasting and cheese. It's a touch chilly and damp in the caves, as one would expect for an environment designed to store wine, but never fear – there are cosy capes and blankets to keep you warm if you haven't got your 'wine coat' on yet. By this point, you'll no doubt be having a fabulous time, but the fun's not over yet.
Stop three is something truly memorable – you'll visit a local home where they serve you their own wine and traditional food. The property we visited actually had a cellar containing wine that was over one hundred years old, still in the original barrels, and we were lucky enough to sample some straight from the barrel itself.
All too soon it's back on the minibus to return to Budapest. A perfect time perhaps to whip out a plastic cup and enjoy some of your purchases en route, before a nightcap at Szimpla Kurt back in Budapest (not included in the tour, but it's never a bad idea to visit the ruin bars in Budapest). Trust us, you're going to love this experience. Our host was fantastic and as the tour is limited to 12 people, you'll get plenty of personal attention. As a price guide, it's around $75USD per person, fantastic value for the experience it delivered.
There are also wine tasting cruises available in Budapest, and we tried one that was pretty great value. Here's the link so you can check it out. For the price (around $22USD), you get a) a scenic evening cruise, and b) around seven glasses of Hungarian wine during the wine tasting session. Let's just say you'll be, well, jolly by the time you step off the boat – but the admission price is worth it for the stunning view of the Parliament alone. The only issue is, don't expect it to be an information-led wine tasting – they pretty much recite one brief sentence about each wine and then leave you to your own devices to drink. The staff who lead the tasting aren't wine experts so chances are you won't leave this experience learning a great deal– but you will drink, sightsee and have a great time – maybe even make some new wine-loving friends.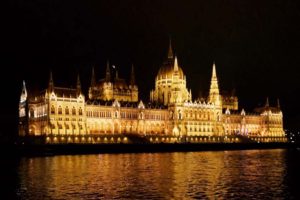 There's one more stop we recommend you pop into before you leave Budapest, and that's Cultivini. We love enomatic tasting locations and always seek them out when we're in a new city. These venues are a fabulous way to taste your way through many wines in a quick and convenient fashion, and it's also perfect for those rainier Budapest days.
So go forth and discover a favourite Hungarian wine or two, maybe even score yourself a couple of bottles to take home. Egészségére! (Pronounced Eggy-she-gear-eh, or, eggy shaky shake as we pronouced it after a few wines…close enough, right?) That's cheers in Hungarian, which we have no doubt you'll be using a lot in this wine-loving city.
Have a favourite location in Budapest we need to know about? Let me know in the comments below.
Details
Departure time between 9.50am and 10.15am for the morning tours and 2.50pm to 3.15pm for the afternoon tours. Tour duration is 4-5 hours. Click here for more info and to book.
Fabulous location and a wonderful place to taste Hungarian wines without leaving your hotel! Ask for the sommelier and trade some tasting notes. Click here for more info and to find the best price available online.
CultiVini – Enomatic wine tasting venue
It's the usual drill – load money onto a card, and choose a sip, taste or glass from any one of the hundreds of bottles contained in the enomatic wine machines. CultiVini is a fab modern venue located in a beautiful shopping area of Budapest. Pay as you go, or packages start from around 20 Euro for a cheese platter and 4500huf (15 Euro) worth of wine tasting credit. A fab afternoon you can enjoy even when it's raining outside.
Located at Párizsi u. 4, between Váci utca & Petőfi Sándor utca