We review Six Senses Seychelles, one of the world's premier luxury island resorts…
Belinda Carlisle once proclaimed that 'Heaven is a place on Earth', and we can only guess that the place she must be referring to is Six Senses Zil Pasyon. This is a destination that will make even the most well-travelled bon vivant's jaw drop, its wild and dramatic scenery seeming almost unreal. It's hard to put into words just how magical the setting is, with its giant boulders, lush vegetation, turquoise waters and blazing sunsets. It's as if Walt Disney created a luxury island getaway; so incredible that one feels almost as if it must be manufactured. From secluded sandy coves to sweeping elevated vistas, this has got to be one of the world's most beautiful destinations.
With just 30-something villas on the island, there's plenty of space – in fact, each villa has been placed to ensure maximum privacy for all. Our villa looked out solely to nature, not overlooking any other guests, and our only visitor was the odd monkey. (Well, if we were looking out our shower window and our neighbours were looking out the portal of their deck simultaneously we may have seen another human, but we think the probability of that would be fairly rare.)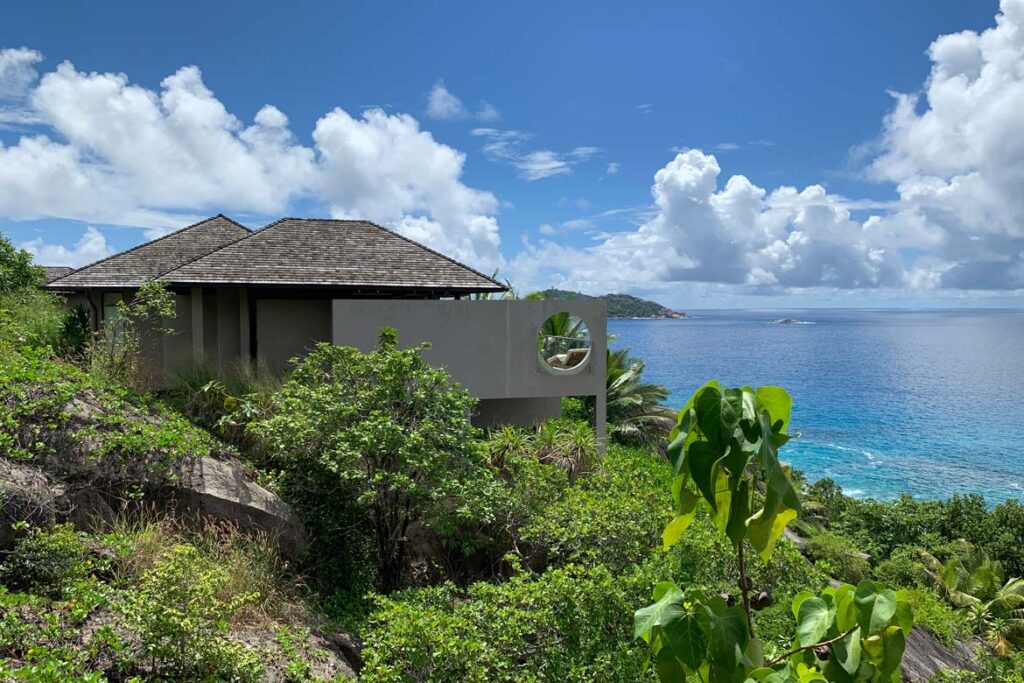 It's one of the smallest island resorts we've visited, with about as many keys as the Maldives' Kandolhu (which we highly recommend – read our review here). Not only is it uber-exclusive, but being part of the Six Senses brand, it's also uber-luxurious, in an eco-friendly way, of course. You won't see branded single-use toiletries here, everything is in refillable bottles and cardboard packaging – we even found a reusable metal straw as a housekeeping gift. Six Senses is renown for their holistic approach, and we can understand the fervent dedication to preserving nature when you're in a location as pristine as this one.
We don't like using hyperbolic statements such as 'best ever', but seriously, we think our villa at Six Senses Zil Pasyon is the best pool villa we've reviewed in the world. Period. Space is abundant, from the large bedroom/living area to the spacious bathroom (which even boasts it's own swing with a view – yes, a swing) and the expansive outdoor area. The villa completely opens up, giving you the feeling of truly being connected with nature. Think Robinson Crusoe, but with ya know, room service, Bluetooth speakers, cocktails and the like.
Decor is modern island rustic, giving the villa a homely feel and ensuring it doesn't feel alien to its surroundings – connecting with the environment is clearly a focus for Six Senses. Creature comforts are in no way forgone, and we think there's no better place to take it all in than the sunken, curved 'lounger' area of the expansive infinity pool that sparkles with tiny lights come nightfall.
If you can drag yourself out of your new home away from home, there are plenty of great activities to partake in. Snorkel the island, play croquette or enjoy a full-on breakfast laid out for you in a secluded cove (just be prepared that you may need to share your leftovers with the island's resident geckos). Enjoy a cocktail lazing in an overwater hammock, or indulge in a rum tasting featuring everything from the world's best reserve spirits to house-infused local rums. If rum's not your thing, wine tasting in Six Senses' cellar is also an option.
Like most island resorts, there are themed buffet dinners as well as a la carte, and we particularly enjoyed the Asian cuisine offering. The communal areas, which comprise a pool, bar and lounging area, are sparsely populated as one would expect when the villas are so exquisite. Sure, you can choose to catch up with friends or meet new people here (the two guests we happened to meet turned out to be friends of friends, what are the chances) but we can't see why you wouldn't just convene in your spectacular island abodes. The lack of obvious guests only adds to the feeling of being entirely removed from civilization, a world away from the rat race. Pure, luxurious escapism at its best.
The island's spa is, of course, a must-visit. Private relaxation areas complete with their own swinging day bed and a pool that is worth the trek alone are the cherry on top of the ultra-relaxing experience that is Zil Pasyon.
If you really want to live large, the island's three and four-bedroom Residences are for you – sprawling abodes with enormous infinity pools and views for days, full kitchens, expansive living areas and of course, every bedroom boasts an ensuite. Oh, and the master suite boasts a casual glass-bottom pool, viewable from the ceiling of the living area. This is the ultimate in luxury island getaways.
Usually, we'd drill down into the minutiae of the room, the dining, the facilities – but this property doesn't need that type of analysis – it's really beyond compare. For us, the pictures truly are worth a thousand words, speaking far more emotively of the destination than we could ever dream to. This is a luxury travel experience on the highest of levels, which of course comes with a price point to match – but there are far worse things you could spend your hard-earned coin on than a visit to Zil Pasyon. It's a rarity in today's modern age, an escape that will conjure spine-tingling memories for decades to come. This is nature on steroids, an island beyond your wildest imagination. Trust us when we say that you need to visit Six Senses Zil Pasyon. It's a location that has to be seen to be believed.