While we adore our seaside and tropical destinations, sometimes it's nice to escape to somewhere that's completely different. The landscape surrounding Alila Jabal Akhdar definitely fits the brief – its mountainous terrain is undeniably unique, dramatic and instantly memorable.
Set in the Al Hajar mountains of Oman, Alila's only Middle East property is anchored on the precipice of a dramatic gorge, 2000 meters above sea level. We never tired of gazing out at the amazing scenery, the view just getting better as the day lengthens, the light casting dramatic shadows across the rocky landscape.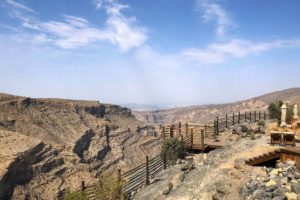 Our well-appointed Ridge View Suite overlooks said gorge, which you can even descend and climb amongst thanks to Alila's own via ferrata if you're feeling brave. Personally, this is not my cup of tea, but my more adventurous travel partner took the plunge, reporting that it was a fantastic experience – just not for the faint of heart or those afraid of heights!
Clocking in at a moderate 52sqm, the suite performs well for its size. A spacious bathroom holds a double vanity and large marble bath, there's a separate dressing area to store luggage in and the main bedroom also houses a sofa. You'll no doubt want to spend most of your time on the balcony's outdoor lounge, however, soaking in those million dollar views. Speaking of views, we feel the way the suite has been oriented is perhaps a missed opportunity, with the bed facing the bathroom rather than out to the mountains.
When it comes to the bed, it's deliciously comfy and passes the sleep test with flying colours. Linens and towels are decadently soft and the Alila house brand of amenities used both in-room and in the spa are on point. Insect repellent and sunscreen (in outdoor areas) are provided which is a nice touch, but we'd like to see lip balm added to the amenities – the altitude and 11% humidity shredded our lips in one day flat. This is definitely an item they should recommend you pack, or else provide. We didn't notice the usual luxury amenities such as dental and razor kits, but we're sure you could request these from the helpful housekeeping team should you need them.
A user-friendly Nespresso machine provides a perfect caffeine hit for taking in the sunrise on the balcony, and our in-room petit fours of chocolate dipped dried fruits and silky fudge were just delicious (not always the case, so this impressed). There are plenty of international power outlets and two USB charging ports by the desk, though we'd like to see USB charging ports added to the single power outlet each side of the bed.
Alila Jabal Akhdar's isolated location is the perfect place to just soak in some serenity poolside, but there's plenty to amuse you should you be looking for further entertainment. Let Alila's kids club take care of the littlest family members while the adults head to the beautifully designed Alila Spa – our massage was wonderfully relaxing and executed to a very high standard across the board, from products to technique – don't miss sneaking in a visit. There are plenty of unique Alila Experiences on offer too, with a butterfly trail, sunrise yoga and stargazing sessions offering options at the more relaxed end of the spectrum, but if you're wanting something more adventurous, sign up for a trek, hike or the aforementioned adrenalin-inducing via ferrata.
The cuisine on offer certainly doesn't disappoint here, for which we're grateful – it's not like there are a plethora of options in this isolated location, so what's on offer in-house needs to be good. It also needs to be varied, given that you'll be dining in the resort for every meal. Thankfully, Chef Alex and his team tick both of those boxes, with excellent food that thoughtfully provides a new menu each day on a four-day cycle. This expansive menu, paired with the quality on offer should keep even the fussiest diners happy throughout their stay. We loved the traditional Omani set menu and the European dishes alike – from the first bite of the stunning steamed bread served with labneh, honey and za'atar oil, you just know you're in for a treat (you'll be tempted to order an encore round of this mouthwatering bread no doubt, but make sure you save enough appetite for the rest of the delicious menu). We loved dining in and around the stylish Juniper restaurant and it's terraces, but if you'd like an extra special dining experience, why not request a destination dinner in either the cliffside massage pavilion, a poolside cabana or the scenic lookout platform above the via ferrata? We dined at the latter, surrounded by torches, lamps and a brazier – and it was très romantic. A fab wine selection accompanies experienced Kiwi Chef Alex's delectable cuisine – we selected our regular fave, the Shaw + Smith M3 Chardonnay.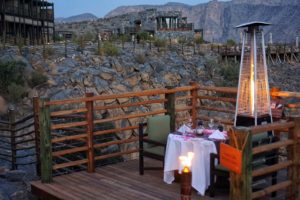 There's also a unique afternoon tea on offer, inspired by Hendrick's gin. Brewed with rum and tea and served cold, this teapot-sized creative cocktail paired with foie, macarons, salmon and cucumber rolls and delightful scones is a refreshing take on the classic high tea.
We visited in late June, Alila Jabal Akhdar's low season (the Middle Eastern summer) and absolutely loved the conditions. With temperatures around 15 degrees cooler than Muscat (and with none of that pesky humidity), it's a dream for GCC residents and visitors alike. Daytime temperatures sat around 24-34 degrees, cooling to 18-24 at night – perfect! What's more, the resort also has less guests at this time of year so feels that much more personal. The winter high season, by contrast, ushers in cool temperatures and the occasional snowfall on the mountain tops – an altogether different experience that's worth returning for (the cliffside jacuzzis will certainly come in handy then).
We loved our stay at the breathtaking Alila Jabal Akhdar and can't wait to return to see what the cooler season has in store – perhaps we'll try out the Jabal Terrace Suite or maybe grab some friends and book one of the two expansive villas. With it's warm hospitality and expansive vistas, it's easy to see why Oman is one of the hottest trending travel destinations right now. Have you visited Oman? Let us know in the comments below…
Facebook Comments