Already known in Oman for their dramatic mountaintop escape located at Jabal Akhdar, Alila hotels have recently broadened their portfolio in the region with another luxury destination, Alila Hinu Bay.
Location
Alila's newest property is located in the small seaside town of Mirbat on the east coast of Oman, placing it near some of the country's most scenic attractions. It's just a short drive from Salalah and its surrounding area, giving easy access to local sights such as Wadi Darbat and Jebel Shams mountain range and desert. The closest airport is Salalah International Airport, around a 45-minute drive from the resort, which boasts daily flights direct from Dubai with FlyDubai (flight time from Dubai is approximately 2 hours).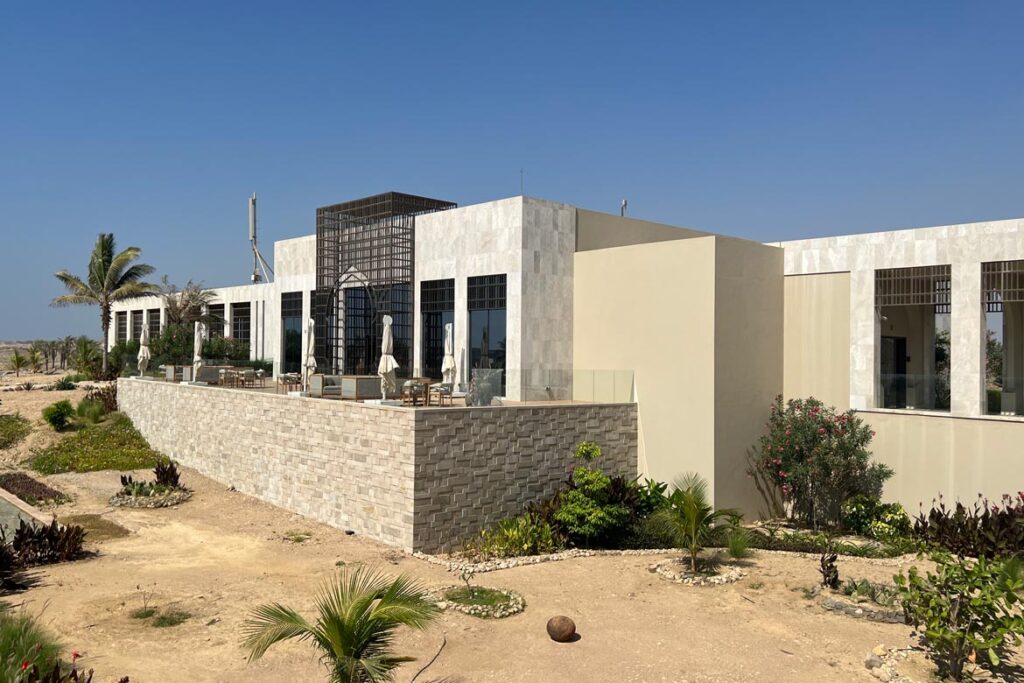 The Resort
From the moment you arrive, the dramatic, desert-inspired architecture gives the feeling of being transported to a luxurious oasis. The resort's buildings draw inspiration from traditional Omani architecture, with curved arches, domes and wide open spaces accented by ornate wood, tile and pottery details that blend the country's rich cultural heritage with modern luxury.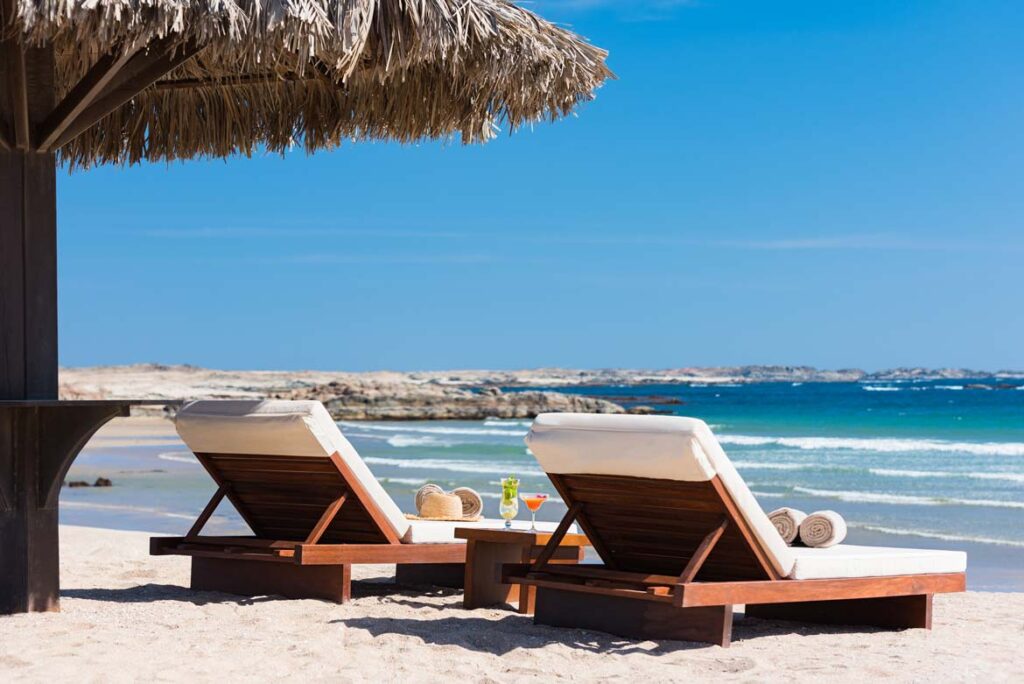 The resort spans a secluded private beach, which was accessible directly from our villa (about a 3-minute walk through the dunes) and there are loungers and umbrellas set up along the beach should you wish to while the day away seaside.
The landscape has the vibe of a Martian landscape with its expanses of rocky grey terrain, but there is plenty of landscaping currently growing in (the resort was only newly opened when we visited, so the amount of greenery at the property will increase dramatically over the coming years).
Accommodation
We stayed in a One King Pool Villa, measuring a spacious 1,884sqf / 175sqm in size with sweeping beach views from the private patio. The interior boasts a separate lounge and bedroom, spacious bathroom with double shower, double vanities and outdoor bathtub, dressing area, mini fridge, tea and coffee facilities and a very comfy king-size bed with USB ports on each side.
The star of the outdoor area is the large private pool (not heated or chilled, FYI) which had sunrise sea views from our villa type, plus a sunken seating area and two sun loungers.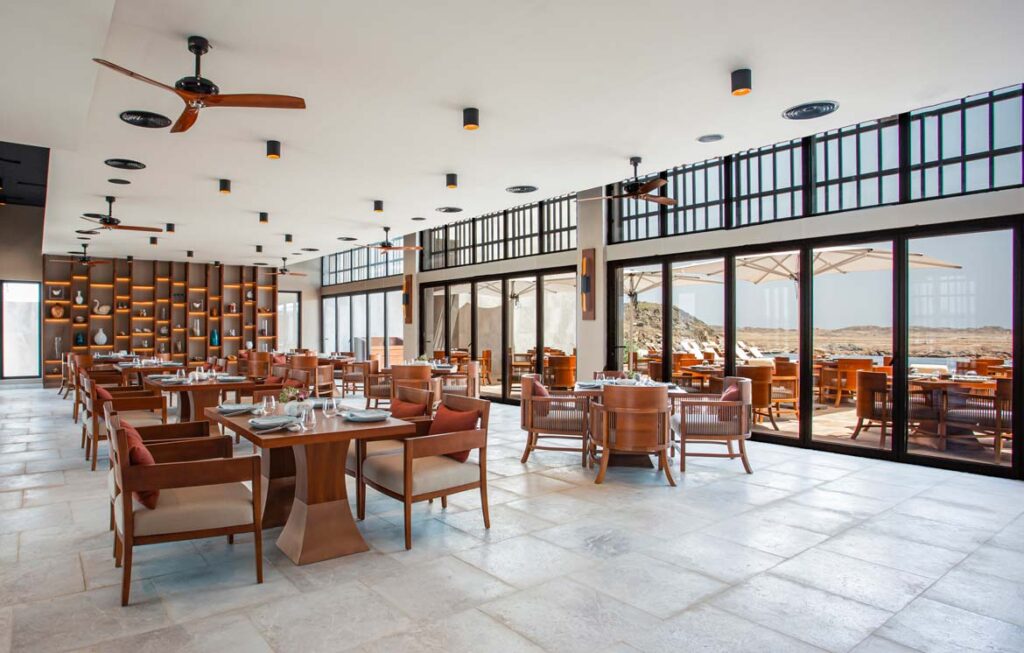 Dining
Alila Hinu Bay features two main restaurants, The Orchard and Sea Salt. Sea Salt specialises in Asian cuisine, with Thai, Chinese, Malaysian and Indonesian favourites on offer in addition to a selection of grilled meats and seafood. This recently-opened venue has already won Best Casual Dining Restaurant GCC at the BBC Good Food Middle East Awards 2022 and we can see why; its elegant setting overlooking the sea makes it a great place to unwind after a day exploring the local sights. Sea Salt's menu features many of our favorite dishes including som tam, satay ayam and tom yum, plus dim sum and baos. Mains on offer include beef rending, nasi goreng, pad Thai, pad kra pao and mee goreng, all of which we thoroughly enjoyed. We're very well seasoned when it comes to Asian cuisine, and Sea Salt more than met our high standards.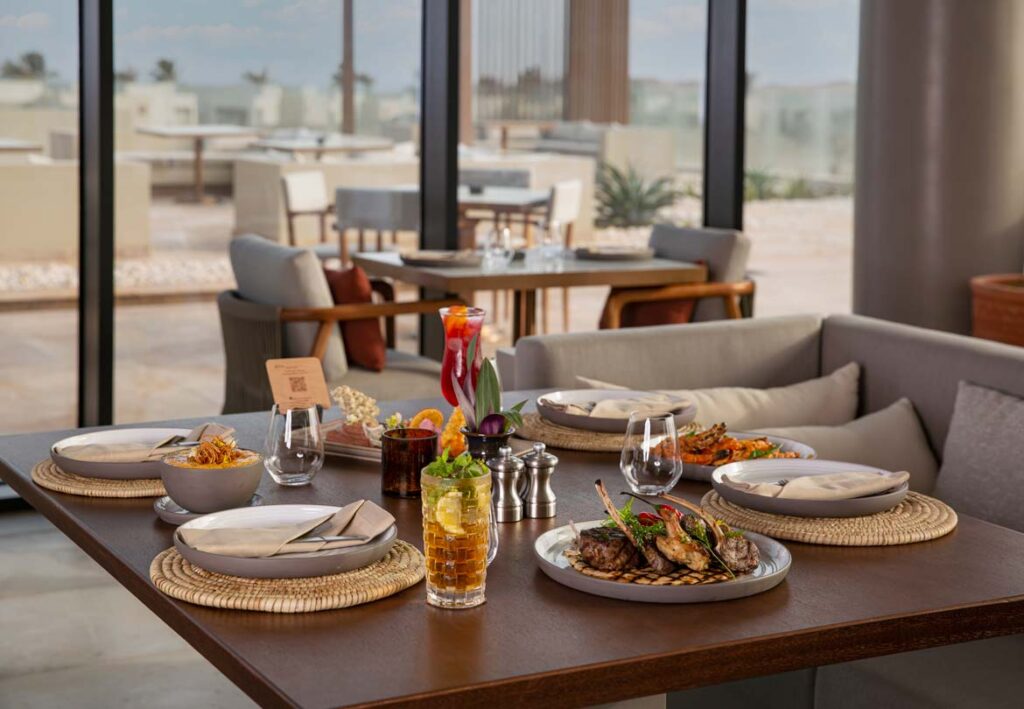 The Orchard serves up locally-influenced fare inspired by the flavours of the Frankincense Route. Expect to see Arabian, levant and Mediterranean fare such as gamberi kunafa, a plethora of mezze, classics such as imam bayaldi and plenty of meat – chicken, beef, lamb and even camel make an appearance.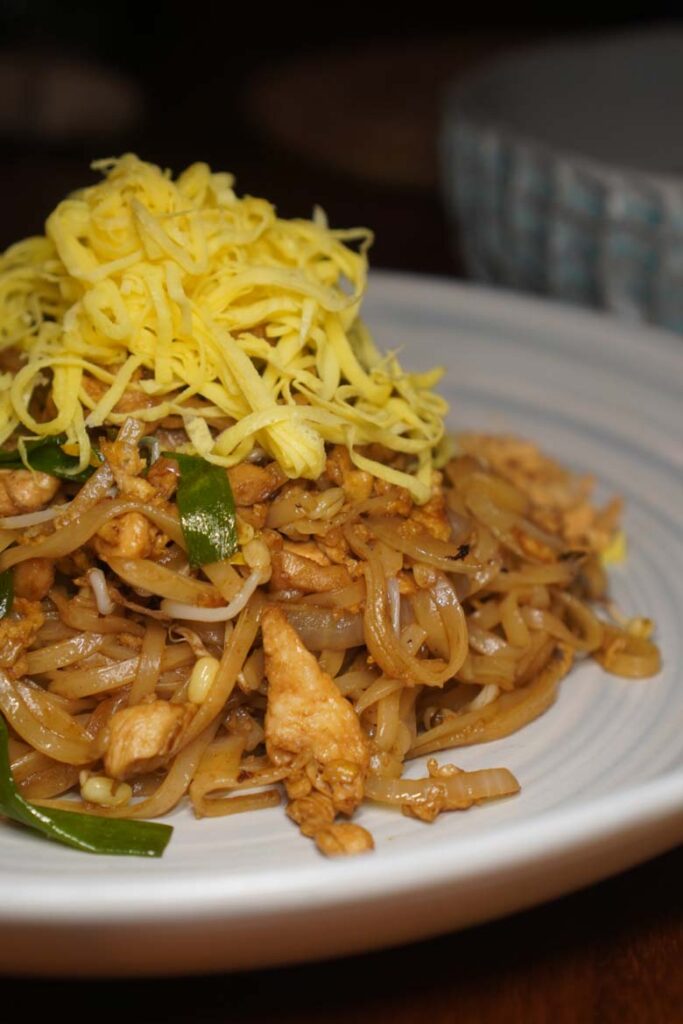 The Orchard also functions as the resort's all-day diner, and it's where you'll head for breakfast each morning of your stay. A cold buffet of salad, cheeses, breads and cereals complements an extensive range of a la carte dishes that range from healthier options such as acai, tofu scramble, shakshouka and vegan merguez sausage, to more decadent dishes such as french toast, almond pancakes, waffles and coconut pudding. If you love eggs benedict, you're in luck – The Orchard serves up the classic eggs benny every way imaginable.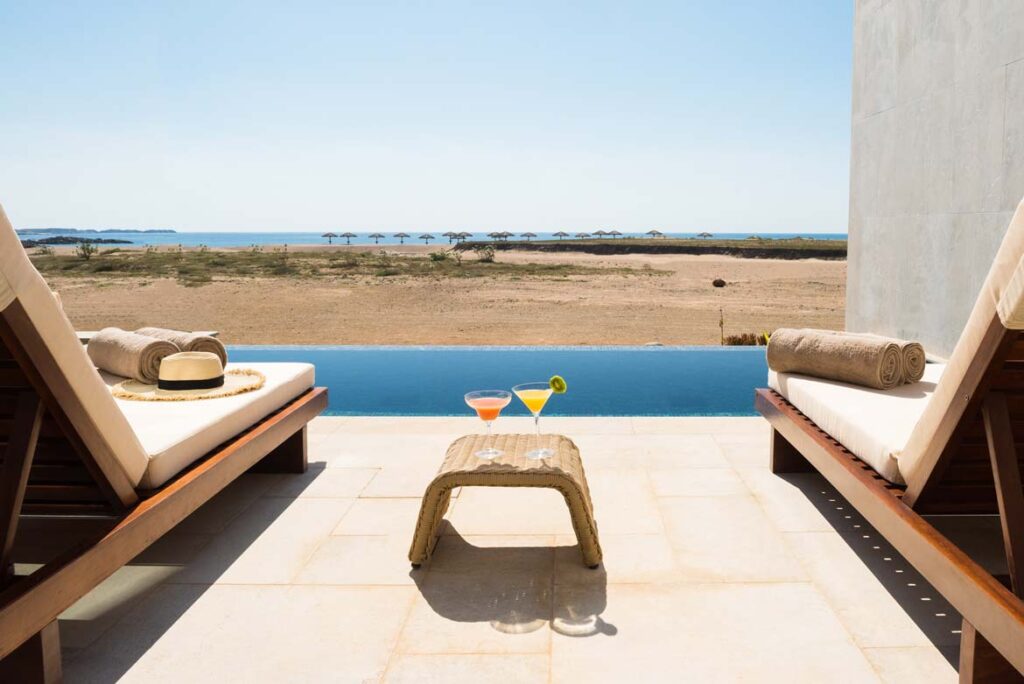 Lunch is a more limited offer with resort classics such as burgers, wraps and caesar salad, supplemented by a selection from the two dinner menus including nasi goreng, mee goreng and falafel. We opted to have our food served in the villa so we could dine in our private pool, and we enjoyed all of our room-service dining.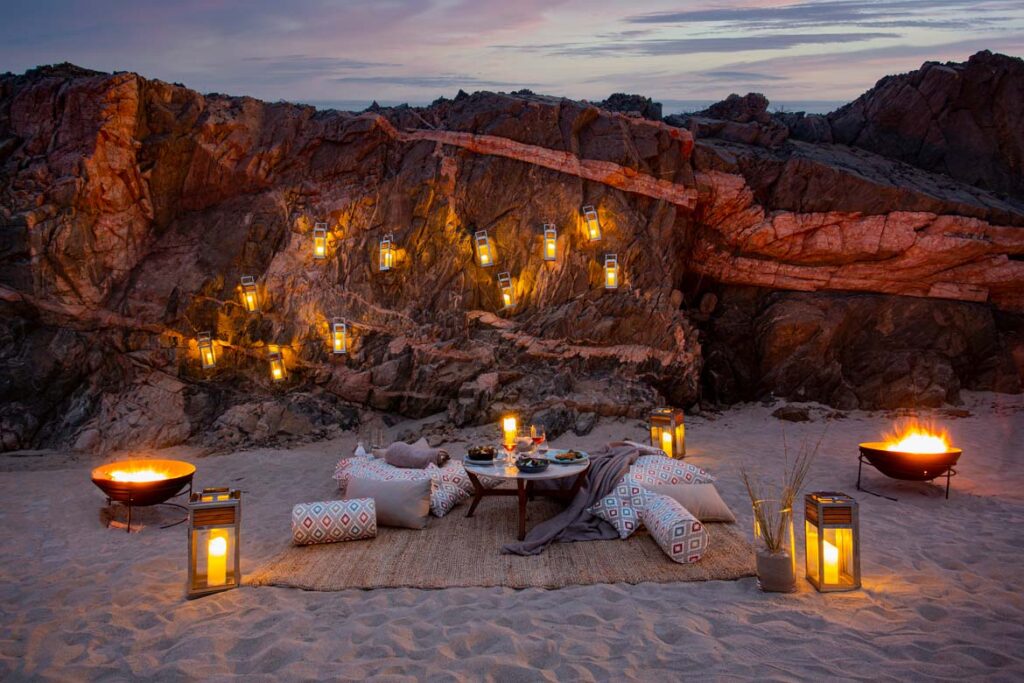 For those looking for something a little different, head over to the pool bar next to Sea Salt at sunset to sample their signature cocktails including Alila's 'Camel milksology' program – we enjoyed the 'Vodkaccino', a slightly salty espresso martini crafted using Baileys and camel milk.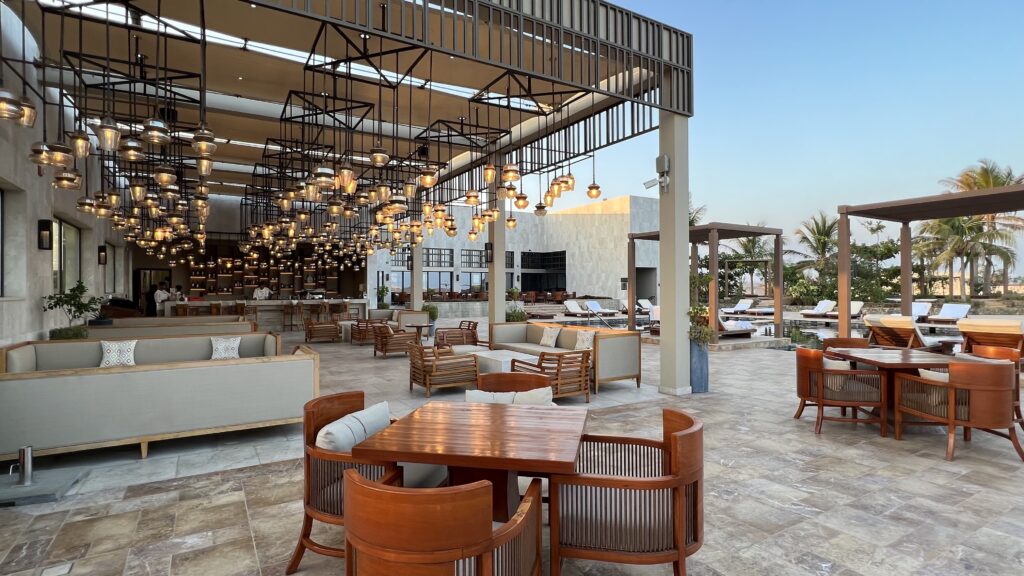 Leisure & Wellness
There's plenty to do both in-resort and in the neighbouring region for active types, including kayaking and hiking, while those who just want to soak up the serenity can opt to immerse themselves in the luxurious spa, where treatments celebrate Omani frankincense.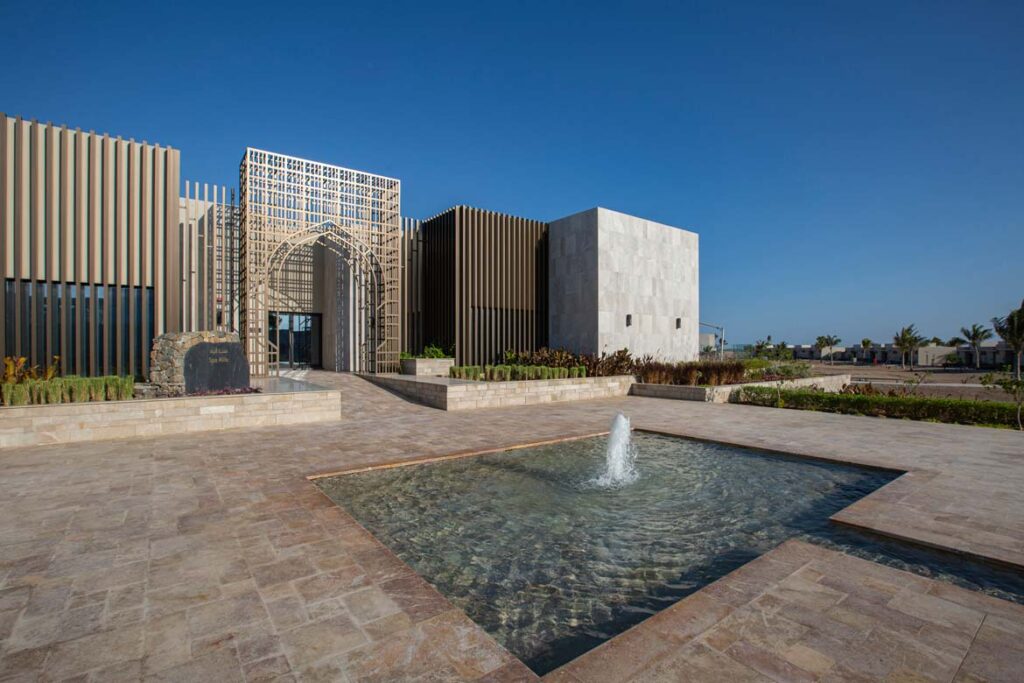 The spa offers a range of services including massages, facials, manicures and pedicures, and we found our massage thoroughly relaxing. If you want even more zen, you can also enjoy sunrise and sunset yoga and meditation classes.
Should you not be staying in a villa with its own pool, the resort does offer two main pools to enjoy.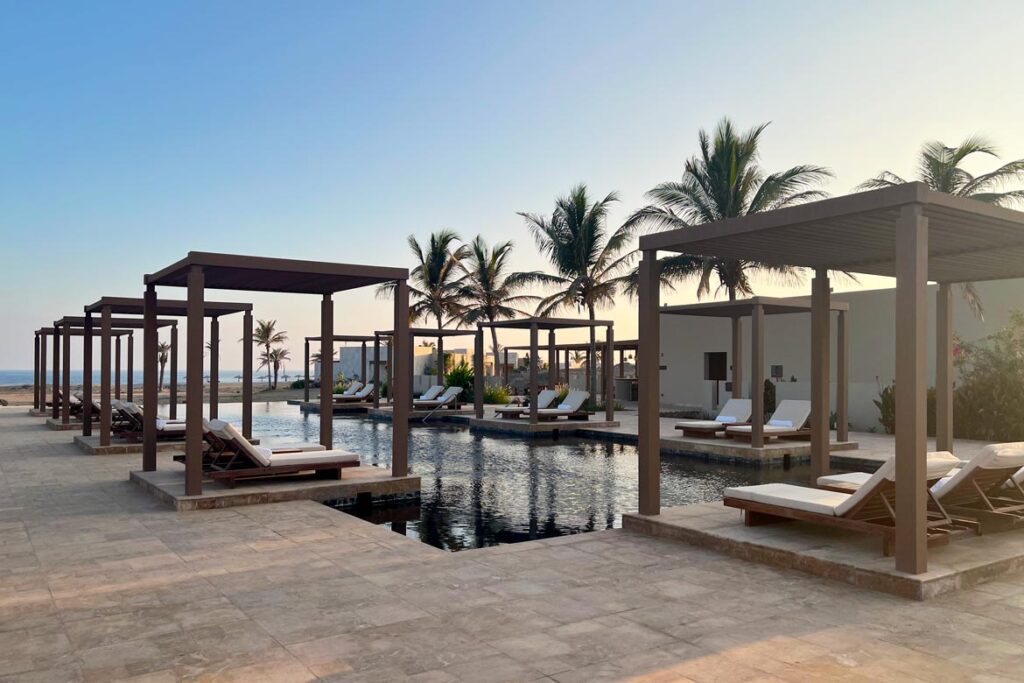 Sustainable tourism
Alila Hinu Bay is the first resort in the region to meet Earth Check standards, a global environmental certification that rates hotels on their sustainability measures. The EarthCheck standards cover a range of environmental and social issues, including energy and water use, waste management, biodiversity conservation, and community engagement.
Family Friendly
Alila Hinu Bay has thought of everything you could possibly need for your little one – there are children's menus available at all restaurants and daily activities for the little ones happening in the kids club. The staff provided us with a crib in the room and a helpfully, a wifi hotspot from which to run our nanny cam, which is a game changer for those travelling with (very) little ones. The resort staff helped us out by cleaning bottles for us and providing baby-friendly pureed fruits and vegetables when requested.They were happy to babysit our 9-month-old should we have wanted to embark on an excursion sans children.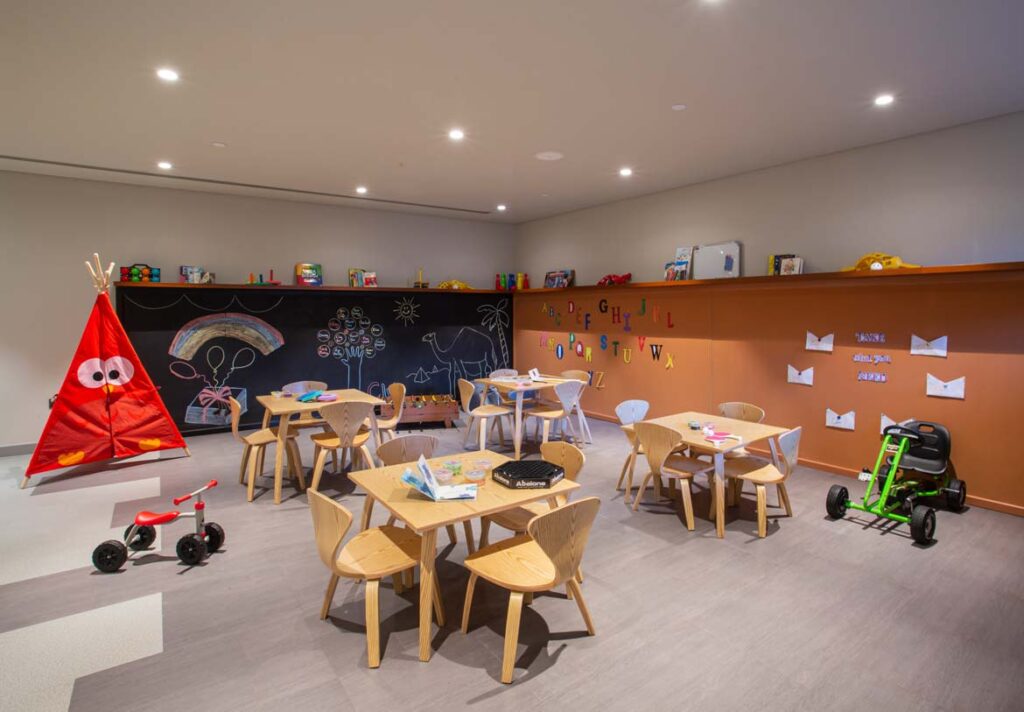 When to visit
We visited during November and found the weather to be ideal – November boasts an average temperature in the region of around 28 degrees Celsius (82 degrees Fahrenheit), with lows of around 24 degrees Celsius (75 degrees Fahrenheit) at night. The weather is generally sunny and dry during this time, with very little rainfall. It's the perfect time to take advantage of all the activities the resort has to offer, such as kayaking, outdoor yoga and hiking nearby mountain areas – or perhaps just work on the tan.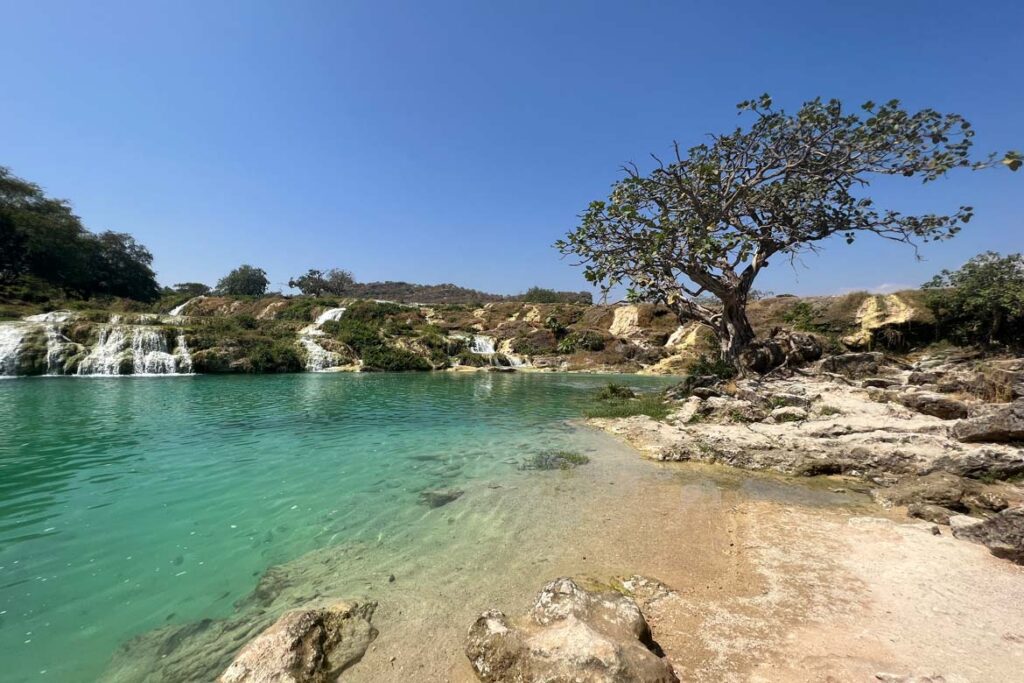 If you're a GCC resident looking to swap the heat of summer for rainfall and lush greenery, a visit during Khareef season might be just what you're looking for. Khareef season is the monsoon season in Oman, which typically takes place from June to September. During this time, the region experiences heavy rainfall and cooler temperatures, which makes it an ideal time to visit if you want to enjoy hiking, biking, and other outdoor pursuits. The region is home to a number of beautiful waterfalls, which are at their most impressive during the Khareef season. During this time you can also experience the Khareef Festival, which features a range of cultural events, including music, dance, and traditional handicrafts.
Conclusion
Whether you're looking for a romantic getaway, family vacation or solo trip, Alila Hinu Bay in Oman has what you need. The serene, luxury property has everything you could want in a resort: white sand beaches, beautiful pools, delicious food and drink options, and lots of activities for adults and kids alike. We also found the service to be warm, friendly and generous throughout our stay. It's a fabulous escape from the hustle and bustle of GCC living – we're even thinking about returning in Khareef season to experience the 'other' side of Oman's beauty.
Alila Hinu Bay is highly recommended for those coming from near or far – and if you're looking to combine your Oman stay with another property, check out our review of sister resort, Alila Jabal Akhdar here.
*** GCC Residents Offer! ***
This festive season, Alila Hinu Bay is offering a range of special discounts for GCC residents for a limited time only.

These include:
– 25% off across rooms
– 25% off Spa treatments
– 25% off F&B excl. alcohol beverages
Terms & Conditions:
– Valid for GCC residents, incl. Oman
– ID card requested upon check-in
– Stays until: 08DEC22 – 30APR23
– Bookable dates: Now until 31 JAN 23
Bookable on Hyatt.com or directly with reservation team at Alila Hinu Bay.